The Arkansas Senate on Tuesday approved an overhaul of its rules to create a committee on ethics, prohibit senators from certain activities involving conflicts of interest and require more disclosure of other conflicts and their personal finances.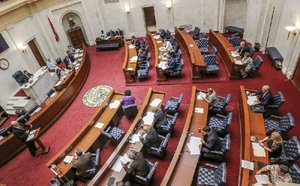 Photo by John Sykes Jr.
Sen. Jim Hendren, at podium, discusses proposed new ethics rules in the state Senate chambers Tuesday afternoon in the state Capitol in Little Rock. The Senate approved the new rules to require senators to disclose conflicts of interest.
With Sen. Alan Clark, R-Lonsdale, as the only audible dissenter, Senate President Pro Tempore Jonathan Dismang, R-Searcy, ruled that two-thirds of the body voted by voice to approve changes to its code of ethics.
More than 20 senators attended Tuesday's meeting and several others turned in proxy votes. The Senate now includes 34 members and a vacant seat because of the resignation of Jake Files, R-Fort Smith, in February.
"Unfortunately, corruption is bipartisan," Senate President Pro Tempore-elect Jim Hendren, R-Sulphur Springs, told colleagues. "We don't need to be playing political games" with the rules changes that he said have been his top priority since March.
Federal investigations in the past few years have led to convictions of five former state lawmakers: Files; former Sen. Jon Woods, R- Springdale; former Reps. Eddie Cooper, D-Melbourne, and Micah Neal, R-Springdale; and Democrat Hank Wilkins of Pine Bluff, a former senator and House member.
Lobbyist Milton "Rusty" Cranford's June 7 guilty plea in federal court accused "Senator A" -- acknowledged as Sen. Jeremy Hutchinson, R-Little Rock, by his attorney -- of accepting payoffs along with Wilkins and Woods. Hutchinson, who hasn't been charged or indicted, has denied any wrongdoing through his attorney. He and Hendren are cousins who are nephews of Gov. Asa Hutchinson.
Hendren said the new ethics rules will create an eight-member Select Committee on Senate Ethics, instead of the originally proposed five-member panel, because the committee will have a lot of work to do before the 2019 regular session. Three committee members are required to be in the minority party under the Senate's new rules.
Before the regular session, Hendren said he wants the committee to clarify and develop procedures for the rules to require more disclosure from senators regarding conflicts of interests and their personal finances, determine how to make the ethics rules better and what ethics laws need to be changed, and help develop the legislative ethics course now required of senators.
Any senator who believed there was a violation of the code of ethics could file a complaint with the committee, which will investigate under the new rules. The complaint will list the name of the accused, the accuser, the provision violated and a description of the suspect activities. The Senate will be allowed to punish any violator with penalties ranging from a letter of caution to expulsion.
Hendren said the Senate ethics committee will include Missy Irvin, R-Mountain View; Jason Rapert, R-Conway; David Wallace, R-Leachville; Bruce Maloch, D-Magnolia; and Will Bond, D-Little Rock. Hendren said he expects the other three to be announced soon.
Clark questioned Hendren why the Senate didn't first create the ethics committee to develop proposed rule changes for the Senate to consider later.
"I think the people deserve more," Hendren said, adding that he has worked on the proposed changes with others during the past few months.
"Since I have been here, three of my colleagues are going pretty soon to prison," said Hendren, who has served in the Senate since 2013.
"We've got to start taking concrete action to right the ship," he said.
The new rules are "a starting point to having to reassure the public [the Senate is] serious about trying to get our affairs in order," Hendren said.
Afterward, Clark said he agrees with most of the new rules.
"We could have created an ethics committee and come back in a couple of a months. This is too big an issue to just rush through," he told reporters.
"The people who did wrong knew they were doing wrong. There didn't have to be any more rules for them to know what they were doing what was wrong," Clark said.
The new rules go into more detail about what activities involving conflicts of interest are prohibited.
The rules ban a member from participating in discussions and voting on proposals in committee and in the Senate on a matter that financially benefits him, his family or an associated business, including a business that employs a senator or in which he receives compensation as an attorney or consultant.
A senator would be able to participate if the interest is disclosed in a written statement ahead of time and read aloud by legislative staff members in a Senate committee meeting or on the Senate floor.
"I find it to hard believe that I could work for a lobbyist and that not fall under one of [the] categories of prohibited conduct or at least fall under the category of disclosure," Hendren told reporters afterward.
The rule changes will require senators to file annual financial disclosure statements with the secretary of the Senate with more detail than is required on the state's annual Statement of Financial Interest, which goes to the secretary of state's office. The Senate statement would list sources of income in categories of less than $1,000; from $1,000 to less than $12,500; from $12,500 to less than $50,000; and of at least $50,000.
The Statement of Financial Interest has two categories: sources of income above $1,000 and sources above $12,500.
These new reports won't have to be filed until Jan. 31, under the new rules, Hendren said.
Sen. Jimmy Hickey, R-Texarkana, questioned the expanded reporting requirements.
But Hendren said the expanded reporting requirements are based on an Ohio law that requires that state's lawmakers to disclose their income in categories much larger than $50,000.
The new rules require any senator under felony criminal indictment in any federal or state court to relinquish any leadership position, including committee chairmanships and party leadership positions.
If the indictment is dropped or the senator acquitted, the senator will resume the leadership post under the rules.
A senator who is found guilty or pleads guilty to felony charges and certain other offenses is prohibited from serving under Article 5, Section 9, of the Arkansas Constitution.
Metro on 06/20/2018