Children entrenched in Arkansas' juvenile probation system often find themselves without needed help because of overworked officers and judges who won't change the way they handle cases.
That's the assessment of a 2016 report commissioned by the Arkansas Administrative Office of the Courts to study the state's juvenile probation system.
The patchwork probation system is "devoid of any standards," the consultants wrote in their report.
A lack of a unified court system and poor funding contribute to disparities in how children and families are treated, according to the study and the Arkansas Democrat-Gazette's own reporting.
Juvenile probation comes into play after a child commits an offense and enters a guilty plea or is found guilty in court. Sometimes, a judge will order the child to go through months of probation instead of serving jail time. Probation is also used after a child gets out of a lockup.
The study, conducted by the Robert F. Kennedy National Resource Center for Juvenile Justice, was published in January 2017.* A grant from the State Justice Institute in coordination with the Arkansas Supreme Court Commission on Children, Youth and Families was used to pay the Boston-based nonprofit $53,000 for the study.
The study found that circuit judges ignored research showing that probation, rather than discipline, works best when rehabilitating young offenders.
[ARKANSAS' PROBATION PROBLEM: Full coverage + interactive map showing juvenile probation officer salaries, staffing]
Judges were also slow to use a free screening tool that prevents needlessly punishing low-risk kids.
The study also found that most probation officers usually are assigned caseloads more than twice the amount recommended by national experts.
Officers don't receive consistent training, either. Some get formal instruction; others rely on asking co-workers what to do.
Limited money spent on juvenile probation isn't used effectively. Consequently, children in the system don't get enough support, increasing the odds that they'll re-offend, as a youth or later as an adult, research shows.
The study focused on juvenile probation practices in Pulaski and Sebastian counties and the five-county 10th Judicial Circuit in rural southeastern Arkansas. The Democrat-Gazette's review of other judicial districts found many of the same problems.
The newspaper spoke to judges, court administrators, public defenders, social workers, school officials and parents throughout Arkansas and reviewed different probation program policies, salaries and training efforts.
Some probation officers try to serve as mentors, the newspaper found. They help children get part-time jobs, talk to them about their problems and visit them at school. They make sure to go to the kids' big sports games on weekends.
In other places, children on probation are required only to leave voice-mail messages for their officers once a week or submit to occasional drug tests. They don't get much individual attention.
"I left Arkansas a little disturbed by what we found, even compared to other jurisdictions," said John Tuell, executive director of the Kennedy resource center. The center promotes best practices in juvenile justice systems.
The center's report suggested that Arkansas officials enact a handful of changes:
• Revise policy manuals to outline expectations of probation staff.
• Create a management structure to improve program oversight.
• Update training curriculum.
• Keep better data on children who are put on probation.
The state has yet to implement any of these changes.
There are judges, probation officers and local leaders working for change, however.
They say certain jurisdictions have been successful, and have seen huge drops in juvenile jailings, more positive interactions during the probation process and better outcomes for kids in the system overall.
But those efforts are checkered. Circuit courts are constrained by meager budgets, a lack of community resources in rural areas, or both.
Juvenile probation is just one part of the Arkansas juvenile justice system, which has been beleaguered for decades. Kids have been detained for skipping school or talking back to teachers. Truant pre-teens are jailed next to 17-year-old sex offenders. Sentencing for similar crimes varies by judge. Watchdog groups continue to find abusive neglect at state-run and privately operated facilities.
When probation isn't used properly, it can clog the whole juvenile system, youth advocates say.
That's why reshaping how the state uses probation is so important, they say.
OVERWORKED, UNDERFUNDED
Paul Woods knew he was more than a probation officer: Role model. Caseworker. Surrogate father. Whatever it took.
Before he retired in December, the Pulaski County officer had 25 cases. At times that would hit 30. Any more, and it'd be too much.
Woods' workload was typical of many Arkansas probation officers -- double the national recommendation of 15 per officer.
Limited state and county funds directed to juvenile probation mean officers aren't compensated for everything they do. And there could always be more training.
Probation officer pay in Pulaski County ranges from $46,000 to $53,000 a year. They are some of the best paid in the state.
The lowest salary is in Arkansas County where officer pay is about $20,000.
The vast majority of officers in the state make less than $40,000 a year and have large caseloads. Many don't receive formal training.
In Faulkner County, one juvenile division's caseload is about 50 per officer. Officers' salaries start at $30,000.
In the 10th Judicial Circuit, which includes Ashley, Bradley, Chicot, Desha and Drew counties, probation officers may have fewer children to work with, but they often have to drive hours each day to visit them.
One day of probation court in those counties can involve 15-30 kids.
Officers in the 10th Circuit aren't on the county payroll. They don't receive health benefits, and their travel isn't compensated, despite the long distances they drive every week.
Across the state, many probation officers act as bailiffs and assist in administrative tasks for the court, such as scheduling hearings or sharing information among the staff.
In Sebastian County, a Spanish-speaking officer also serves as an interpreter in truancy or delinquency cases that never touch the probation system, for example.
The workload and low pay precipitates high turnover.
"When they can find a job with the same salary with insurance and retirement, of course, they're going to leave," 10th Circuit Judge Teresa French said of two officers who quit last year.
Unlike most probation staff members, those officers had completed formal training sessions, which used scarce dollars in the budget. The officers have been replaced, but French isn't sure she can afford to pay for the new staff to attend those classes.
Youth probation in French's district is handled by nonprofit Phoenix Youth and Family Services, which also experienced budget cuts.
"We don't have the capacity to do training for our staff that would keep on the cutting edge of best practice and new approaches," Phoenix President Toyce Newton said.
There used to be more state-led training opportunities, Newton added.
"There is no concerted effort, as far as I know, to make sure there is a standard of practice," she said. "There needs to be a more serious investment towards that happening."
The lack of training isn't prevalent everywhere.
Judge Patricia James in Pulaski County said she sets aside $3,000 a year to train four officers.
The Kennedy resource center report doesn't note a training problem in Pulaski or Sebastian counties. The report does say, however, that both programs lack structure and a clearly stated mission, making it harder for officers to do their jobs.
At the end of 2016, Woods' work got easier. Officers no longer rotated among three separate juvenile divisions and were instead assigned to report to a specific judge.
Since then, Woods got to spend almost five more hours with kids every week. That's what he cares about most -- time with kids.
"One of the most gratifying things is when they graduate and when you close their file," he said.
WORKING FOR CHANGE
A day in 20th Circuit Judge Troy Braswell's court shows how probation can help children and families.
One eighth-grader could barely see the bench standing behind the podium. Neck tilted back, gazing up, he told the judge about football practice, four-wheelers and a fight he'd gotten into at school.
One 16-year-old testified that she told a police officer during a traffic stop that she was only 2 feet tall and weighed 2 pounds. She thought she had nothing to lose then -- her foster parents wouldn't want her anymore because she got in trouble. Sarcasm was a line of defense. The police arrested her for obstruction of justice.
A bailiff escorted in another girl. Wavy chestnut hair tumbled over the green-striped jail jumpsuit; chains around her ankles clanked. The handcuffs restraining her wrists clicked against the top of the podium. She awaited sentencing. Her mother, in the pews behind her, cried.
Days before the teenagers appeared before Braswell, the court staff assessed whether the teams were at risk of re-offending, if there were things happening at home that affected their behavior or whether they had unmet health needs.
Experts and research say that such methods are best practice and ensure that probation is serving the kids who need it most.
Many Arkansas juvenile court divisions use only probation as a way for kids to check in -- even leaving a voice mail will do.
Braswell sees probation as an opportunity to do more. Assessment results let court workers know if they need to send kids to mental health services or after-school programs rather than trial.
Braswell, who serves Faulkner, Searcy and Van Buren counties, was one of the first judges to start using these screenings in every case.
He says that's why his court, between 2015 and 2017, saw 47 percent fewer juvenile detentions. The kids who were locked up spent less time in jail, and re-offenses dropped by a third, court records show.
The screening tool has yet to be implemented statewide. A legislatively empowered panel of youth advocates has been launching the screening's use across Arkansas, circuit by circuit.
Some judges and intake officers are slow to implement the screening or don't use it as intended.
Many courts using the tool still don't track its effectiveness in reducing caseloads and detentions. There's no requirement to do so.
Kennedy resource center director Tuell found that many judges and probation officers with more punitive approaches rejected proven research in favor of sticking to what they've been doing for years.
The center's report recommended that Arkansas create groups to bridge the gap between needs identified during assessment and available community programs. The report also suggested creating forums that would teach juvenile court staffs about current research on risk assessment, effective interventions and adolescent development.
"You try to bring the research to them. ... You try to bring it up to them to distribute the findings to broader areas. ... We're trying to promote change," he said. "Sometimes you don't win."
For instance, Judge James doesn't use the risk assessment before each case. She uses it after a kid has been found guilty, even though the assessment is supposed to steer certain youths from adjudication.
James said it's too time consuming to do the screening at intake, when kids first enter the system.
The newspaper observed the assessment being conducted in Faulkner County. It took almost two hours to complete, which the court staff said was typical.
James acknowledged that the screening was helpful in discovering deeper issues that cause a juvenile to act out.
"It's frustrating when people come in from out of state and criticize what we do," James said of the Kennedy resource center report's recommendations.
Her court division didn't participate in the study.
Arkansas youth advocates trying to introduce the risk assessment to the entire state instructed juvenile courts to conduct the screening at intake.
The 10th Circuit's Judge French agreed that using the screening first freed up time for probation officers, by sending only the more serious cases their way.
Angela Mundorff says an early assessment could have made a difference when her 12-year-old son entered the juvenile system.
The Jacksonville mother knew her son had problems. The tantrums he threw as a toddler didn't stop as he aged; he seemed like a 2-year-old having a fit in a teenager's body.
Outbursts caused problems at school. Mundorff told his teachers that she'd leave work to help calm him down, but his disruptive behavior escalated.
She asked the school to step in, to no avail, she said. She didn't know about the community services available.
Then the court got involved. Mundorff's son was in the system for years.
"Instead of taking [into] consideration, 'Hey let's work to find out what's going on,' you're in court for ... four years," she said. "It never ends. It could have been worse. They could have just thrown him in jail."
In 2017, her son was diagnosed with multiple behavior disorders. He was 16.
Now, he stays in a residential treatment facility. His therapist helps him cope when he feels overwhelmed.
Still, he had to wait to get treatment after his diagnosis -- because too many kids were vying for scant services.
MOMENTUM BROKEN
When the Kennedy resource center's study concluded, Tuell said he was hopeful about the state's commitment to improving juvenile probation.
Last year, he met with the state's Juvenile Officers Association and the Arkansas Supreme Court Commission on Children, Youth and Families to discuss moving forward. Other officials and youth advocates who didn't belong to these groups also participated in the discussions.
Tuell's optimism has since waned. He's heard only from French and the Sebastian County court staff about changes made in those probation programs.
Talks of bringing in experts from the center to help carry out the study's recommendations statewide ceased after top officials left their jobs at the Administrative Office of the Courts last year.
"Arkansas needs to examine whether they are committed to the future of their youth," Tuell said. "The momentum was broken. I'm not sure where the momentum is right now."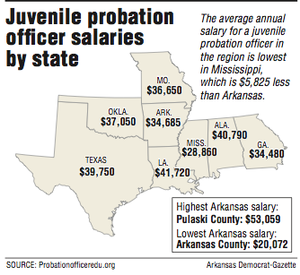 Photo by SOURCE: Probationofficeredu.org / Arkansas Democrat-Gazette
A map showing Juvenile probation officer salaries by state
SundayMonday on 03/04/2018
*CORRECTION: A study conducted by the Robert F. Kennedy National Resource Center for Juvenile Justice was undertaken with a grant from the federal State Justice Institute in coordination with the Arkansas Supreme Court Commission on Children, Youth and Families. It was publicly released in early 2017. A previous version of this story incorrectly identified who commissioned the report and said that it had not been publicly released.