FAYETTEVILLE -- "Shut up and dribble" is advice Kareem Abdul-Jabbar never would have considered as a player or as an activist and social commentator.
Fox News host Laura Ingraham created a stir recently when she said Cleveland Cavaliers basketball star LeBron James should "shut up and dribble" after he made comments about President Donald Trump.
Implications that sports stars should keep their political opinions to themselves is a view that Abdul-Jabbar has long rejected.
"I had to deal with that in the early years of my career," said Abdul-Jabbar, who played for 20 years in the National Basketball Association and was voted the league's most valuable player six times.
"There were some people who felt that it was enough for me to be happy with my success as an athlete and that I should just be quiet. LeBron James does not have to restrict his commenting on social issues because he's a basketball player. He has concerns about the community he lives in, and he should be allowed to express it," Abdul-Jabbar said.
Abdul-Jabbar addressed a variety of topics during a public discussion Thursday at Bud Walton Arena on the University of Arkansas, Fayetteville campus. Abdul-Jabbar sat in a chair on stage where the Razorbacks usually play before thousands of fans. Abdul-Jabbar took questions from students and from Pearl Dowe, the moderator and an associate professor of political science at the university.
"It was really satisfying to understand he [Abdul-Jabbar] is not just a basketball player and an NBA star," said Devin Cosper, a senior from Coffeyville, Kan., and a former member of the Arkansas women's basketball team. "He cares about social injustices in this world. He's very familiar with everything that's going on, especially with the way he grew up. Understanding how he had to endure those things provides a different perspective for the younger generation. America has improved, but we still have a long way to go."
Abdul-Jabbar said he supports the idea of paying college athletes to play. The NCAA has a long-standing policy prohibiting paying college athletes, even though coaches and the schools that employ them make millions. Abdul-Jabbar said money generated by the players' labor should be distributed among athletes in all sports, even the ones that don't draw large crowds like football and basketball.
"I think [players] should get paid," Abdul-Jabbar said. "All the coaches are wealthy, and the coaches make a lot of money. The ones who don't make a lot of money are the young people who create the revenue, and that's wrong."
Abdul-Jabbar, 70, is the NBA's all-time leading scorer and a Presidential Medal of Freedom recipient. He was awarded the Presidential Medal of Freedom in 2016 by Barack Obama.
Abdul-Jabbar has stayed active since retiring from professional basketball in 1989. He's written 11 books, including one on his 50-year friendship with John Wooden, his former coach at the University of California, Los Angeles.
"He worked us really hard during the week," Abdul-Jabbar said. "He never said, 'Let's go out there and win this game.' He said, 'If we play the way we prepared, we should be pleased with the results.' My teams at UCLA, we were 88-2, so we did pretty good."
Abdul-Jabbar spoke Thursday as part of the university's Distinguished Lecture Series and will be paid $80,000 from student fees, university spokesman Steve Voorhies said.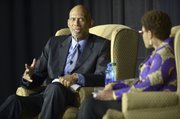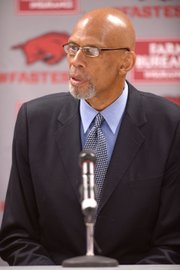 Metro on 03/09/2018