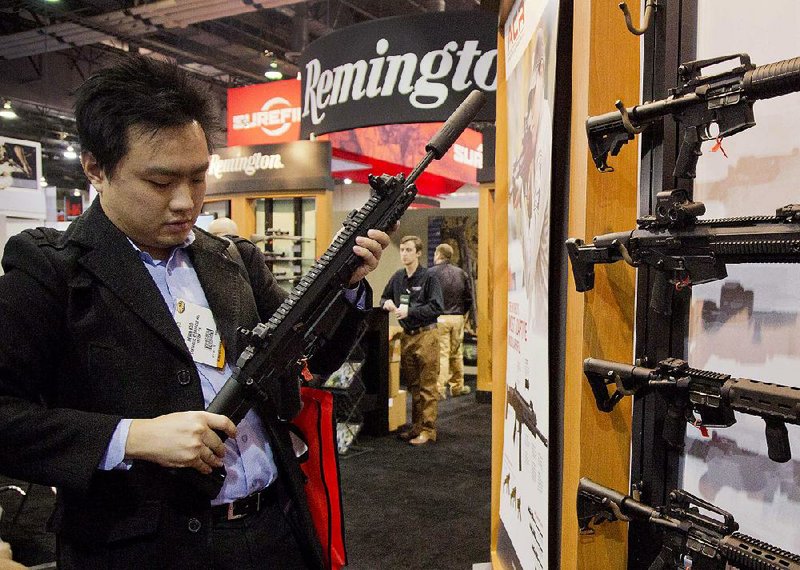 Accessories manufacturer Kevin Kao examines a military-grade Remington Adaptive Combat Rifle at the 35th annual Shooting, Hunting and Outdoor Trade Show in Las Vegas in 2013. The 200-year-old gun-making company filed for bankruptcy protection on Sunday.
Remington Outdoor, the 200-year-old maker of rifles, handguns and bullets controlled by Cerberus Capital Management, filed for bankruptcy, after the election of a "true friend" to the White House ironically wound up stifling sales.
The Chapter 11 filing in Delaware bankruptcy court Sunday comes with a revised plan to eliminate $620 million in debt, pay most creditors in full, and hand over most of the company to a group of lenders. Remington, which makes weapons for military, law enforcement and hunters, had already outlined a plan on Feb. 12 to file for bankruptcy and give control to lenders including Franklin Resources Inc. and JPMorgan Asset Management.
The filing came after a weekend of marches across the U.S. seeking tighter laws to fight gun violence. Remington said in court filings that its efforts to finance a turnaround were complicated by parties who did not want to lend to a gun-maker. After approaching 30 potential lenders, financial adviser Lazard Freres & Co. found "the vast majority" indicated "they were reluctant." Eight parties that entered into further discussions later declined, and one outside lender that had agreed to provide a $100 million bankruptcy loan changed its mind, according to the filing.
Remington's fortunes took a hit last year after the election of President Donald Trump, a self-proclaimed "true friend" of the gun industry. Gun enthusiasts traditionally stock up on firearms at times when political winds suggest tighter gun control lies ahead. But Hillary Clinton's defeat erased those fears, leaving retailers stuffed with unsold inventory.
Chief Financial Officer Stephen P. Jackson described the reason for the Madison, N.C.-based company's bankruptcy as a "significant decline" in sales and revenue in the past year after it had increased production rates to meet demand in 2017 that never materialized.
Documents submitted by Remington asking for authorization to continue to pay its workers during the bankruptcy proceedings show that Remington employs approximately 2,700 workers in eight locations around the U.S., with 591 of them salaried and 2,109 full-time hourly workers. The Remington ammunition plant in Lonoke employs 1,085 people, according to the documents, and is home for the company's largest concentration of workers.
According to the Firearms and Ammunition Industry Economic Impact Report produced by the National Shooting Sports Foundation -- a trade association for the firearms, ammunition, shooting and hunting industry -- in 2016 there were 2,764 jobs in Arkansas directly related to the firearms and ammunition industry, with total wages at $120.3 million.
According to research company Wallethub, Arkansas ranks eighth in dependence on the gun industry. The survey ranked the 50 states on 13 key metrics that examined the gun industry, gun prevalence and gun politics. Arkansas ranked ninth in the number of gun manufacturers per capita, with 2.67 per 100,000 residents; sixth in total firearms-industry output per capita; 20th in taxes paid by the firearms industry per capita; and 28th in average firearms-industry wages and benefits per capita.
The turnaround differs slightly from a prior plan already negotiated with lenders that would cut debt by about $700 million and inject $145 million of new capital. The current plan will eliminate $620 million of funded debt in exchange for equity in a new company. Financing to get that done totals $338 million, including a $193 million asset-based loan, a $100 million debtor-in-possession financing loan, and a $45 million "bridge" or "rescue" loan from Remington's parent company to its operating subsidiaries.
After the outside lender backed out of the $100 million loan, Remington got financing on better terms from its term-loan lenders and secured noteholders, according to the filing. The company seeks to keep fees for the loan under seal, according to a court request.
The company has asked to forgo the usual procedure of filing a full schedule of its debts and assets and seek final approval of a plan by May 3.
Recent setbacks for Remington have included an aborted public offering in 2011 and an investor revolt after one of its rifles was used in the Sandy Hook Elementary School mass shooting.
The troubles have been a blow to Cerberus, owned by private-equity billionaire Stephen Feinberg, a prominent Trump supporter. New York-based Cerberus acquired Remington in 2007 and saddled it with almost $1 billion in debt.
The industry came under added pressure in February when a gunman using an AR-15-style rifle was used in the Marjory Stoneman Douglas High School mass murder in Parkland, Fla., just days after Remington announced plans for a pre-arranged bankruptcy. That weapon was a Smith & Wesson, made by a unit of American Outdoor Brands Corp.
Remington, which began with a hand-built rifle in 1816, went on to supply more than half the ammunition used by the U.S. and its allies in World War I and World War II, according to its website. It is among the largest American manufacturers of ammunition and firearms.
More than 11 million firearms were manufactured in the U.S. in 2016, up from fewer than 4 million a decade ago, according to data from the Bureau of Alcohol, Tobacco, Firearms and Explosives.
Another pillar of American gun industry, Colt Holding Co., also took a trip through bankruptcy in 2015.
Information for this article was contributed by John Magsam of the Arkansas Democrat-Gazette and by Molly Smith, Polly Mosendz and Ken McCallum of Bloomberg News.
Business on 03/27/2018
Print Headline: Gun-maker seeks to pay workers; Remington's bankruptcy filing affects hundreds in Lonoke
Sponsor Content