BENTONVILLE -- Northwest Arkansas wouldn't be what it is today if Sam Walton's vision didn't extend beyond his retail company, a group of panelists discussed Thursday in the Walmart Museum.
The panel was part of the museum's Centennial Celebration of what would have been Walton's 100th birthday. Walton, founder of Walmart and Sam's Club, was born in Kingfisher, Okla., on March 29, 1918. He died April 5, 1992.
Celebration Continues
Thursday's activities were just a kick off the Walmart Museum's Centennial Celebration of Sam Walton. Brenda Turner will read her book Young Sam Walton, An American Boy at 10 a.m. Saturday at the Walmart Museum, 105 N. Main St.
There will other events and activities through out the rest of the year. Events will be updated at www.walmartmuseum.com.
Source: Staff Report
Frank Robson, Walton's brother-in-law; Ed Clifford, CEO of the Jones Center and 17-year Walmart employee; Dick Trammel, executive vice president of Arvest Bank, Rogers; and Burt Stacy, former Bentonville Bank president talked about Walton, his character, his work, his legacy and how it lives on today. Alan Dranow, senior director of the Walmart Heritage Group, moderated the event.
Walton was one of the founders of the Northwest Arkansas Council.
"He knew we weren't large enough to be anything big enough in the world without banding together as a region," Clifford said, explaining that though J.B. Hunt and Don Tyson were involved in the council's creation, they didn't have the vision that Walton did. "It was Sam's vision that really propelled us into who we are today."
Panelists described Walton as "determined, inspirational, leadership" and "a sharing person." They told stories highlighting his jovial personality, simplistic living style, innovative thinking, approachability and humility.
Stacy also spoke of his wife, Helen, and her generosity and involvement in the community as well as her importance to Sam Walton.
"She was the driving force behind him," he said. "She's what kept Mr. Walton grounded."
Panelists said they don't remember having conversations with Walton where he spelled out his views on giving back to the community but said that principle of his is evidenced by the work of the Walton Family Foundation and Walmart Foundation today.
"I doubt they knew how big it would be or how far it would reach," Stacy said of the Walton Family Foundation.
Sam and Helen Walton established the foundation in 1987. Their children and grandchildren lead the foundation, which seeks to make long-term differences in education, environment and quality of life in Arkansas and the Mississippi Delta.
It awarded $454.4 million in 2016, according to the annual report.
Walton and his family's generosity to the community has helped make Northwest Arkansas one of the most philanthropic regions, Trammel said.
"This family has sent a trend that the whole world recognizes," he said.
The panel was just one of several activities the museum held in honor what would have been Walton's birthday.
Live DJs got the beats bumping mid-morning. Derek Lidow, Princeton University professor of entrepreneurship and author of Building on Bedrock:What Sam Walton, Walt Disney, and Other Great Self-Made Entrepreneurs Can Teach Us About Building Valuable Companies, held a reading and book signing.
Mayor Bob McCaslin read a proclamation during a celebration that included guest speaker Jayne Lowe, the incoming district governor of Rotary Club, and a performance by the West High School band. Walton is a past president of the local Rotary Club.
The day concluded with a concert by jazz pianist and vocalist Champian Fulton.
Thursday's activities were just a kick off the museum's Centennial Celebration of Walton. There will other events and activities through out the rest of the year. Information will be updated at www.walmartmuseum.com.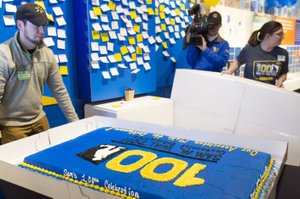 Photo by Charlie Kaijo
Brandon Eddins (left) of Bentonville unveils the centennial cake Thursday at The Walmart Museum in Bentonville.
NW News on 03/30/2018