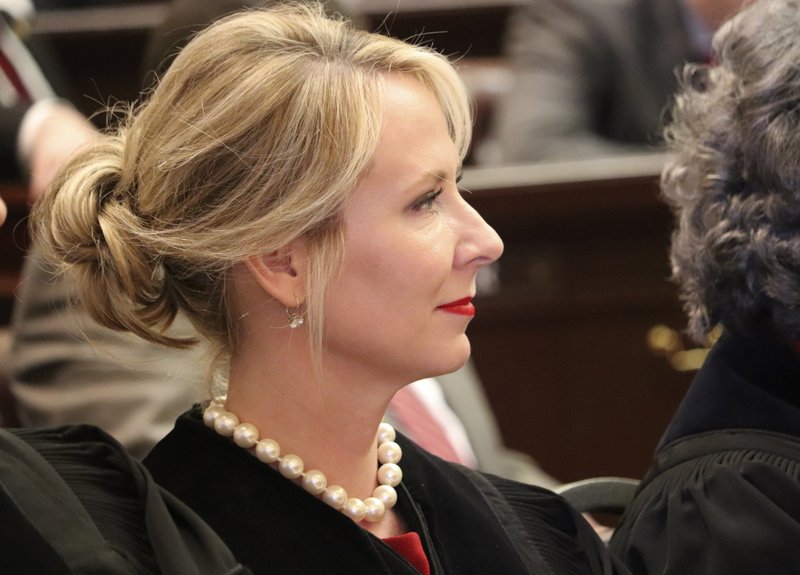 In this Feb. 12, 2018 file photo, Arkansas Supreme Court Justice Courtney Goodson sits inside the House chamber while waiting on Gov. Asa Hutchinson to deliver his State of the State address in Little Rock. (AP Photo/Kelly P. Kissel)
Arkansas Supreme Court Justice Courtney Goodson on Thursday lost her effort to mute attack ads that have blared across television stations and filled voters' mailboxes in the final weeks of her re-election bid, as a federal judge ruled that halting the ads would "impermissibly restrain future speech."
The ruling, by U.S. District Judge Brian Miller, came a day after Goodson took the stand and testified that at least one of the claims about her -- that she had requested a raise in 2017 -- was false.
That claim was made in campaign mailers that had already been sent by the Republican State Leadership Committee, a Washington, D.C., group that supports Goodson's opponent, attorney David Sterling.
But the larger issue in Goodson's suit dealt with the committee's TV ads with different allegations -- that Goodson took "lavish" gifts and donations from trial attorneys who appeared before the Supreme Court. Those ads have continued to air ahead of Tuesday's election.
"At their core, the allegedly defamatory campaign advertisements concern political speech in the days leading up to an election," Miller wrote. "Imposing any prior restraint on election-related speech should be approached with extreme caution."
In a statement issued in response to Miller's ruling, a Republican State Leadership Committee spokesman said the decision gave further reason to "replace" Goodson on the Supreme Court.
"A much better judge than Courtney Goodson just tossed her latest, outrageous assault on the First Amendment," said the spokesman, David James.
[2018 ELECTION: Full Democrat-Gazette coverage of Arkansas races]
Goodson filed several similar defamation lawsuits ahead of the May primary against broadcasters in Little Rock, Fayetteville and Fort Smith, which had been airing ads bought by another Washington group, the Judicial Crisis Network. Judges in state courts split on the merits of those suits.
The Judicial Crisis Network has not aired any ads against the justice ahead of Tuesday's nonpartisan judicial runoff.
In a phone call late Thursday, Goodson said that while she was disappointed in the outcome, she felt vindicated in part by her legal efforts.
"I did clear my name," she said.
"I am proud of the fight I have fought," Goodson said. "I have not done the things they want Arkansans to believe."
During the hearing Wednesday on the request for a preliminary order halting the ads, the Republican State Leadership Committee's attorneys presented as evidence Goodson's own campaign finance reports, statements of financial interest and judicial rulings in an effort to show that some attorneys were intertwined through all three records, as suggested in the ads.
Goodson pushed back, testifying that she'd always recused from cases involving individuals with whom she has a personal financial interest, and that she'd never been found to have violated judicial rules by not doing so.
But while Goodson argued that the overall implication or omissions in the television ads were false and defamatory, Miller found that each specific statement made in the ads was true: that she'd taken a trip to Italy paid for by a donor and accepted campaign contributions from trial attorneys.
"Although nothing presented so far proves that Goodson has a bias in favor of particular litigants or lawyers, she has the burden of proving, by clear and convincing evidence, that [the Republican State Leadership Committee] acted with actual malice when it made these allegedly defamatory statements," Miller wrote. "This is a very heavy burden to shoulder, and because each fact is true in isolation, it seems unlikely that she will be able to do so at trial."
On the matter of the court's requested pay raise for justices, Miller wrote that the Republican State Leadership Committee had nothing to indicate that Goodson had not supported the request when the committee began printing its mailers stating that Goodson had "requested" an $18,000-a-year raise.
The raise had in fact been publicly requested by Chief Justice Dan Kemp, on behalf of the entire court. Wednesday was the first time that Goodson revealed she was one of two justices who, she said, voted against the raise during a private meeting between the justices. (Only a smaller raise was actually approved and given to the court.)
John Tull, a Little Rock attorney who represented the Republican State Leadership Committee, declined to comment Thursday.
Goodson and her attorney, Lauren Hoover, said they were not going to appeal, citing the limited amount of time before Tuesday's election.
The committee said this week that it has completed its mail ad campaign in the Arkansas Supreme Court race. The group revealed in filings with the secretary of state's office this week that it spent more than $1.2 million on the race in October. That is more than 10 times the combined amount spent by both Goodson and Sterling over the final month of the campaign.
Sterling, the top attorney at the Department of Human Services, has denied involvement with the out-of-state ad campaigns that target Goodson and support him.
He said Thursday of Goodson's lawsuit, "that's always been a dispute between my opponent and a group she disagrees with," though he indicated he concurred with Miller's decision.
"I have always had concerns that the relief they were asking for amounted to a prior restraint," Sterling said.
In May, Pulaski County Circuit Judge Chris Piazza agreed to issue an injunction halting anti-Goodson attack ads from airing in central Arkansas.
Another judge on the circuit, Mackie Pierce, acting as special judge, declined to issue a similar injunction for ads airing in Northwest Arkansas.
Piazza's decision is on appeal. Also on Thursday, the Arkansas Supreme Court -- with Goodson and three of her colleagues recusing -- denied by a 4-3 vote a motion to have the case transferred from the Court of Appeals to the high court.
Tull is also representing the defendant in that case, the TV broadcaster Tegna Inc.
A Section on 11/02/2018
Print Headline: Arkansas Supreme Court Justice Goodson loses bid to silence ad attack
Sponsor Content