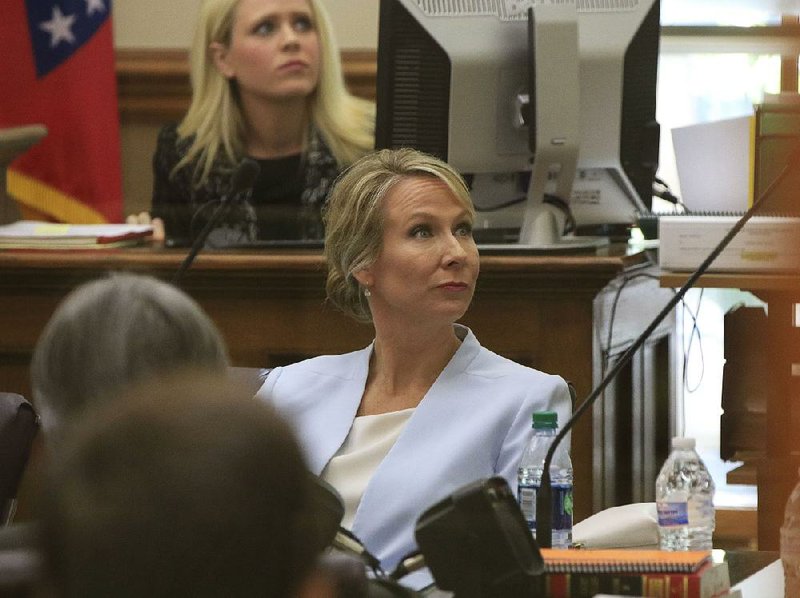 Arkansas Democrat-Gazette/STATON BREIDENTHAL --5/18/18-- Justice Courtney Goodson listens Friday during a hearing in Circuit Judge Chris Piazza's courtroom on her case to get ads she claims are defamatory removed from TV. ( Arkansas Democrat-Gazette / Staton Breidenthal)
LITTLE ROCK — An Arkansas Supreme Court justice who won re-election after conservative groups spent nearly $2.5 million trying to unseat her is calling the result a victory over outside groups trying to reshape state courts across the country.
Justice Courtney Goodson on Wednesday said voters sent a message to outside groups by re-electing her to another term on the state's highest court. Goodson defeated David Sterling, an attorney for the state Department of Human Services, on Tuesday.
Goodson had faced a barrage of attack ads in mailers in her re-election bid, with the Republican State Leadership Committee's Judicial Fairness Initiative spending $1.2 million in the weeks leading up to the midterm on the high court race. A federal judge last week rejected Goodson's request to halt the group's attack ads and mailers.
Sponsor Content