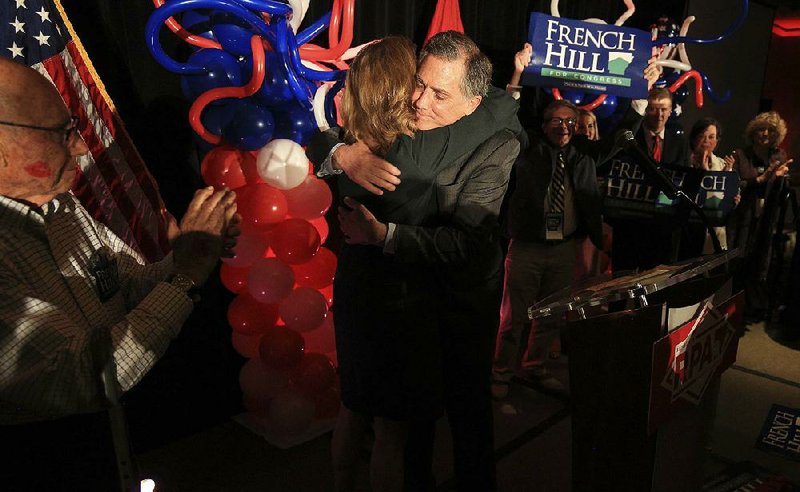 Arkansas Democrat-Gazette/STATON BREIDENTHAL --11/6/18-- Congressman French Hill hugs his wife Martha after speaking to supporters Tuesday night at a watch party in Little Rock. ( Arkansas Democrat-Gazette / Staton Breidenthal)
Republican U.S. Rep. French Hill won a third term as Arkansas' 2nd Congressional District representative on Tuesday, fending off a well-financed challenge from Democratic state lawmaker Clarke Tucker.
The race, which also included Libertarian Joe Swafford, was the most hotly contested federal race in Arkansas.
With 387 out of 391 precincts reporting, unofficial returns were:
Hill 131,670
Tucker 115,533
Swafford 5,172
Hill said he was proud to serve Arkansans, and he looked forward to another term.
"For the past several months, I've made the case successfully that our country is better off than it was two years ago," Hill said.
"But there are many challenges ... and there is work to do, and I expect to go back to Congress in January and start to work to fix a broken immigration system ... and fix the broken health care system that's burdened our families."
Tucker said he was proud of the race his campaign ran, and he was looking forward to sleeping in today and spending time with his family at Thanksgiving.
"We focused on the issues that actually matter: health care, education and decent paying jobs," Tucker said in a phone interview late Friday.
As for what's next, Tucker said he'd take some time off to determine his next step.

From left: U.S. Rep. French Hill, Joe Swafford and Clarke Tucker
Democrats challenged the Republican incumbents in all four of the state's congressional districts after fielding just one U.S. House candidate in 2016. Hill has held the 2nd Congressional District seat since 2015, and it hasn't belonged to a Democrat since 2010.
The 2nd Congressional District includes Conway, Faulkner, Perry, Pulaski, Saline, Van Buren and White counties.
The central Arkansas race drew attention as Democrats nationally hoped to retake a majority in the U.S. House of Representatives. While polling and both parties have had Hill ahead in the race from the start, Tucker was close enough to attract the notice of national groups aligned with both parties.
More money was spent from inside and outside the state on the race than any of the other congressional races on the ballot this cycle in Arkansas.
Tucker, a two-term state representative and attorney from Little Rock, challenged Hill primarily on the issue of health care. Tucker's decision to run came after he was diagnosed with and beat bladder cancer last year.
He attacked Hill for votes in Congress that, Tucker contended, would have removed protections for people with pre-existing conditions seeking health insurance.
Hill said the attacks were false, and he said that legislation he supported maintained protections for those with pre-existing conditions.
Hill and outside Republican groups attacked Tucker over immigration, and they repeatedly tied him to U.S. Rep. Nancy Pelosi, D-Calif., the House minority leader. Since the primary earlier this year, Tucker has said he wouldn't support a Pelosi bid for House leadership if elected.
Hill has also criticized the health care proposal Tucker supports -- a plan that would give Americans the option of buying into Medicare or remaining on private insurance plans. The proposal, Hill said, would cost trillions and bankrupt Medicare.
Tucker said the proposal wouldn't affect the stability of Medicare because participants would be required to pay regular premiums. The proposal would, however, decrease the number of uninsured Americans, Tucker said.
Hill said that he hopes President Donald Trump will again urge Congress to pass health care legislation to overhaul the 2010 Patient Protection and Affordable Care Act.
Turning Congress back over to Democrats, Hill said, would undo years of progress.
Tucker has decried the "politics of the past," saying that he'd focus on working on issues of common interest with members of both political parties if elected.
[2018 ELECTION: Full Democrat-Gazette coverage of Arkansas races]
He has touted his state legislative work on paid maternity leave, pre-kindergarten education, a criminal justice system overhaul and the expansion of Arkansas' Medicaid program.
On immigration, both candidates have said they support a secure border, but they disagree on how to address those who were brought to the U.S. illegally by their parents or others as children, often called "Dreamers."
Tucker supports a path to citizenship for Dreamers allowed to stay in the U.S. under the Deferred Action for Childhood Arrivals policy.
Hill supported Republican legislation that failed in the House that would have given Dreamers renewable work visas. They would have been eligible for citizenship through traditional means.
Information for this article was contributed by Josh Snyder of the Arkansas Democrat-Gazette.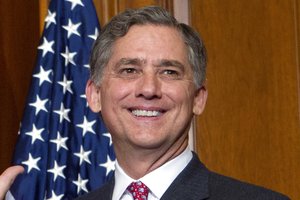 Photo by Staton Breidenthal
U.S. Rep. French Hill hugs his wife, Martha, after speaking to supporters Tuesday night at a watch party in Little Rock after his re-election.
A Section on 11/07/2018
Print Headline: U.S. Rep. French Hill outpaces Clarke Tucker to win District 2 race
Sponsor Content