Scientists with the federal Environmental Protection Agency recommended restrictions on dicamba use that the agency ultimately ignored when it recently allowed for the spraying of the herbicide on soybeans and cotton for another two years.
Emails obtained by the Arkansas Democrat-Gazette through a Freedom of Information Act request show that EPA scientists on Oct. 5 sought 443-foot in-field buffers between areas where dicamba is sprayed and where there may be endangered species.
Those buffers, instead, were set at 57 feet in new regulations announced on Oct. 31 by Andrew Wheeler, the EPA's acting administrator.
The EPA also retained 110-foot downwind buffers from dicamba regulations that began expiring this month and said the new 57-foot buffers for the other sides of the field will provide adequate protection for endangered species. Only certified applicators can spray dicamba, and it is their responsibility to check an EPA website to determine the presence of endangered species, the EPA said.
Scientists with the agency's Environmental Fate and Effects Division, or EFED, sought the 443-foot buffers, according to documents obtained from the University of Arkansas System's Division of Agriculture through the state's open-records law.
The issue of buffers is but one among many in a controversy in which EPA critics say science has been disregarded by the agency and, in some cases, by regulators in states where soybeans are grown.
Thousands of complaints have been filed in several states the past two years alleging that dicamba damaged millions of acres of soybeans and other crops and vegetation susceptible to the weedkiller.
Critics say the EPA's latest restrictions and applicator-training programs, such as those established by dicamba's manufacturers, still do not address the herbicide's "volatility," or its ability to lift off plants as a vapor or gas hours or days after being applied and move to fields even miles away.
EPA representatives visited seven states this summer, held a series of conference calls with weed scientists, state regulators and representatives of the pesticide-industry, and collected data from several field trials conducted the past two years as the agency considered dicamba's future.
While acknowledging that some 1,400 complaints have been made this year of damage to crops and to non-agriculture vegetation in several states, the EPA said dicamba's effectiveness against weeds now resistant to other herbicides outweighed the risks.
OFF TARGET
In a statement Tuesday, the EPA said its final decision was based on its scientists' recommendations, along with other information from "state regulators, farmers, academic researchers, pesticide manufacturers and other stakeholders." The agency said the draft recommendation obtained by the Democrat-Gazette "was preliminary in nature" but didn't specify whether, or how, the scientists' recommendation had changed.
In its Freedom of Information request, the Democrat-Gazette received a few hundred pages of documents, with most being paper copies of PowerPoint presentations of UA field trials and a dicamba-related thesis by a UA student and doctoral candidate, all of which UA shared with the EPA this summer.
The larger buffers recommended by the EPA scientists arose from the work of Jason Norsworthy, UA professor and weed scientist who ran a large-scale field trial on a 240-acre commercial soybean field this summer to test for dicamba's off-target movement, whether by physical drift as it was being sprayed or by post-application volatility. Earlier this year, Norsworthy was named a Fellow by the Weed Science Society of America, its highest honor, and won its award for top research in 2017.
Monsanto, now owned by Bayer, provided equipment and funding for the study and had representatives on-site during much of Norsworthy's test, which he called one of the largest of its kind in the nation. Norsworthy's experiments showed that the company's dicamba, called XtendiMax, moved off target at least 390 feet in four directions from where it was sprayed.
The company later questioned the validity of those results, according to the Oct. 5 email.
Bayer said Saturday that the UA study was among several that Monsanto helped fund and that its results were dramatically different from results of other tests. "This funding imposed no restrictions on the use or ownership of any data developed by these researchers," Bayer said in a statement.
Bayer also said the EPA "conducted an extensive review prior to issuing continued registration for XtendiMax and based its decision on all relevant science."
Others disagreed.
"The EPA's own scientists recommended a 135-meter buffer that was based on poring over scientific studies such as Norsworthy's," said Bill Freese, an analyst with the Center for Food Safety, one of several groups that have sued the EPA for its dicamba decision in 2016.
"They saw that as science-based, and that it would also give some protection to neighboring farmers," Freese said. "It's pretty incredible when you look at the final decision -- 57 feet-- that EPA higher-ups came through with. I don't see EFED scientists changing their minds, but I do think its important to understand the scientists are under a lot of pressure."
Freese also noted that the EPA has asked for more information on off-target movement, dicamba's effects on other vegetation, pH levels in soils and other issues. "The EPA has approved these pesticides for another two years but, at the same time, they're saying there's so much that we don't know," he said.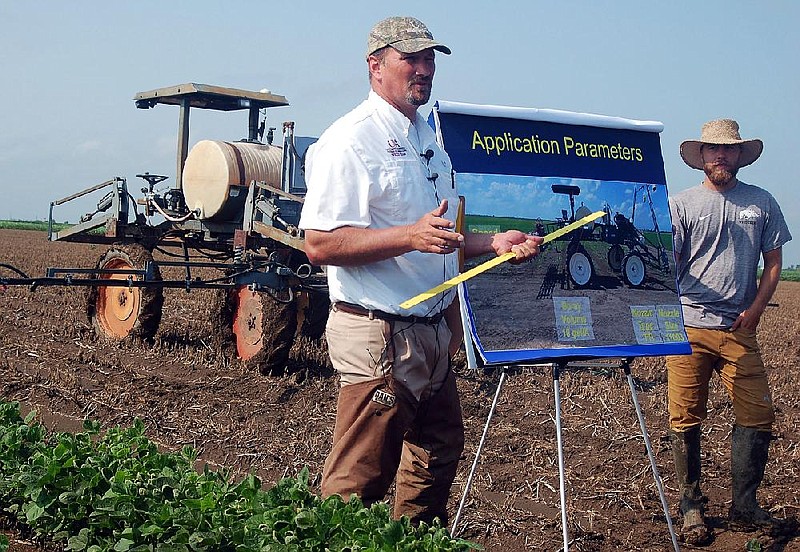 In this file photo Jason Norsworthy, a University of Arkansas professor and weed scientist, talks to field day visitors in Keiser about the tendency of the herbicide dicamba to drift from fields.
POLITICS AND SCIENCE
Monsanto released dicamba-tolerant cotton in 2015 and dicamba-tolerant soybeans in 2016 without having yet gained EPA approval for a dicamba formulation that became XtendiMax. Monsanto didn't allow third-party independent testing of its dicamba product for volatility during that time.
BASF and DowDuPont also have dicamba formulations approved for another two years.
"It's more evidence of the EPA basing the decision on politics and not science," Steve Smith, agriculture director of Red Gold, an Indiana-based tomato processor, and chairman of the Save Our Crops Coalition, told the Democrat-Gazette by telephone.
"They seem to acknowledge what Jason was saying but, when it came time to actually publish, they took Monsanto's recommendations point blank," Smith said. "I can tell you 57 feet is nothing. I can tell you 110 feet is nothing. I live next to a soybean field, and that farmer did leave a 110-foot buffer, and my trees still got smoked."
In a Nov. 2 email to Norsworthy and other weed scientists, Bob Nichols, a scientist and senior director with the research and marketing group, Cotton Inc., wrote, "Our present experience and data suggest these new EPA guidelines do not significantly reduce the potential for off-target movement."
Norsworthy declined to comment on the email exchanges, but the UA Division of Agriculture issued a statement, saying its scientists have been asked for help several times by the Plant Board and the EPA.
"Bayer, the registrant, continues to challenge public data to the EPA," the UA said. "Questions about decision-making and the final label [for dicamba's use] are the EPA's to answer. We continue to stand behind our weed scientists. We don't have all the answers to the challenges of dicamba, and the herbicide's continued use makes it all the more critical that we ... continue our work in support of the safety of all Arkansas agriculture."
The EPA has been sued in federal court in Washington state over a study, alleged to inadequate, of dicamba's environmental effects on endangered species when it first allowed the herbicide's in-crop use. A couple of dozen lawsuits, including some in Arkansas, have been filed against dicamba manufacturers.
In Arkansas this year, farmers were supposed to stop spraying dicamba on April 16, a cutoff date set by the state Plant Board after receiving about 1,000 complaints of damage last year.
Monsanto and the other manufacturers attributed most of the problems to applicator error and implemented training programs that they say have reduced dicamba's off-target movement and the number of complaints.
While Arkansas had the only ban, other states adopted midseason changes to their regulations, with cutoff dates based on the calendar or on air temperatures.
Even with the April 16 cutoff, the Arkansas board received some 200 complaints, most in midsummer, leading officials to believe that some farmers in the state violated the ban. The board is in the middle of a process to determine how, or if, dicamba can be used in the state next year.
FIELD TESTS
Two Crittenden County farmers donated a 240-acre field for Norsworthy's volatility tests this summer.
A 38-acre plot of Monsanto's dicamba-tolerant beans was set in the middle of the field, with the rest of the acres planted in beans not dicamba tolerant. Post-spraying tests showed that, as many as 29 days after dicamba was sprayed on the 38-acre plot, non-dicamba soybeans hundreds of feet away had symptoms of dicamba damage. Even plants covered by buckets and tarps during, and shortly after, application showed various levels of damage.
Norsworthy provided his Crittenden County study to the EPA in mid-September, along with other studies conducted elsewhere in Arkansas and other states. He also presented his study to the Plant Board on Sept. 20.
Six days earlier, Bayer representatives canceled a previously scheduled visit with Norsworthy to look over the Crittenden County results. John A. Chambers, a Bayer representative, cited an "urgent conflict" in an email to Norsworthy to cancel the meeting.
In an Oct. 5 email, Mark Corbin, an Environmental Fate and Effects Division branch chief, asked Norsworthy to look over an internal draft prepared two days earlier. The draft said Environmental Fate and Effects Division's position on Oct. 3 was to recommend an "omni-directional" 60-meter buffer, or about 196 feet, for fields that may be near endangered species.
The 196-foot buffers, according to the draft, were "preliminary and contingent on the results of further evaluation" of Norsworthy's study in Crittenden County. The draft then noted that the scientists' subsequent study of Norsworthy's work "suggested that a larger buffer (135 meters) would be appropriate." A 135-meter buffer would be about 443 feet.
"However, some potentially confounding issues regarding this study were presented by the registrant as suggestive that the study was not reliable," the Environmental Fate and Effects Division wrote in its draft. The draft then noted that Environmental Fate and Effects Division scientists and Norsworthy had joined in a conference call Oct. 4 "to get clarification on the potentially confounding issues."
The "registrant" in that reference was Bayer, whose $66 billion purchase of Monsanto had closed by then.
Bayer said Norsworthy's study showed much higher levels of off-target movement and damage than other studies showed.
Norsworthy addressed all seven issues during the conference call, according to the draft. Norsworthy said Bayer representatives played prominent roles in portions of his study and that climate conditions and the geography of eastern Arkansas, near Crowley's Ridge, could have contributed to more off-target movement there than what was shown in studies in other states.
The EPA draft also indicated that the Environmental Fate and Effects Division scientists accepted Norsworthy's formula for assessing visual soybean damage over Bayer's preferred formula.
The draft concluded: "Based on this discussion, EFED cannot preclude the use of the Norsworthy data in the expansion of the dicamba action area. Acceptance of the Norsworthy data as valid results in the recommendation of a 135-m 'buffer' ... for the purposes of establishing a protective and technically defensible limit."
The EPA's decision to approve dicamba use also went against at least one recommendation of the American Association of Pesticide Control Officers, a body of state regulators, including those in Arkansas. It asked the EPA in late August to set a conditional year-to-year label -- instructions for use -- for in-crop dicamba.
Smith, of the Indiana tomato processor, has long criticized the use of dicamba over the top of soybeans and cotton because of its threat to other crops and vegetation.
He once served on a dicamba advisory board established by Monsanto, which developed dicamba-tolerant soybeans and cotton along with a dicamba formulation designed to be less susceptible to moving off target. Smith has said Monsanto dropped him from the board because of his criticism.
"The widespread use of dicamba is incompatible with Midwestern agriculture," he told Congress in 2010, when Monsanto was still developing its dicamba-tolerant crop system. "Even the best, the most conscientious farmers cannot control where this weedkiller will end up."
A Section on 11/21/2018