One of the most closely decided state House races in 2016 is set for a rematch this November.
State Rep. Scott Baltz, D-Pocahontas, seeks his fourth two-year term to represent District 61. He is challenged by Marsh Davis, a Republican from nearby Cherokee Village. Baltz defeated Davis with just 50.44 percent of the vote two years ago.
This time, Davis said in a recent interview, he's getting a boost from the top of the ticket with an endorsement from Gov. Asa Hutchinson.
"He's a very popular governor," Davis said. "That's a huge accomplishment."
Baltz, 56, is the only Democrat to represent north-central Arkansas in the House. House District 61 includes all of Fulton County, as well as parts of Baxter and Randolph counties.
Davis, a former pharmacist, is 53.
TAXES, MEDICAID, TEACHER PAY
A longtime firefighter who eventually served as Pocahontas fire chief and a Randolph County Quorum Court member, Baltz said he's aligned with the governor on past issues like continuing the state's private-option Medicaid expansion program, but not on state funding for local issues, including teacher pay, roads and school safety.
He said his latest conflict with the governor stemmed from a meeting with a teacher constituent in his district several weeks ago.
"She was a conservative Republican voter, and she wanted some answers," Baltz recalled. He said he told her "we could do more for these teachers."
Baltz said he told the woman to contact the governor's office. Shortly after that conversation, Hutchinson tweeted that Baltz's constituents "have received misinformation" regarding teacher pay.
Hutchinson noted that minimum salaries for teachers rose 8.7 percent during his first term and that he would propose raising the minimum an additional 13 percent, to $36,000, in 2019.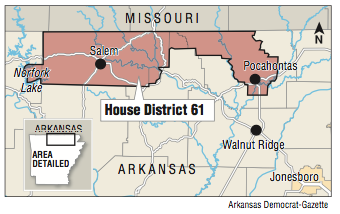 Baltz said he supports the plan put forward by Hutchinson's Democratic gubernatorial opponent, Jared Henderson, to raise minimum teacher pay to $48,090 a year over a decade. Baltz called it a "tremendous" idea. Henderson's campaign has estimated that the plan will cost about $870 million over 10 years.
Democrats have said the state will be better positioned to afford such raises, and other needs such as highway funding, if lawmakers forgo the governor's plan to cut individual income taxes for the state's highest earners. The proposal, which also would change the state's income tax brackets, would reduce taxes by an estimated $192 million a year. The proposal is to be offered in the next regular legislative session starting in January.
"I have no desire to pass a tax cut," Baltz said. "What we need to do is pass something for our highways."
Davis said he also wants to raise teacher pay, calling the profession "a vital link to taking care of our children."
He said he would defer to the governor about his support for Medicaid expansion — "I'm going with the governor on this one" — and tax cuts.
"I would love to get behind the governor on this, but I will say that I haven't seen all the figures yet," Davis said.
ABORTION, GUNS
Asked what the biggest difference was between the candidates, Davis said he is "pro-life and pro-gun" and pointed to their respective party affiliations.
"It's pretty clear to see the differences in our parties. I'm the Republican. He's the Democrat," Davis said. "You need to see where these two parties are headed."
While Davis said he had issues with Baltz's voting record on abortion, he was unable to cite a specific bill.
Baltz has frequently voted in favor of bills limiting abortion, according to legislative records.
"I don't believe in abortion," Baltz said.
Neither candidate indicated that he would support a "red flag" law, proposed legislation that would allow for a court order to temporarily seize firearms from people deemed by a judge to be a threat to themselves or others.
After an Arkansas Democrat-Gazette investigation found that Arkansas has one of the highest rates of gun deaths in the nation, Hutchinson said he would be "open" to considering such a law.
Told of the governor's comments, Davis said the comments could have been taken out of context. He declined to say whether he would support such a law.
"Being open and voting for it are different," Davis said.
"I don't want the government taking out guns," Baltz said. He would be more open to legislation that allows confiscated weapons to be given to family members, he said.
TAX LIEN
According to records with the Department of Finance and Administration, a lien was placed on Davis' home in Cherokee Village in 2016 because of $3,026 in taxes owed to the state from 2010. The lien remained in place as of this month, said a spokesman for the finance department.
Asked about the debt, Davis denied knowledge of it.
"I'm not aware of any tax lien on my house at this time," Davis said. "If there's something out there, I need to call them and maybe pay it."
Sponsor Content