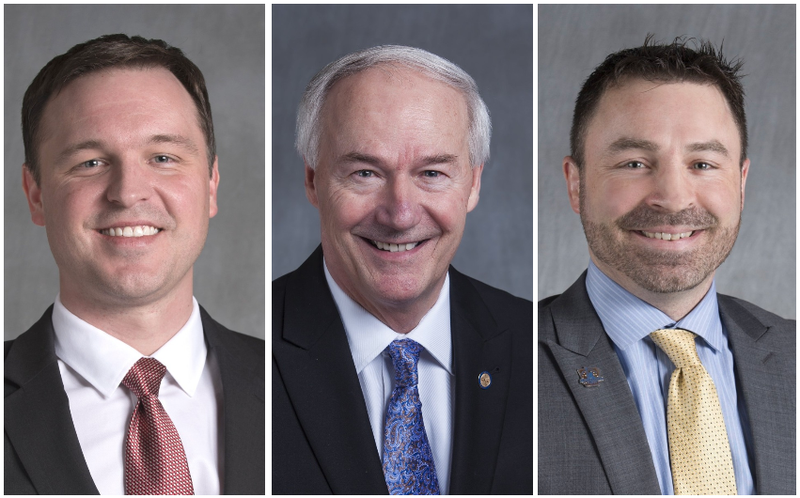 The three candidates running for governor from left: Jared Henderson, Gov. Asa Hutchinson and Mark West.
In his bid to oust Republican Gov. Asa Hutchinson, Democratic candidate Jared Henderson says Arkansans should cast their ballots for him because his proposals better fit the needs of Arkansans.
"We propose to make teaching more attractive and ... to make it easier to start a small business in a rural community. [These] are better ideas that are bolder, that increase our competitiveness more and give more people opportunity," Henderson said recently.
He disagrees with Hutchinson's work requirement for many of the participants in Arkansas' version of Medicaid expansion. Henderson wants to focus on getting health costs under control, and on reducing teenage pregnancy and childhood poverty.
Hutchinson, seeking his second four-year term, said Arkansans should re-elect him because he's kept his 2014 campaign promises to pass a $100 million-a-year individual income tax cut, offer computer coding in every high school and be the "jobs governor."
"But I hope people vote for me not just on what has been done, but also the excitement and the plan for the future, which is about competitive tax cuts, about improving teacher pay in Arkansas and ... about a highway plan that is needed, and all of that is part of a growth agenda for the state of Arkansas," Hutchinson said.
Libertarian candidate Mark West said Arkansans should pick him because he's the only candidate who wants to gradually shift state government programs to the private sector, "where things can be funded more on a fee basis rather than an involuntary tax basis.
[2018 ELECTION: Full Democrat-Gazette coverage of 2018 races]
"I also represent for some a protest vote. There's just some people who don't like Asa and they see me as kind of a protest vote," he said. He also hopes to get 3 percent of the vote so his party can automatically qualify for spots on the 2020 ballot.
The three are vying in the Nov. 6 general election for a four-year term as governor. Hutchinson has substantially outraised and outspent both rivals.
Henderson is a former state director for the Teach for America nonprofit and is making his first run for elected office. West is a corporate office manager for Mechanical Construction Services in Newark and in 2016 sought election to Congress, losing to Republican U.S. Rep. Rick Crawford of Jonesboro.
The governor's salary is $148,134 a year.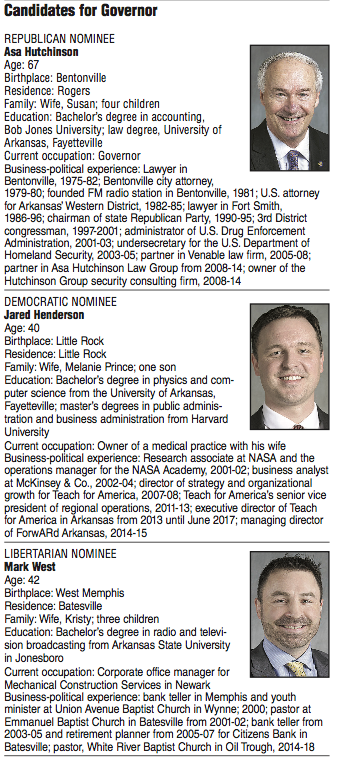 TEACHER PAY
Henderson has proposed gradually raising the minimum teacher salary from the current $31,800 a year to $34,980 in the 2019-20 school year, with annual increases to reach $38,895 in the fourth year of his plan.
He has proposed raising the minimum teacher salary to $48,090 a year in the 10th year of his plan, which would make Arkansas teachers the best-paid in the nation. He said the cost of his 10-year plan would be about $870 million, including about $540 million for "the true pay raise" and about $340 million to keep up with inflation.
"For the first five [years], I believe you can pay for the increase that we propose without even using anywhere near the $180 [million] or now $190 million-something the governor is proposing in tax cuts," he said.
Hutchinson has proposed increasing the minimum teacher salary to $36,000 a year in the next four years, making Arkansas starting teachers the highest-paid in the region. He said raises would start in the 2019-20 school year.
The governor has estimated the eventual cost of his proposal at $60 million a year.
"You have many school districts that are paying more than the minimum now, but whenever you set that floor, that has a significant impact on teacher pay across the board, so I think this will have the impact of raising teacher salaries," Hutchinson said.
West said he views Hutchinson's and Henderson's proposals "as a bunch of political theater. It's pandering to the teacher unions about something that is really never going to be provided."
TAX PROPOSALS
Hutchinson's latest proposal to cut individual income taxes would reduce the number of tax tables from three to one and gradually cut the state's rate from 6.9 percent to 5.9 percent.
The proposal, estimated to reduce revenue by $192 million a year, also would increase the standard deduction from $2,000 to $6,800 for single taxpayers and from $4,400 to $13,600 for married taxpayers. These increases would offset the higher individual income tax rates on some taxpayers, according to state officials.
In 2015 and 2017, the Legislature passed the governor's plans to cut income taxes for people making up to $75,000 a year. Those plans are collectively projected to reduce state revenue by $150 million a year.
Hutchinson said reducing the top rate to 5.9 percent would make the state more competitive with its neighbors and help create jobs.
"Now it might take us four years to get there," he said. "But that is the objective, and we might be able to do it much sooner than that. It depends upon what the revenue forecast is going to be. It depends on continued growth, and about our transformation of government success, so there is a lot of factors that go into how quickly we can enact my tax plan. But the fact we have done it before gives people confidence that that's what we can accomplish."
Henderson said he opposes the governor's proposal and, instead, he would significantly increase teacher pay and spending on infrastructure, such as broadband Internet and roads. He also wants to knock down some barriers to small-business creation by providing new entrepreneurs access to loans, health insurance and training.
"To me those investments will go far more toward increasing the quality of life for Arkansans and attracting new people than cutting the top marginal tax rate will," he said.
West said he would appoint a spending and taxation committee consisting of three or four people who have served in government. The committee would review services to determine how programs can be transitioned into the private sector.
"My goal is to end taxation, so any step closer to zero taxes is an improvement," West said.
Hutchinson has proposed reducing the number of state agencies that report to him from 42 to 15. It would be the largest overhaul of state government since 1971, and he said it would improve efficiency and the delivery of services.
Henderson has proposed a criminal justice plan intended to divert thousands of people from prison and jails, and save money.
MEDICAID EXPANSION
Hutchinson and Henderson support the state's version of Medicaid expansion that provides health insurance to about 260,000 low-income people.
But Henderson said he opposes the work requirement Hutchinson implemented this summer for able-bodied participants ages 19-49.
Participants must work, attend school, get job training or volunteer for at least 80 hours a month. The work requirement has led to at least 7,800 Arkansans losing their health insurance through the program.
In August, advocacy groups filed a lawsuit challenging the work requirement less than two months after a federal judge blocked a similar requirement in Kentucky.
The program, formerly known as the private option and authorized by the Legislature and then-Gov. Mike Beebe in 2013, has become Arkansas Works under Hutchinson.
The state now pays 6 percent of the cost of the program -- estimated at $135 million in fiscal 2019 -- with the federal government paying the rest, $1.95 billion. The state's share will increase to 7 percent next year and then 10 percent a year under the current federal law.
Henderson said the work requirement "is bad policy for health," and "in terms of maintaining our health infrastructure ... it's bad economics. It results in fewer dollars coming into Arkansas."
He said that to convince "skeptical lawmakers" that continuing the program is the "right thing to do," he would take them to rural hospitals to talk to patients, nurses, doctors and administrators to learn how important the Medicaid expansion is to the sustainability of these facilities.
Henderson said he doesn't know if the work requirement is the price that must be paid to get the votes of at least 75 percent of the 100 Arkansas House members and the 35 senators to reauthorize program funding each year.
The governor said the commitment to pursue the work requirement led to the vote continuing the funding.
He said "we need more people working and engaged in training and increase our workforce." He said its a good change because it "gives a number of legislators greater comfort we are managing it properly and ... it is something they can support."
"If you lost the work requirement, the federal government might give us the waiver for reducing from 138 percent [the current income threshold] to 100 percent. There has to be reform that goes with Arkansas Works and the name of it is Arkansas Works, so the work requirement is fundamental to that program, so I think it would be in jeopardy if we did not have that work requirement," he said.
Hutchinson said he hopes to eventually get federal approval to reduce the income threshold.
West said he favors shifting from Arkansas Works into a "private sector, more free market solution, engaging our churches, engaging charities, engaging charitable individuals and organizations that would help provide those services on the local level."
ETHICS PROPOSALS
Henderson has proposed several changes in ethics laws. Five former state lawmakers have been convicted or pleaded guilty to federal charges in the past two years.
He said his top priority is changing the law so that lawmakers convicted of abusing their power or engaging in corruption lose their pensions "at a minimum." Lawmakers are eligible for state retirement benefits after serving 10 years.
Henderson said another priority is requiring lawmakers to weekly disclose and itemize their employment or contracting with, and compensation received by, registered lobbyists or firms that employ lobbyists.
The governor said he wants to give the Ethics Commission more authority to levy "fines that are meaningful, and I would like to see those increased." The commission is allowed to levy fines ranging from $50 to $2,000 for each violation of law.
He also said he wants to limit contributions to candidates from multiple affiliated political action committees. Hutchinson said one individual or company can get around the individual contribution limits by creating multiple PACs.
Henderson, Hutchinson and West favor banning loans among lawmakers. Henderson and West favor a new state law to prohibit the loans; Hutchinson prefers changing legislative rules.
"It clearly creates conflicts of interest, and at the very minimum it creates horrible optics and raises really big questions that erode the public trust. To me, that is no-brainer," Henderson said.
Hutchinson said, "I think that the loans were made in good faith in order to help a friend, but whenever you look at it from a different perspective, it doesn't look that good. Whether it is done by a law or a rule within the Legislature, I certainly support that prohibition."
ROAD FUNDING
Hutchinson said he favors raising more highway funds through some plan that the Legislature could refer to voters, but he doesn't know what the plan would look like.
Many people advocate raising $400 million more a year for highways based on studies showing that much is needed, he said.
"I think that would be a little steep. I think that would be a hard sell to the Arkansas voter, so I would be looking at something less than that. But that's still a matter of negotiation," the governor said.
"As governor, I'll bring together a commission of people to see how other states have tackled this and form a plan to maintain and improve our highways with the goal of finding innovative sources of revenue that are not burdensome on our taxpayers, environmental-friendly methods, and methods that encourage economic growth," Henderson said.
West said his highway plan would rely on the private sector.
GUNS
In 2017, Hutchinson signed a law allowing concealed-carry gun owners who have up to eight hours of extra training to carry their weapons into some public places, including onto college campuses.
"I have not heard complaint one, so I think the test in terms of the public acceptance is the large number of individuals who have gone through the enhanced carry training," the governor said.
The state has 6,333 people with enhanced concealed-carry permits and 225,180 with regular permits, said Bill Sadler, a spokesman for the Arkansas State Police.
Henderson and West said they favor repealing the 2017 law.
"This is an example of [lawmakers in] Little Rock overriding local prerogatives in a way that is just negative," Henderson said, noting that colleges opted out of allowing trained people to carry concealed firearms on campus under the 2013 version of the law.
West said the 2017 law was "unnecessary" because "you shouldn't have to get another government permission slip to be able to carry a firearm on campus."
Hutchinson also said he backs school resource officers who are trained law enforcement officials and continuing to allow school districts the option of having armed staff members, who are weapons-trained.
Henderson said he supports school resource officers but favors repealing the law that allows staffers to carry firearms on campus.
West said he favors allowing anyone to carry firearms on school grounds for self-protection.
Hutchinson has said he would be "open" to supporting red flag legislation to allow judges to issue temporary orders seizing weapons from people deemed to be a threat to themselves or others. Henderson has said he supports red flag legislation, while West has said he opposes such laws.
ABORTION
Hutchinson and West said they oppose abortion except to save the life of the mother or in cases of rape or incest.
But Henderson said, "I do think that a woman and the people she loves and trusts ought to be able to make the decision, not a Legislature in Little Rock or [Washington] D.C."
West said he would sign legislation to ban abortion except to save the life of the mother or in cases of rape or incest. He said he wants to help communities develop programs to help women with at-risk pregnancies.
Hutchinson said legislation to ban abortion except to save the life of the mother or in cases of rape and incest would be inconsistent with the U.S. Supreme Court ruling in Roe v. Wade. Implementing that legislation would require a reversal of Roe v. Wade, which the governor supports.
"While I want to get to the end goal of reducing abortion, except in those limited circumstances, to get there you have got to be smart and push the Supreme Court in the right direction," he said.
SundayMonday on 10/07/2018
Print Headline: Arkansas governor hopefuls speak out on issues
Sponsor Content