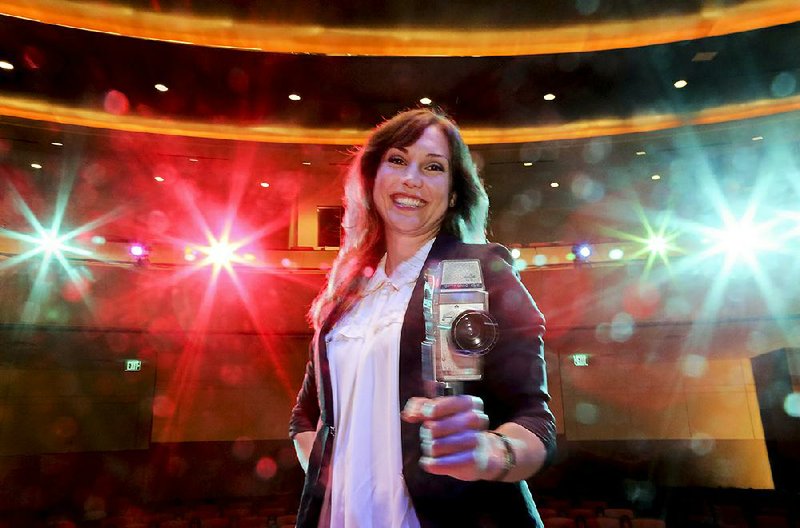 "I certainly got addicted to artistic storytelling. I loved being on stage, but I'm not really a performer. I love being part of collective storytelling." - Jennifer Sue Gerber
When Jennifer Gerber was a little girl growing up in Kansas, she organized and directed many outdoor projects staged by neighborhood children, from a bicycle parade to digging a "hot tub-sized" hole in the ground.
"It had no point, but we were very committed to it," Gerber recalled with a laugh. "At one point, I kept saying, 'We're behind schedule!' We put a bench on the inside and when we were done we just sat in it."
Gerber, 39, who goes by "Jen," says she has always been focused and competitive. As a child, she wanted to be the best hole digger on the street; as a high-school student, the best track champion and beauty queen.
But movie director? It never entered her mind growing up. Her eventual career followed a yearlong Christian ministry tour around the country that left her disillusioned with organized religion and looking for a new direction. The tour ended up in Nashville, Tenn., where she got a job answering phones at a music video production firm. It was just the start she needed.
Gerber recently directed an independent dramatic feature called The Revival. It was filmed in the Hot Springs area — where her family moved when she was 10-years-old — and has been received with accolades around the globe. When she's not preparing new movie projects, she's focused on her full-time job. She's the executive director of the Hot Springs Documentary Film Festival, which starts Oct. 19 and runs through Oct. 27, with 64 features and 66 short films showing in the Crystal Ballroom and a conference space at the Arlington Hotel. She has put the festival's focus squarely on Southern films, an appreciative nod to her heritage that for years she tried to forget.
This year will be Gerber's first festival as executive director. Last year, she was the interim executive director and did such a great job that the festival's board voted to remove the "interim" tag from her title.
"There was no one else I wanted," said Joel Rush, the board's chairman. "I wouldn't be the chairman if she didn't return. That's how much we believe in her. Jen's major asset is she is actually a filmmaker, which allows her to connect to filmmakers and with the audiences. She has intimate knowledge of the process. She has passion and heart."
Gerber's filmmaking education began in Nashville and led her to Chicago, New York, Los Angeles, and now, back home to Hot Springs. She has worked as a first assistant director with actor/director James Franco on The Sound and the Fury, adapted from the William Faulkner novel.
The Revival, about a Christian minister's struggle with his homosexuality, can be streamed on Amazon, Google Play and iTunes. She has attended international screenings of her movie in Australia and England. After its release in 2017, it received much praise in Los Angeles during Outfest, a festival to showcase films with gay themes. She has an agent in Los Angeles and has had meetings with executives at Amazon.
"I don't like being bad at something. I just work really hard until I'm good at it."
"[The Revival] has changed my career," Gerber said during an interview at the Hot Springs Chamber of Commerce, home to the festival's office. "I'm on a path now."
LAKE PEOPLE
Jennifer Sue Gerber was born June 25, 1979, in Wichita, Kan., to Allen and Jan Gerber. Her parents were both in the medical field; her father, a general surgeon, her mother, a nurse. She was the oldest of four siblings. The Gerbers were "lake people," except there weren't many lakes in Kansas, so they spent many weekends traveling to Missouri. Tired of traveling to lakes, they decided to move to one and found the perfect spot, Lake Hamilton. The family spent all their free time on the lake, swimming, boating, skiing.
She attended Lake Hamilton High School where she ran cross country and track. She recalled trying out and running the mile so poorly that the coach told her maybe track wasn't for her. Gerber took it as a challenge. "I remember like, 'I will show you I can run a mile.' I practiced and practiced and from then on I was pretty competitive," and became the 3,200 meter Arkansas high school champion.
High school also introduced her to the arts. She was Dorothy (being from Kansas, it just made sense) in a Lake Hamilton production of The Wizard of Oz, participated in ballet, and competed in beauty pageants, winning Miss Teen Hot Springs in 1996.
"I certainly got addicted to artistic storytelling," she said. "I loved being on stage, but I'm not really a performer. I love being part of collective storytelling. I love looking at the audience and making them laugh. To me, that's the best, when a whole group of people are having a collective experience and you're part of creating that. I've always been really shy actually so it definitely pushed me out of my comfort zone."
After graduating from Lake Hamilton in 1997, Gerber went to Henderson State University in Arkadelphia as a theater major and participated in campus productions.
But after a year-and-a-half at HSU, she decided to take a year off from college to combine her artistic skills with her evangelical Christian upbringing. During the entirety of 1999, she traveled with a Christian troupe of about 40 college students, making stops at churches and schools in each state, performing religious-theme skits, some with doomsday messages as "Y2K," the new millennium approached.
"It was a little like a cult-like mentality," Gerber said, becoming emotional, her eyes filling with tears as she recalled that time in her life.
"One of the leaders had just finished a tour in the Army. He was really intense and drove us like soldiers. We didn't have access to anything but our leaders. Now, everyone would have their phones and they could call their family and check [social media], but we were truly off the grid. It opened us up to manipulation."
She said one of the tour leaders acted "very inappropriately to me" and was kicked off the tour.
"I felt deceived," Gerber said. "I really believed the world was going to end. I really believed we were going to make a difference [on the tour]. I'm sure there were some people [in the audience] who were touched, but it felt kind of self-centered to me. We would go to the church and take up an offering and that offering would help field our tour. I would find that our stories would be manipulative. We were not faking miracles, but it came close to that. They're not bad people. Their hearts were in the right place. But it wasn't a good thing for me."
On Dec. 31, 1999, she hunkered down while others were partying. She was ready for the apocalypse. But it didn't come.
"For the first time, I believed in something that wasn't true," Gerber said. "It opened the door for me to question things."
DROPPING THE ACCENT
The tour ended in Nashville. She liked the city and enrolled in a play-writing class at Belmont University. Walking down Music Row, she went to one of the many video production companies and asked for a job. They said she could answer the phones and deliver lunch. She gladly accepted. That opportunity later led her to being a production assistant. She soon opened her eyes to the career potential in the film-making industry.
"It blew my mind watching directors set up a shot and the camera lenses and lights and stage," she said. "I worked in a post production house and got to see it all get put together from the rough cuts. I was like, 'This is amazing!' It was everything I wanted out of theater without having to perform."
In summer 2000, she went to Columbia College in Chicago to study film and was surrounded by "people who think like I think." She was exposed to "more of the world" and wanted to fit in. She worked hard to "hide her Southernness" and shed her accent. She cut off her long beauty pageant hair in favor of a pixie cut. She actively opposed the war in Iraq by protesting and by helping produce anti-war documentaries. To support herself, she worked as a nanny to an executive for HARPO Productions, Oprah Winfrey's company, and got to fly on private jets, including once to a party at actor Val Kilmer's house.
After graduating with a general filmmaking degree in 2004, she accepted a position as a production assistant for a company that filmed videos for corporate clients. She remembers one about knee replacement equipment and another for a defense contractor that made tank armor. She learned not only the craft of technical filmmaking but another life perspective, as well.
"I was the only female in a crew of about 60 men, and these were intense soldiers," she said. "We were shooting [the video] in the desert. We would sit around the campfire at night and I'd hear their stories. [After that] I definitely stopped protesting [the war]. I didn't want to undermine their work."
She soon felt the urge to be involved in more creative productions. She was accepted into the master's program at Columbia University in New York in 2009 and took out a "brutal loan" to pay for the Ivy League education. "You just have to believe in yourself," Gerber said. "There is a career, and there is money in this industry. You just have to take the leap."
While in school, she worked as an assistant director on various projects, managing the male-dominated crews, giving directions on the megaphone and walkie-talkie. "I was young and a woman and there were a lot of challenges to overcome, but I really took to it." During one shoot, she was responsible for a convoy of vehicles crossing the Brooklyn Bridge.
EMBRACING THE SOUTH
In a twist, her time in New York reinvigorated her pride in being an Arkansan.
"In class, they wanted you to tell your [personal] stories," she said. "It was a soul-searching experience, almost like therapy. I had something to write about that no one else did. I was the only Southerner. I had stories to tell. All of my scripts were about Arkansas."
After receiving her master's degree in writing and directing from Columbia, she returned to Hot Springs in 2013. She reconnected with her family and Lake Hamilton. She taught theater at the University of Central Arkansas in Conway and worked on film projects, including The Revival, which she adapted from a play. She also volunteered for the Film Festival before becoming executive director.
"She's overcome a lot over the years," said Sophie Finkelstein of New York, her best friend and colleague on various projects. "She's lived in a lot of different worlds. Nothing has been handed to her."
Rush, the festival board chairman, remembers watching her organize the erection of a movie screen in the Arlington. "She was extremely focused," on the task but also "super passionate about films," he said.
Sonny Kay, executive director of Low Key Arts, a nonprofit in Hot Springs, said Gerber also understands the community outreach necessary for a successful festival.
"It's truly impressive to see the sheer amount of networking she does," Kay said.
In addition to the festival and film projects, Gerber teaches part time at the Arkansas School for Math, Sciences and the Arts as well as runs a filmmaking workshop for Low Key Arts. She's developing a film project about a beauty pageant contestant, which she says is loosely based on her life. She wants to direct action comedies and film more movies in Arkansas.
"All my filmmaking friends, they all have films they grew up with loving. I didn't have that," she said. "I grew up playing in the dirt and swimming in the lake. I didn't grow up with the cameras."
For years, she has focused her energies to make up for any gap she has with peers in the industry.
"I don't like being bad at something," she said. "I just work really hard until I'm good at it."
SELF PORTRAIT
Jennifer Gerber
DATE, PLACE OF BIRTH: June 25, 1979, Wichita, Kan.
MY FANTASY DINNER PARTY GUESTS WOULD BE: Tina Fey, actress and director; Isadora Duncan, deceased dancer; Ava DuVernay, director; and Lauren Greenfield, photographer.
I AM CURRENTLY READING: Hillbilly Elegy by J.D. Vance.
MY GUILTY PLEASURE MOVIES ARE: Wonder Woman and anything with Tina Fey or Amy Poehler.
MY FAVORITE TRAVEL DESTINATIONS ARE: Costa Rica and Japan.
MY FAVORITE TV SHOW GROWING UP WAS: Saved by the Bell.
MY FAVORITE MOVIES OF ALL TIME ARE: American Honey, The Florida Project and Winter's Bone.
ONE WORD TO DESCRIBE ME: Impassioned.
Sponsor Content