WASHINGTON -- Retired Sgt. Maj. John L. Canley received the Medal of Honor for heroism in Vietnam from President Donald Trump on Wednesday.
The Union County native, who enlisted at age 15, is the 300th Marine to be given the nation's highest military award.
Vice President Mike Pence, top military brass, Vietnam War veterans and Canley's relatives witnessed the ceremony, which was held in the East Room of the White House.
"This is always one of my favorite events," Trump said, after ushering Canley onto the platform. "I like brave people."
During the Battle of Hue, Canley assumed command of Company A, 1st Battalion, 1st Marines, after the original company commander sustained grievous injuries.
Despite his own wounds, Canley "waged seven straight days of unrelenting combat, personally saving the lives of more than 20 Marines," Trump said.
"He assaulted enemy strongholds, killed enemy fighters and with deadly accuracy did everything you had to do," Trump told the crowd. "He raced into heavy machine gun fire on many occasions -- all to save his fellow Marines. In one harrowing engagement after another, John risked his own life to save the lives of those under his command."
Two times, Canley exposed himself to enemy fire, scaling a hospital compound's wall while carrying wounded comrades, a move that left him vulnerable to attack.
Fellow Marines at the time viewed Canley as "bigger than life and beyond the reach of death," Trump said.
Canley left Arkansas shortly before his 16th birthday. Enlisting in 1953, he served in Korea, Japan and Vietnam before retiring in 1981.
The father of three now resides in Oxnard, Calif.
The medal recognizes Canley's heroic service between Jan. 31 and Feb. 6, 1968, the first days of the Tet Offensive. The massive coordinated military attacks, which coincided with Vietnam's Lunar New Year holiday, was one of the war's key turning points.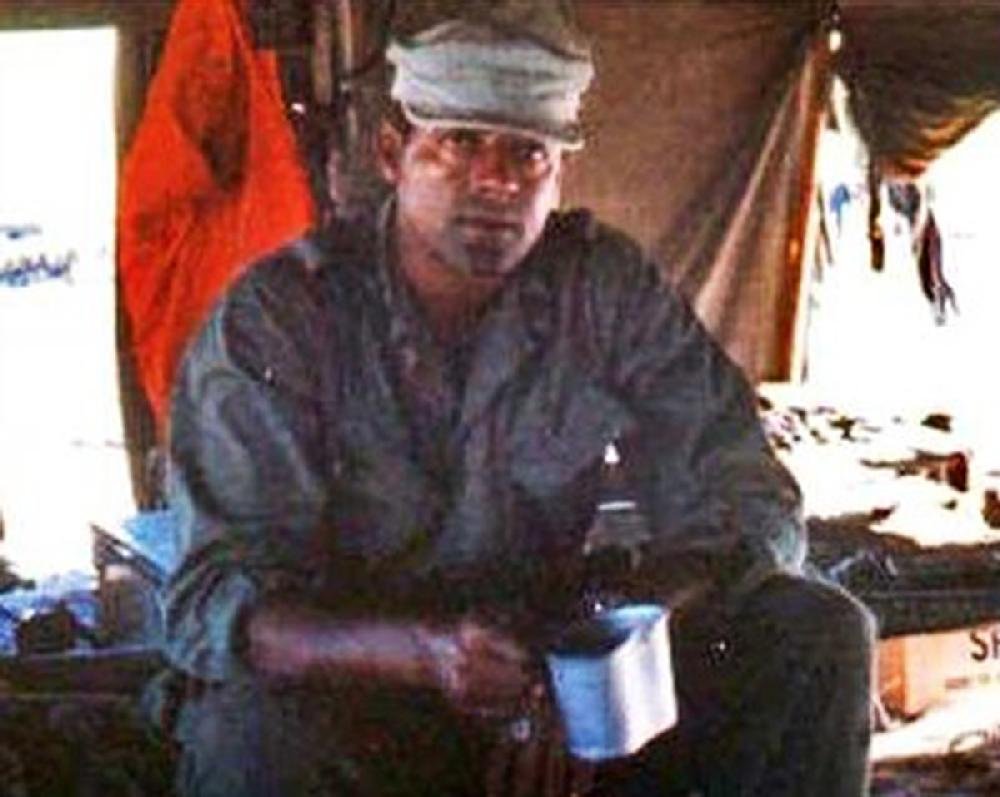 Union County native Gunnery Sgt. John Canley is pictured during a tour of duty in the Vietnam War. Canley retired from the U.S. Marine Corps as a sergeant major and lives in Oxnard, Calif.
Then-Gunnery Sgt. Canley and other members of Company A came under heavy attack as they traveled along a highway toward the center of Hue (pronounced "Hway"), Vietnam's former capital and its third-largest city.
An estimated 6,000 communist troops had amassed there. With pro-U.S. forces outnumbered and surrounded, the Marines were attempting to provide assistance when the enemy opened fire.
Marines encountered gunfire from buildings as well as nearby rice fields. They were forced to engage in urban combat, fighting house to house and street to street.
After a month-long battle, the U.S. and its allies retook the city, but at a heavy cost: 142 U.S. Marines died at Hue and 857 were wounded. The U.S. Army lost 74 of its own; another 507 were wounded. Hundreds of South Vietnamese and thousands of North Vietnamese fighters perished. Thousands of civilians were killed and most of the city's 140,000 residents were left homeless.
The bloody conflict undermined support for the war in the U.S. In March, then-President Lyndon Johnson announced that he would not run for re-election in 1968.
One of the Marines who fought beside Canley and died in the battle, Alfredo "Freddy" Cantu Gonzalez, was posthumously awarded a Medal of Honor in 1969. Canley received the Navy Cross, the second-highest award for valor on the battlefield.
The men who served with him believed he should get the top award and lobbied for years to make it happen.
Because Canley's heroic actions occurred more than a half-century ago, he didn't initially qualify to receive the medal.
But the men who served with him asked Washington officials to make an exception.
A few years ago, after hearing about Canley's heroism, his congresswoman, U.S. Rep. Julia Brownley, D-Calif., asked the Department of Defense to review his case.
In order to qualify, recipients, while serving in the Armed Forces, must have distinguished "themselves conspicuously by gallantry and intrepidity at the risk of their own lives above and beyond the call of duty."
The acts must have occurred during times of conflict.
In December, Defense Secretary James Mattis acknowledged that Canley's service merited the top honor. But he noted that the five-year time limit for awarding the medal had long since expired.
It would take an act of Congress to carve out an exception. Brownley promptly offered the legislation, which was signed into law in January.
On Jan. 30, Canley was Brownley's guest at the State of the Union. Wednesday, she watched Canley finally receive his medal.
"We have been working on this day since 2014 and it's finally here and I'm just very, very excited," Brownley said. "Sgt. Maj. Canley is America's hero and he deserves to be recognized [with] this extraordinary honor."
While it took some work to make it happen, "it's obviously very worthwhile work," she said.
She was especially touched by written testimonials from the men who served with Canley.
"These men call him a giant of a man. ... They were insistent that this get pursued because he was so worthy of this honor," she said.
Canley served multiple tours of duty in Vietnam, she said.
"After his first tour, he was offered a desk job and refused it. He said, 'No, my place is in the battlefield and that's where I want to be.' When they say he's a Marine's Marine, that's what we're talking about. He is a very, very proud Marine and we are very very proud of him," Brownley added.
John Ligato, a Marine who served with Canley, helped lead the effort to get Canley the medal.
In a video posted at johncanley.com, Ligato said the Marines had complete confidence in Canley's leadership.
"During firefights, when we'd all be hugging Mother Earth, he'd be standing up directing us," Ligato said. "The result of that is he appeared to be fearless because he was fearless and we all considered him totally, completely and absolutely without fear."
In the video, Canley, who didn't speak during Wednesday's ceremony, said the bonds were unbreakable.
"My Marines, because they believed in me, they would follow me to death. And I had no doubt about that," he said.
Metro on 10/18/2018