Interest from alcohol giants like Constellation Brands Inc. and Molson Coors Brewing Co. has made cannabis-infused beverages the most talked-about product in the pot industry, but there's one widely acknowledged problem: They taste awful.
A tiny Canadian company thinks it's found a solution. Instead of infusing a drink with cannabinoids like THC or CBD, then masking the oily, bitter concoction with sugar as many beverage makers do in the U.S., Province Brands of Canada is developing beer brewed from the cannabis plant.
"The offerings that are currently available are so sub-optimal that it's hard to see a bright future for cannabis beverages, but like anything else it has to start somewhere," Dooma Wendschuh, chief executive officer and co-founder of Toronto-based Province Brands, said in an interview. Beer probably tasted like moldy bread at the beginning too, Wendschuh pointed out.
Province's patent-pending idea is to replace the barley typically used in the brewing process with the stalks, stems and roots of the cannabis plant. Adding hops and water, Wendschuh is convinced he can create a line of nonalcoholic beverages that taste just as good as any beer on the market. It might not get consumers drunk but it may get them high as it will contain 6.5 milligrams of THC, the psychoactive ingredient in cannabis.
The market has big potential -- a September report from Canaccord Genuity Group Inc. estimated that sales of drinks infused with THC or CBD will reach $600 million in the U.S. by 2022. In Canada, edible forms of cannabis won't be legal until next year.
Wendschuh grew up in Miami and worked in the video-game industry, helping to develop the Assassin's Creed franchise, but began to rethink his career when some states began to legalize marijuana. He liked the idea of developing a safer, healthier alternative to alcohol and headed north.
He began developing his beer in a small lab at Loyalist College in Belleville, Ontario, which offers a cannabis applied science program. In early September, before cannabis was legalized, Province researchers were using hemp to perfect the brewing process. The first batch had room for improvement, the team admitted, but they were optimistic they'd find ways to refine the flavor.
For a guy who "goes out there and trashes the alcohol industry every chance he gets," Wendschuh's idea is attracting a lot of interest from beer makers. Province has signed three letters of intent with Canadian brewers who are looking for help producing cannabis versions of their beer and one with a licensed marijuana producer, Wendschuh said. An announcement will likely come soon, he said.
The company plans to list on the TSX Venture Exchange via a reverse takeover and is in the midst of raising $23 million through a private placement. And to meet anticipated demand, the company is moving into a 123,000-square-foot space in Grimsby, Ontario, that will have the capacity to brew up to 51 million bottles a year at full capacity.
Wendschuh said he had a hard time convincing potential investors to give him the time of day a year ago, but that's changed since Constellation's investment in Canopy Growth Corp.
"We have become a subject of a lot of interest for some of the larger and better situated companies in this industry," he said, declining to name them.
Ronan Levy, chief strategic officer of Trait Biosciences Inc. and a former executive at Aurora Cannabis Inc., was an early investor in Province. He was attracted by Wendschuh's energy and persistence.
"At the beginning I was betting on the jockey, not the horse," Levy said. "But as the brand has evolved I saw the opportunity and the interest in the beverage space."
There are many other companies out there that are brewing beers and then adding marijuana after the fact, but Wendschuh likens those to a blended whisky, while Province's product will be more like a "single malt scotch."
"They're both going to get you drunk, but consumers are willing to pay so much more for that single malt scotch," he said.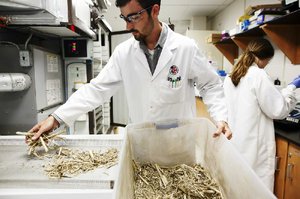 Photo by Bloomberg/COLE BURSTON
A lab technician spreads hemp stalks on a drying rack at the Province Brands of Canada laboratory in Belleville, Ontario, Canada, in late August.
SundayMonday Business on 10/28/2018