Life Church, an Oklahoma City-based evangelical church founded by Craig Groeschel in 1996, has grown from its beginnings in a two-car garage to a multisite church spread among 10 states. Life Church Rogers, as the newest church is called, will be the 30th location. The church uses a dot in its name (Life.Church) on its signs and website.
Months of work by more than 200 volunteers and the staff members of the church will culminate Sunday when the ballrooms of the Four Points by Sheraton in Bentonville are temporarily transformed -- complete with strobe lights and booming live vocals -- into the church's second Arkansas location.
The Rogers site comes less than two years after the opening of the state's first Life Church in Fort Smith, and the congregation will meet in the hotel while searching for a permanent home.
The church is affiliated with the Evangelical Covenant Church, which has 875 congregations in the United States and Canada and leads ministries in five continents, according to its website.
Life Church's own membership hovers around 100,000, and it's one of thousands of multisite churches -- a growing form of worship that uses technology to spread its message beyond the borders of its church walls -- around the United States.
According to church spokesman Rachel Feuerborn, Groeschel and his wife, Amy, became parents not long before a Sunday church service in 2006. Instead of being at church that Sunday, Craig Groeschel taped a sermon that Saturday night to be aired the next day, wondering if that would work for church members in a pinch.
"Everyone was still listening and raising their hand to God [on] Sunday morning," Feuerborn said.
Life Church's online site broadcasts each Sunday's message throughout the week, accompanied by a chat room with live hosts to welcome those entering. People wanting to address a specific need can enter a one-on-one room with a volunteer for individualized prayer. Worshippers online and at physical Life Church locations all tune in to hear Groeschel's sermon, simulcast each week from Oklahoma City.
The placement of the Life Church's most recent location was in response to interest expressed by residents of the Rogers area, according to Ben Shanahan, the new church's pastor. Shanahan moved from Shawnee, Okla., with his wife, Alex, and four children to Rogers in June.
Hired out of college by Life Church, where he has been a pastor for the past four years, Shanahan said he will serve as that tangible person in the church "to go through life with, to do life with," and will close the weekly services, among other duties.
"As soon as I got here I fell in love with Northwest Arkansas, but the people that were here really helped us navigate [things]," Shanahan said.
He said many of those who expressed interest were "transplanted" to Arkansas or had moved to the state for work, or had been tuning in online each week.
In addition to the staff and volunteers in Northwest Arkansas, a crew of around five people known as the portable team also will arrive at the hotel in Bentonville hours before its 10 a.m. and 11:30 a.m. services for the first couple of weeks to set up and disassemble the wiring, lights, seating and all that is needed to create the atmosphere for Life Church's worship service.
The portable team, Shanahan said, had helped combat the overwhelming sense that can come with making decisions about the new church's logistics -- "If it was left up to us to establish a church, we wouldn't take off," Shanahan said of his staff of five -- but that the church had truly begun before Sunday's first scheduled physical meeting.
"We believe the church is not a building, it's a people," Shanahan said. "So they were already meeting and worshipping together through our online platform and in the community and relationships to each other."
Shane Roth of Gravette hadn't attended a physical Life Church but had heard about the church from a friend and from social media. He was leading a "LifeGroup" -- area residents who were meeting on a regular basis for a common spiritual purpose, and watching Groeschel's sermons together -- before any news of the Rogers site had been released. His 17-year-old daughter is set to be one of the leaders of the church's "LifeKids" group, and will help children follow Christ through age-appropriate lessons and activities.
When the site in Broken Arrow, Okla., sponsored the Rogers location, a preliminary meeting to gauge interest drew more than 100 people in Northwest Arkansas, including Roth.
"We have been involved in so many different things as far as ministry goes, [and] we've been very blessed and honored to be a part of those things," Roth said. " ... There's something special about Life Church. There's something unusual ... something that goes beyond worship."
Even though the church is evangelical, it's not a term that's heard around the church often.
"People are welcome no matter their background," Feuerborn said. "We don't feel like you have to agree with us 100 percent to come to Life Church."
"Every person that walks in the door [on Sunday], they're going to feel like they are the only ones there," Roth said. "They're going to feel like, 'Hey, you're here at our church,' and ... [feel] the heartbeat of what Life Church is about.
"What that means to me is that everybody matters, everybody should know that, so my kids will feel that. They'll know that. And when they're older and able to volunteer as well, they'll get to be the hands that feed, loving on people and helping people. That's really exciting to me."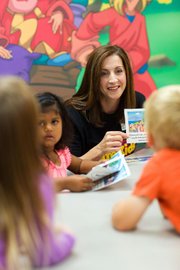 NAN Religion on 09/08/2018