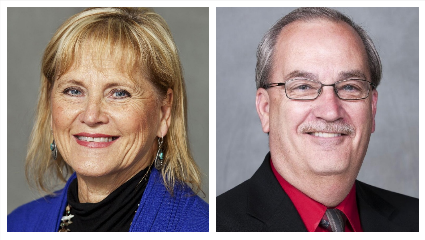 Melissa Fults (left) and Rep. Kim Hammer, R-Benton (right)
State Senate candidates Melissa Fults and state Rep. Kim Hammer are at odds on a range of matters, including medical marijuana, legislation that authorized the Ten Commandments monument on the state Capitol grounds and the work requirement for many Medicaid expansion participants.
In the Nov. 6 general election, Fults and Hammer are vying for the next four-year term to hold the Senate District 33 seat. That term begins Jan. 14, the first day of the next regular legislative session. Fults of Hensley is a Democrat best known as a medical marijuana advocate. Hammer is a Republican from Benton.
The seat is vacant because Jeremy Hutchinson, a Republican from Little Rock, resigned it Aug. 31 after a federal grand jury indicted him on 12 counts of wire and tax fraud.
Federal investigations in the past few years have led to five other former state lawmakers — three Republican and two Democrats — pleading guilty or being convicted of various crimes.
Gov. Asa Hutchison, who is Jeremy Hutchinson's uncle, decided not to call a special election to fill the District 33 vacancy. The governor cited the short amount of time left in the term and avoiding unnecessary taxpayer expense for a special election.
Fults, 63, is a dairy goat farmer who described herself as a moderate Democrat with a concealed weapons license.
"I want to speak up for the middle class because nobody seems to be doing that," Fults said last week in an interview.
"One of the things that I heard more than any other thing is people don't feel like they're being represented," she said, referring to what she learned during the past seven years of talking to people in the district and across the state about medical marijuana.
As for legislative ethics, "there has to be more oversight. There are too many legislators getting rich rather than working for the people," Fults said.
"They are working for themselves, so there should be stronger regulations. There has got to be something done. It is getting ridiculous," said Fults, who lost a 2016 bid for the state House of Representatives to East End Republican Andy Mayberry.
Hammer, 60, is a chaplain at Saline Memorial Hospice and pastor at Saline Missionary Baptist Church in Tull. He describes himself as "right of center" and an independent-minded public servant. He has served in the state House of Representatives since 2011. In 2006, he lost a race for the state House to Benton Democrat Lamont Cornwell.
Hammer said voters should elect him to the Senate because of his experience serving four terms in the House and because of his ethics.
"There are no ethical violations that I have or people should be worried about," Hammer said. "That's the benefit of being in the ministry, too. There is a checks and balance that kind of helps keep you in the bumpers, although not everybody that's in the ministry conforms to that."
Hammer said he plans to introduce a bill to require lawmakers "to disclose if you are representing any interest, even down to the level of attorneys, … when they're running bills."
In 2016, voters approved initiated Amendment 98 to the Arkansas Constitution, legalizing medical marijuana.
Fults said "we had far too many legislators fighting it and trying to stop it" during the 2017 regular session, when legislation related to the drug program was passed.
"One of the worst bills was [unsuccessful Senate Bill] 238, which would have deferred the program indefinitely until the federal government [legalized medical marijuana] and Kim Hammer, Andy Mayberry and [Sen.] Jason Rapert, all co-sponsored it," she said.
"When the state passes a bill that the people say they want and then legislators actively try to prevent the people's will from being done, I have a problem with that, whether it is medical cannabis or alcohol or anything," Fults said.
Hammer said the unsuccessful legislation would have deferred any action until medical marijuana was recognized by the federal government.
Asked if the legislation would have thwarted the people's will, he said, "I would describe that bill as making sure that we were thoroughly vetting a new adventure in the state of Arkansas, to make sure every issue associated with medical marijuana was put on the table for discussion."
Fults said she opposed the 2015 law for which Hammer served as the lead House sponsor authorizing the Ten Commandments monument on the Capitol grounds.
"As a Christian, I absolutely have no problem with the Ten Commandments, but not on our Capitol grounds," she said.
"If you are going to do that, put up something on every one of [the faiths]. Otherwise, take it and put it somewhere else. I am sure that is not a popular view in my district, but constitutionally and bottom line we have to follow the Constitution. We can't just pick and choose, 'Oh, I like this one, let's keep it. I don't like that one, so we are just going to ignore it,'" Fults said.
Hammer said Fults' opposition to that measure "reflects how much she is out of touch with those she wants to be serving.
"The one thing I hear the most positive about in my district is the bold stand that we took by doing this because I do think in time it is going to hold up to constitutional challenge," he said.
"We were very careful so as to make sure that we did not step over the constitutional line of favoring one religion above the other," Hammer said. "It was all done on the historical value of a document that was used by our forefathers to establish the laws and to be the moral compass of us as a society."
Fults said she also opposes further restrictions on abortion.
"If we work to teach kids better sex education and reduce the number of pregnancies, you're going to greatly reduce the number of needed abortions," she said. "You can't teach 'don't do that' and not allow abortions."
Hammer said sex education in the public schools has had successes and failures and "that education really needs to be done in the home."
He said he opposes abortion except where the pregnancy is medically detrimental to the life of the mother, and in cases of rape and incest.
Fults said she opposes Gov. Hutchinson's latest plan to reduce income taxes. The governor supports consolidating the three individual income tax tables into one table and gradually reducing the state's top individual income tax rate from 6.9 percent to 5.9 percent. The state projects that the proposal will reduce annual revenue by nearly $192 million.
"I would like to see what the final recommendation out of the [Legislature's] tax task force is going to be before I take a position on that," Hammer said.
Fults said she supports Arkansas' version of Medicaid expansion that provides health insurance to about 265,000 low-income people, but she opposes a new work requirement for many of the program's participants.
In March, Arkansas became the third state to receive federal approval to implement a Medicaid work requirement, and in June it became the first state to implement one. A lawsuit challenging the requirement was filed in mid-August.
Hammer said he favors increasing the work requirement. He also wants to focus on making sure that Arkansas Works is streamlined so that "people that need it are justifiably getting it and those that don't need it and don't deserve it aren't getting it."
Fults said she's "totally against" a constitutional amendment proposed by the Legislature that would limit certain damages in civil lawsuits and attorneys' contingency fees and allow the Legislature to rewrite the state Supreme Court's rules. It's Issue 1 on the ballot.
"My reputation is to remain open-minded until just before I have to cast my vote because every day and every moment you learn something new that might influence your decision," said Hammer, who voted for the resolution that referred the proposal to voters.
Fults said she hasn't decided how she'll vote on Issue 5, a proposed initiated act to raise the state's minimum wage by $2.50 per hour to $11 per hour by 2021.
Hammer said he opposes the proposed increase.
"I think that we need to preserve and protect the system that rewards the achievers from the underachievers, and we need to preserve the system that incentivizes people that, if you don't like what you are getting paid, go find a better-paying job," he said.
State lawmakers are paid $41,393 a year. Lawmakers are eligible for per diem and mileage expenses for attending legislative meetings and sessions.
Sponsor Content