A photo of a $3.5 million chunk of quartz resurfaced on the Reddit home page Sunday, about two years after it was discovered in an Arkansas mine.
The image shows a man posing with an 8-foot block of crystals found in the Ron Coleman Mine in Jessieville, about 30 minutes north of Hot Springs.
The man pictured was not a visitor to the mine, which is open year-around for public digging, but an employee who worked on a team to extract the mineral over a four-day excavation, said Joel Ledbetter, an online marketer for Ron Coleman Mining.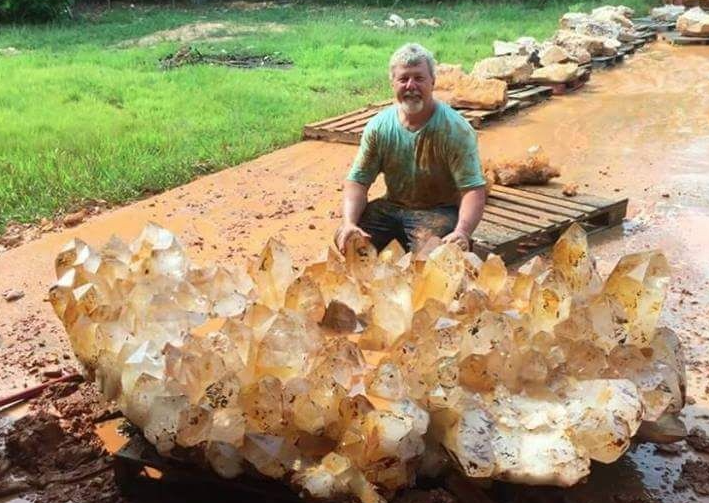 A $3.5 million chunk of quartz found in Arkansas was featured on the Reddit home page Sunday.
"We had a good guess it was there because there's a 170-mile quartz vein that runs through Arkansas, so we started digging," Ledbetter said.
Crews blasted the area until they found the vein and then used hand tools to dig out the 2,000-pound chunk that machines lifted out of the mine.
The crystal cluster is one of the most impressive pieces to come out of the quarry since people started digging before World War II — in part to retrieve crystals used in early radios, Ledbetter said.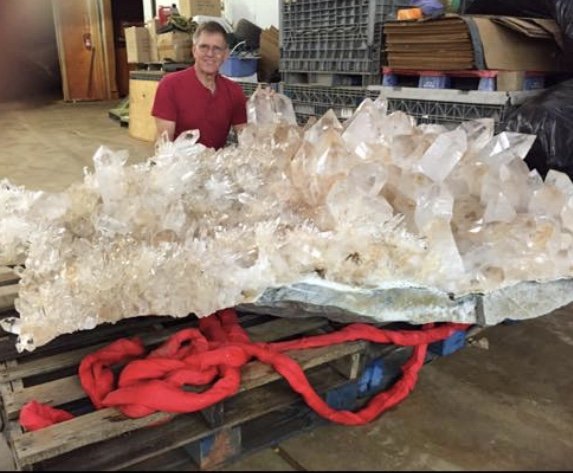 The 8-foot, 2,000-pound crystal cluster found at the Ron Coleman mine is being kept at the quarry until a buyer is found.
The latest find is second in size to only a 9-foot, 3,000-pound circular formation that was found in the mine just a year or two before. While the larger piece is on display at various trade shows in Arizona, the other remains in Jessieville until it can be sold.
The company had the recently found piece appraised for clarity, quality, condition and uniqueness and said it is valued at $3.5 million.
"This one is very big, and it has a lot of big points that are clear," Ledbetter said. "That's what makes it so expensive. If it were murky, or the points were damaged, it'd be worth less."
Ledbetter said several people have inquired about the crystal cluster, but the company has not yet found the right buyer.
That may change as the photo gains popularity as it spreads among various social media platforms.
"Someone really big into crystals probably shared it, and other people who hadn't seen it saw it and got excited about it," Ledbetter said. "Anytime people talk about the mine, it's good publicity. People get into crystals but don't necessarily get to see all that comes out of here."