Vivid, playful, pop-arty acrylics abound in "Paintings by Charles Henry James: Back to the Garden," which remains up until April 27 in the Concordia Gallery at Galleries at Library Square.
James, who splits his time between Little Rock and his native New York, paints interesting, block-like figures that look sort of like buildings with colorful, pixel-inspired backgrounds.
In his "Manscape" series James uses tight, highly controlled lines, dots and edges to make images that look almost like cartoon stills and offers a commentary on office life and socio-political subjects. Many of the figures wear slacks, button down shirts and neckties with geometric rigidity, yet there is also obvious emotion -- from what looks like worry in Manscape 16; to joy in Manscape 24 to evil in Junior.
There's a trio of paintings that show a happy figure, Manscape 8, followed by one with red dots that look like blood splatters in Manscape 11 and the third, Manscape 14, bruised and even bloodier, spinning out of control. Is this what happens on the ladder of corporate success?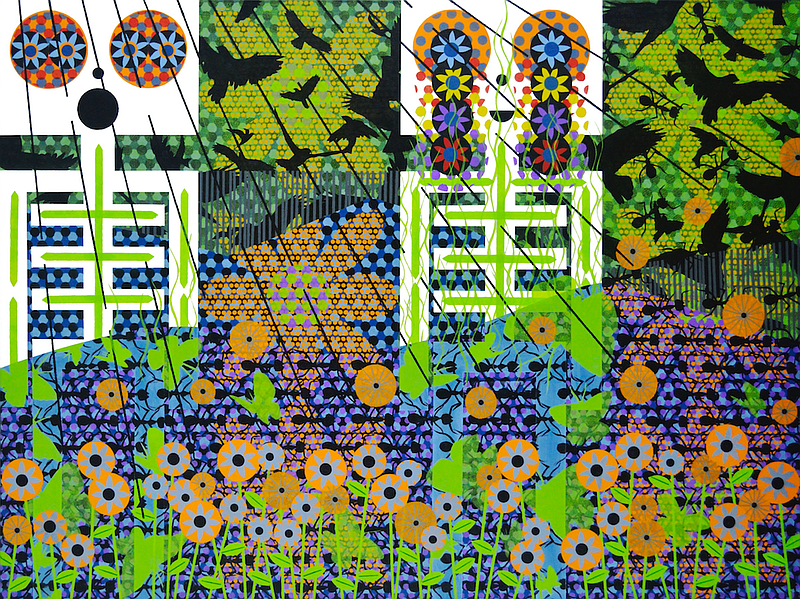 This painting is titled "Back to the Garden." (Courtesy of Charles Henry James)
Perhaps the neatest pieces of "Back to the Garden" look like they are in a garden. Insurrection shows three buildings with suited figures looming about stylized flowers and a swarming army of black ants. A Grateful Death incorporates a smiling skeletal figure next to a familiar suited block as blackbirds, ants, flowers, dots and butterflies fill the background. The figures, which are mostly white, seem to be wading in the cacophony of color.
As with the rest of the exhibit, it is a meticulous, creative and well-designed work.
"Paintings by Charles Henry James: Back to the Garden," through April 27, Galleries at Library Square, 100 Rock St., Little Rock. Hours: 9 a.m.-6 p.m. Monday-Saturday. Info: butlercenter.org, (501) 320-5790
-- S.C.
LINN AND WOOD
An exhibit of new art by Amanda Linn and Emily Moll Wood presents two artists in the midst of a growth spurt.
Wood is well known for her nostalgic and warm paintings on wood, which often evoke the glow of beloved family portraits and gatherings. Her portraits of musicians added a new dimension to this work.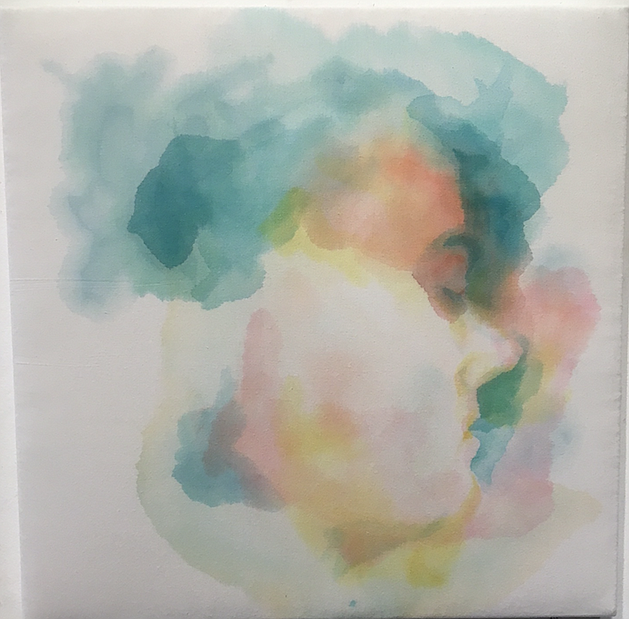 Emily Moll Wood's subject sleeps deeply in "A15." (Courtesy of Gallery 26)
For this exhibition, Wood has made a dramatic change in direction. She painted watercolor portraits on disassembled pieces of her husband's white button down dress shirts. The pieces were stretched over scraps of quilt batting and stretched canvas to give them a pillow-esque surface.
A piece in her new style was selected for this year's Delta Exhibition at the Arkansas Arts Center.
The theme Wood embraces at Gallery 26 is "Ode to Sleep," a series of portraits of children and their parents who have been going through sleep deprivation because of the birth of a second child. Drawing upon her own experience, she has created portraits of herself, her husband, children and, as she describes in her artist statement, "other sleep-deprived friends and their children."
Watercolor is a challenging, usually unforgiving medium, particularly, one would imagine, on shirt fabric. But the portraits here are alluring, peaceful and radiant. The soft, pastel colors bleed together creating a sense of mystery, hints of abstraction and suggest an almost otherworldliness in some images. Her use of negative space is superb.
The works are essentially untitled, but several demand special notice: C16 is a dreamy image of a child in bed, but the colors mix in such a way that also suggest a sprite emerging from the ethers. C3 is a sleeping baby's face, magnetic and peaceful. In A8, a mother seems embraced by waves of seafoam green bringing her much-needed rest.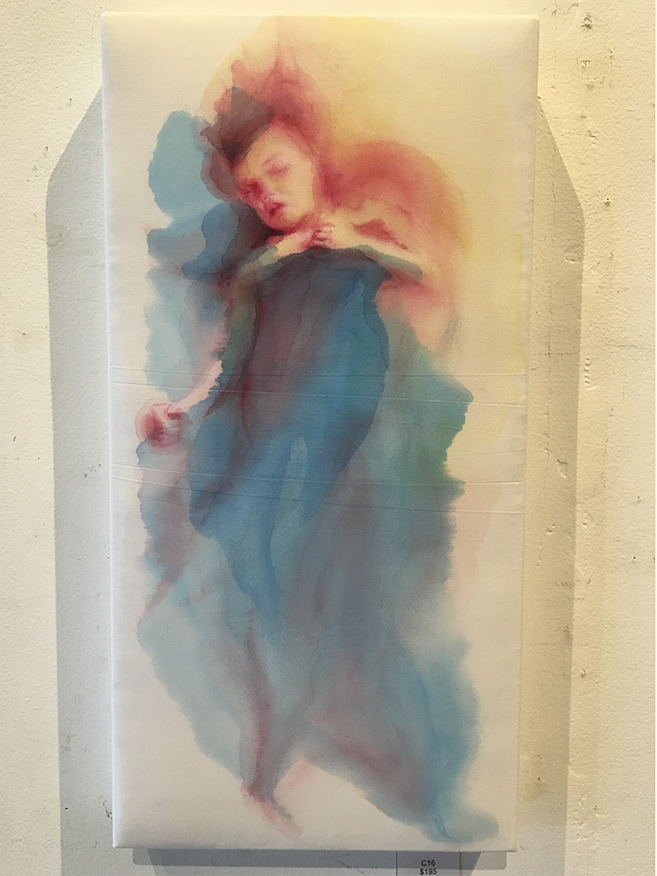 Emily Moll Wood creates a dreamy, otherworldly watercolor on dress shirt fabric titled "C16." It is part of Wood's "Ode to Sleep" works at Gallery 26. (Courtesy of Gallery 26)
Gallery 26's Renee Williams has created a fine installation with these works that suggests a headboard. Lovely.
Linn, whose work is whimsical and charming, has further refined her impressive skills as a fabric/mixed media artist. In her artist statement, Linn says she has drawn inspiration for these new pieces from 17th-19th century samplers, Elizabethan embroidery, tapestries and Aunt Martha's Hot Iron Transfers. Folk craft styles (particularly quilting) are part of the foundation, but she takes this diversity and, adding generous dollops of humor, an eye-popping sense of color and design and some pop cultural references, creates her most appealing work to date.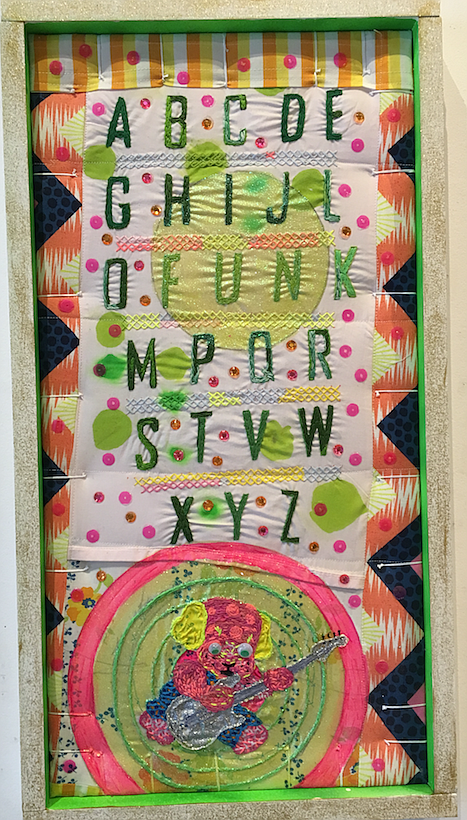 Amanda Linn's "Post Modern Caution or Comfort: Viewer's Choice" draws on 17th-19th century samplers to create a whimsical, colorful presence. (Courtesy of Gallery 26)
Working with vintage fabric, embroidery floss, glitter, acrylic paint, felt and other craft objects, Linn soars with Post Modern Caution or Comfort: Viewer's Choice, which presents an alphabet -- with the inserted word "funk" in its midst -- and a creature resembling a puppy playing guitar at the bottom. The stitching, colors and patterns in the different fabrics draw and direct the eyes through this large, well-executed work.
Linn's rabbits are child like, yet so very adult at the same time. Open a Book of Whoop-Ass: The Book of Whoop-Ass Vol. 1 (one of three) shows a blue and turquoise rabbit, eyes wide open, reading the book. Linn's great eye for mixing fabric and her stitching patterns are impressive. Her smaller-scale works, particularly The Craft Cloud Cometh: Part 1, finds a squirrel and butterflies with a puffy cloud of green and fuzzy balls overhead.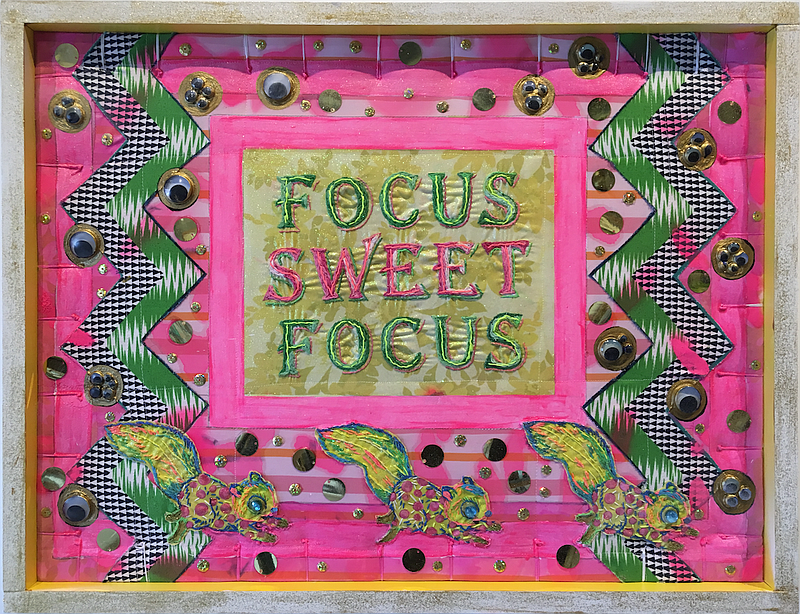 The message is clear on Amanda Linn's "Post Modern Comfort #1," a work of vintage fabric, embroidery floss, acrylic paint, glitter and miscellaneous craft items. (Courtesy of Gallery 26)
Also memorable is Post Modern Comfort #1, which recalls many an embroidery work with sayings or needlepoint with scripture passages. This one: "Focus Sweet Focus" is loaded with googly eyes, psychedelic squirrels and a zig-zag pattern border on the left and right sides against a vivid pink background.
Very cool.
Which pretty well sums up the work by both of these fine artists. Very cool indeed.
Recent Works of Amanda Linn and Emily Moll Wood, through May 11, Gallery 26, 2601 Kavanaugh Blvd., Suite 1, Little Rock. Hours: 10 a.m.-6 p.m. Tuesday-Saturday. Information: gallery26.com, (501) 664-8996
-- E.W.
BRIEFLY ...
• Little Rock abstract painter Sammy Peters has a new exhibition at Lewallen Galleries, Santa Fe, N.M. The show's title is "Boundaries Extended." It hangs through April 20.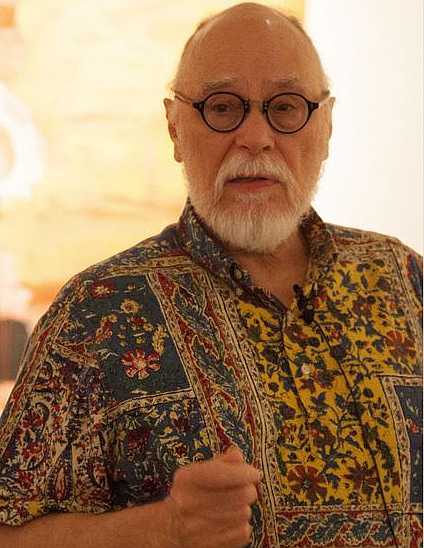 Sammy Peters (Arkansas Democrat-Gazette file photo)
Peters' multilayered canvases are meticulously created with texture, color, patterns and translucency. He works with cold wax, resins and richly saturated oils. Peters' canvases have a meditative aura and seem informed by an improvisational quality one hears in jazz. For information, visit lewallengalleries.com
• "Heavy Metal," the 2019 Arkansas Women to Watch Exhibit Tour, closes Friday at the Russell Fine Arts Gallery, Henderson State University, Arkadelphia.
The exhibition features 23 pieces by Michele Cottler-Fox, Amanda Heinbockel and Robyn Horn, all of Little Rock and Holly Laws of Mayflower. It was organized by the Arkansas Committee of the National Museum of Women in the Arts, an affiliate of the National Museum of Women in the Arts in Washington. Two of Laws' mixed media installations have been exhibited at the national museum. Those works -- Three Eastern Bluebirds and Placeholder -- are in the Arkansas tour.
The "Heavy Metal" tour's next stop is at the Arts & Sciences Center for Southeast Arkansas, 701 Main St., Pine Bluff April 20-June 22. For information, visit acnmwa.org.
• Seeking Refuge in the Forest of My Heart, an acrylic painting by Elizabeth Weber of Little Rock, is in the exhibition "Acrylic and Oil Painting (Pushing Paint)" at the National Association of Women Artists Gallery in New York. The juried exhibition hangs through April 25. For information, visit thenawa.org.
Email:
ewidner@arkansasonline.com
sclancy@arkansasonline.com
Style on 04/07/2019