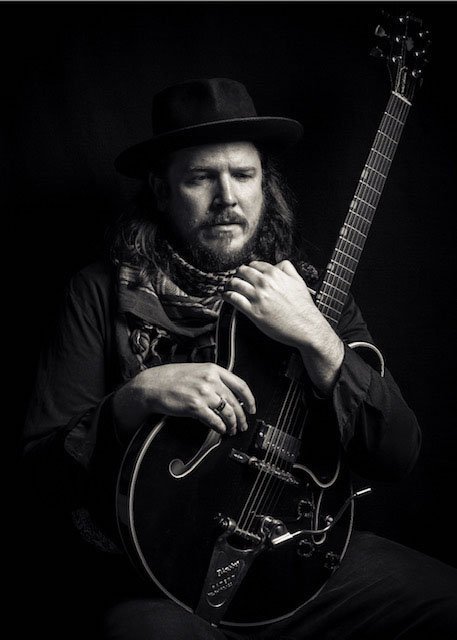 Ben Dickey returns to Little Rock for a show Saturday at White Water Tavern. Special to the Democrat-Gazette/Rett Peek
Halfway through Ben Dickey's excellent new album, A Glimmer on the Outskirts, is a song called "The Man With the Hammer."
It's a softly swaying, rural-vibe track that opens with the ominous image of the title figure and soon finds the narrator riding in a "long, green machine through tunnels of elderwood and jack pine."
Ben Dickey
9 p.m. Saturday, White Water Tavern, 2500 W. Seventh St., Little Rock
Opening act: Jason Weinheimer
Admission: $10
(501) 375-8400
whitewatertavern.com
There's mention of "the great re-arranger" and then, out of nowhere, The Cure.
"The other day I put on Disintegration," Dickey sings/whispers, referencing the landmark 1989 album from the English goth legends, and calls it "One of the greatest records I've ever 'hoid.'"
It's just one sweet little moment in a song, and album, loaded with them.
Dickey, who grew up in Little Rock and now lives in northwest Louisiana, returns Saturday for a solo White Water Tavern show. Jason Weinheimer will open.
Dickey is fresh off his film debut in the 2018 movie Blaze, written and directed by his pal Ethan Hawke. (Dickey's sweetie, artist Beth Blofson, and Hawke's wife are longtime best friends.) Dickey plays Blaze Foley, the Malvern native and songwriter who died in 1989, and ended up winning a Sundance Film Festival Special Jury Prize for dramatic achievement in acting for his portrayal.
In the movie, Texas guitarist Charlie Sexton plays singer-songwriter Townes Van Zandt. In real life, Dickey and Sexton became buddies and Sexton produced and played guitar on A Glimmer on the Outskirts.
"I sent him a bunch of demos, and he sent them to some musician friends of ours he wanted to play on there," Dickey says en route to Atlanta for a show last week before taking a few days off. "The whole process was really seamless and exciting. Charlie makes things easy ... he really knows what you're aiming for and does it quickly and gracefully."
The album, released last month on SexHawkeBlack Records, has a laid-back, T Bone Burnett-ish, Americana feel, with luscious, sometimes ghostly arrangements. Check out the slow-train-comin' thrum of "Stranger on a Silver Horse (Be Amazed)"; the medium-tempo epic "Monstrous Moonshine (Come Back Down)"; the swelling rise of "The Bizzy Waltz"; and the hopping "Eloise."
And about that Cure reference — yes, the 41-year-old Dickey is a huge fan.
"They are still one of my favorite bands, and I can't wait to hear the new record they've made over the winter," he says. "I love them so much."
Dickey was just 10 when his grandfather passed down a 1935 Gibson L-30 archtop guitar. He was in his first band, the punk-influenced Shake Ray Turbine, when he was 16 and was part of the fertile, early-to-mid-'90s Little Rock underground scene. A self-described "angry young man," he dropped out of Central High School when he was 18 to tour.
"Back then you had this holy, righteous, punk rock, DIY scene," he says. "We put on our own shows and organized our own record releases. There were dozens and dozens of bands, and it was an all-inclusive scene. It was a wonderful community to come up in."
In 1997, he moved to Philadelphia, where he worked as a chef and made music with the bands Amen Buzz Rooster and Blood Feathers. In 2016, he released his first solo album, Sexy Birds & Salt Water Classics, recorded over 8 1/2 months of Mondays, the one day he was off work.
Lately, he has been opening shows for Hayes Carl. With a few days off in Atlanta, he says, he'll visit his dad, former Razorbacks football star David Dickey (his mom, Robyn Dickey, was director of special projects and visitor needs in the Clinton White House) and do some solo shows.
He's keeping up with the acting thing, as well. He and Hawke are in the forthcoming The Kid, directed by Vincent D'Onofrio.
"There is something about me that Ethan saw and made him think I would enjoy acting," he says. "He was dead right. I really enjoyed it. I like to express myself and I'm a sensitive critter and all those tools I use when I play music, I use when I'm in front of a camera."
Weekend on 04/18/2019
Print Headline: Movie star Ben Dickey back onstage at White Water
Sponsor Content