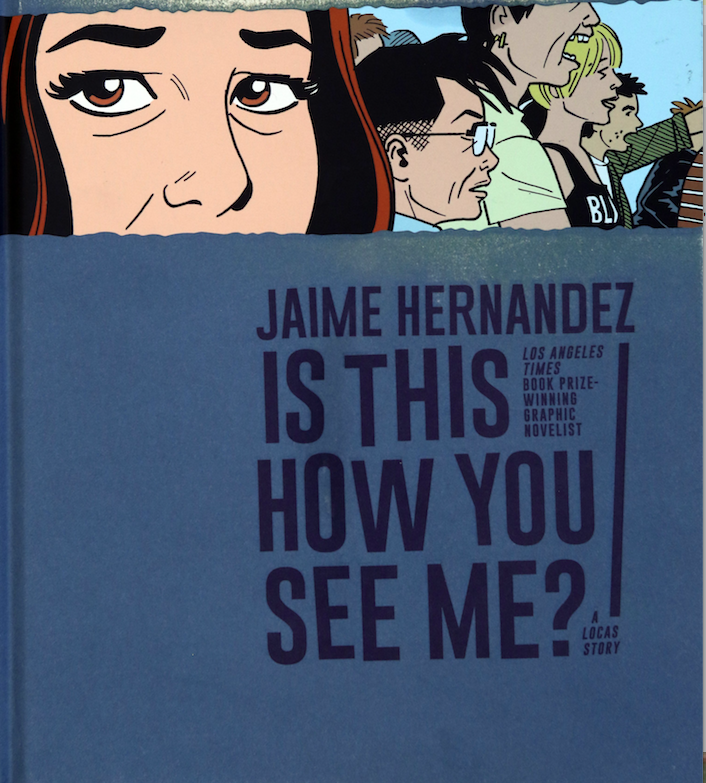 ( Sean Clancy)
In his new graphic novel, Love and Rockets co-creator Jaime Hernandez follows his most beloved characters as they try to recapture the punk rock glory days of their youth.
Aging punks, of course, can never go home again but Hernandez elevates his story beyond that simple premise in another transcendent contribution to the Love and Rockets canon.
Is This How You See Me? (Fantagraphics, $19.99) is Hernandez' latest dispatch from the lives of Maggie Chascarillo and Esperanza "Hopey" Glass, the best friends and sometimes lovers who grew up in the fictional southern California town of Huerta.
They're adults now, with all the baggage of late middle age. Hopey and her wife have a young son, while Maggie has settled down with on-again-off-again flame Ray Dominguez. The two have left their partners behind and returned to Huerta for a night of nostalgia and slam dancing at a punk rock reunion show, where they plan to meet their friends from those days of spiked hair, combat boots and Ape Sex concerts.
Naturally, things go awry. Though Maggie and Hopey start the trip optimistically, they're soon spending more time on their phones than speaking with each other and it's not long before Hopey is having second thoughts and Maggie wants to go home.
Anyone who has lived with the building anticipation of something like that -- a reunion, a party, having guests for dinner -- and the subsequent, even if temporary, dread for ever thinking it would be fun, can relate.
Still, the two eventually make it to the show and meet up with old pals Daphne, Terry Downe, Doyle, Izzy, Joey and others (but where is Penny Century?).
They emerge battered and bruised from the slam pit and are later taunted in the deserted streets of Huerta by a creepy homophobe after the cops -- just like old times -- shut down the show.
Hernandez' draftsmanship and attention to little details is, as always, remarkable; see how Hopey's glasses get tilted on her face as she hugs someone, or the way he draws teenage punk mutants Maggie and Hopey in profile, oblivious to the sneers of the people watching them walk by. He still works with pen and ink and boxes his images in simple panels. His writing shows, subtly and concisely, how the personalities of some characters have become embalmed by age.
Poignantly, he includes flashbacks to 1979 and fills in the early days of Maggie and Hopey's friendship. For Love and Rockets veterans, this is a glorious trip to Nostalgiaville with two old buddies.
Back then we see the bratty, spitfire Hopey, all shaved head and mouthy attitude, and the adoring, curious Maggie, hanging on her every word. Soon, Maggie has chopped her hair short and is dressing thrift store, punker-chic. By 1980, they're practically twins and their relationship has sweetly blossomed.
Over the course of Is This How You See Me? rebel girl Hopey, now a postmenopausal, married mom with nagging regrets about her misspent youth, emerges as the more mature of the two as Maggie, complex and contradictory as usual, alternates between enthusiastic and grumpy while feeling out -- and sometimes pushing -- the boundaries of her current status with Hopey. The return to their old stamping grounds, with its quiet revelations, seems like a bittersweet end to one part of their lives.
A COMICS-LOVING HOME
The 59-year-old Oxnard, Calif., native Hernandez has been drawing these two and their friends for most of his life. He grew up in a comics-loving home and soaked up the work of Dan DeCarlo and Harry Lucey of Archie, comic book legend Jack Kirby and Peanuts creator Charles Schulz along with a steady stream of B-movies, punk rock, lowrider culture and professional wrestling. He first published Love and Rockets with his brothers, Gilbert and Mario, in 1981. That debut issue caught the attention of indie publisher Fantagraphics, which has been the title's home ever since.
Mario left the book but Jaime and Gilbert continued, working independently of each other on their own storylines. They drew and wrote adult tales about people of color with multifaceted women as their main characters and nary a cape or cowl in sight at a time when comic books without superheroes were still seen as novel. Gilbert's most popular and adventurous stories were set in the fictional South American city of Palomar, while Jaime's "Locas" narratives followed Maggie, Hopey and their friends in Huerta.
After a run of 50 magazine-size issues that ended in 1996 they made 20 issues of a regular-size comic before turning to an annual trade paperback in 2008 called Love and Rockets: New Stories. In 2016, they returned to the magazine-size format -- Love and Rockets: Vol. IV -- and have published six issues. The stories that make up Is This How You See Me? first appeared in New Stories 7 and 8 and issues 1-5 of Vol. IV.
Since it debuted, Love and Rockets has been a critical fave that found a devoted following without ever completely crossing over into the mainstream.
Graphic novelist Nate Powell, the Little Rock native and winner of the National Book Award and multiple Eisner Awards who now lives in Indiana, started reading Love and Rockets in 2007. In an email, he calls Jaime "indisputably one of the greatest cartoonists in comics history, and I look to his clean, patient line and compositions in negative and background space as inspiration whenever I fear my own work is looking too busy and cluttered."
Novelist Marlon James has been praising Love and Rockets while on the publicity circuit for his new book, Black Leopard, Red Wolf and called Gilbert's graphic novel Palomar "the finest American work of fiction of the past 20 years." Painter Henry Taylor, also raised in Oxnard, counts Jaime and Gilbert among his biggest influences and cartoonist Katie Skelly called Jaime "the greatest living cartoonist" in a recent interview with him. Little Rock native Ben Nichols of the rock band Lucero paid tribute with the song/fan letter "The Devil and Maggie Chascarillo" on Lucero's 2009 album 1372 Overton Square. An English alt-rock band from the '80s copped its name from the comic book (which Gilbert later skewered in a story), and indie rockers Speedy Ortiz are named for a doomed, childhood crush of Maggie's.
Jaime's storytelling is powerful, Powell says, because he provides "space for characters to be [unpleasant], disappointing people in ways that don't detract from their beauty and dignity, or from our ability to empathize with their journey. It's truly all about character for me when I read Love and Rockets."
One of the wisest decisions Hernandez made early on was to allow his characters to age, which presents them as even more realistic, and it is to his credit that he has allowed them to reflect the passage of time in ways that aren't always flattering.
Since her creation, when she was a ditzy, curvy "prosolar mechanic" in the science-fiction-leaning early days of Love and Rockets, Hernandez has put Maggie through an emotional (and sometimes physical) wringer. She has gained weight, fallen in love, been dumped, lost friends, was briefly married, got mistaken for a prostitute, hung out with professional female wrestlers and took care of Ray after he was attacked by her deranged little brother.
Hernandez went into greater detail about Maggie's troubled childhood and her relationship with Ray in The Love Bunglers, 2014's powerful, gut-punch of a graphic novel, which gave some insight into the guilt and insecurity that has always seemed to dog her and also made her so relatable.
As is the case with most any long-running comic title there are loads of Love and Rockets collections by Jaime and Gilbert from Fantagraphics, and the sheer breadth of the catalog and its massive cast of characters can seem intimidating. While fans will smile at some of the inside references to earlier storylines in Is This How You See Me?, it's also as good a place as any for a neophyte to enter the labyrinthine world of Hernandez' "Locas" and fall in love with his art, stories and characters.
Style on 04/21/2019
Print Headline: POP NOTES: Hernandez' revisits 'Love and Rockets' characters in new graphic novel
Sponsor Content