Ready for fall yet? If you're like me -- hot-flashing in Arkansas -- all the good stuff is sold out in your size by the time you begin to think seriously about your cold-weather wardrobe.
So let me put fall on your mind while the dog days of summer rage on ... and take you back to the New York Fashion Week shows in February.
According to the sartorial publications, the top fall trends of 2019 include: suits. Especially suits as part of the "Bougie Girl" look, as Harper's Bazaar calls it, or "Prep School" look, as Elle calls it ... long, cinched blazers/jackets, bow-tie blouses, pleated skirts, sweater vests. Wide, padded shoulders, also figuring into that bougie-prep look. One-shoulder looks. Neon colors. Tweed. Various shades of green including, ahem, pistachio. Dark floral prints. Furry, trench-y, animal-print-y and belted outerwear. Stylized incarnations of the ubiquitous animal print. Metallic and leather clothing. And updated lace looks -- as in what Whowhatwear.com calls "Romance gone grunge" and Thezoereport.com calls "Good Goth," making mention of "'90s-era punk and Matrix vibes." Think cute black lace dresses with chains and combat boots. That and the dark floral prints come under what Popsugar.com calls "Modern Romance." Don't want to look romantic? Quilted clothing will be hot, too. Oh, and plaid goes punk.
As always ... whatever trends it even gets cold enough to rock here, we're sure to do up in ways that will be user-friendly.
Brace(let) yourself
Last column, I brought some jewelry trends from Bill Jones, chief executive officer of Sissy's Log Cabin, but didn't have room to place it all.
Turns out there are ways to glam up the Apple Watch, according to Jones. Not too big a surprise there, as we women like to make utilitarian stuff look cuter; I once wrote about aids made to glam up fitness-tracker bracelets. Anyway, Lagos has introduced a line of bracelets -- silver, silver/gold and gold with diamonds -- that will snap into the watch. They run $800 to $7,000 at Sissy's. "People love their jewelry -- but they like their technology," too, Jones says.
Speaking of bracelets, here's a fashion tip I learned from Jones on stacked bracelets: Always do an odd number of them.
"An even number of bracelets on the wrist doesn't look nearly as good, because subconsciously, your eye can't pick center," he says. "And subconsciously, there just seems to be something wrong. So you always want to have one, three, five or seven."
Pop Up Shop
Hang on to your hats. I'm told the Pop Up Shop, that long weekend-length sale of items offering new and gently used designer duds to benefit Women and Children First, will have another incarnation that is tentatively planned for September. Details are being hammered out; more to come.
Product reviews
Some samples recently tried; some outfits recently bought:
• What will probably be our only major purchases for the fall social season: My hubby's unconventional tuxedo -- and my coordinating formal gown -- from D'Iyanu (Diyanu.com), a 5-year-old clothing brand by Nigeria native Addie Elabor. These are just two examples of Elabor's men's, women's and children's styles, made fully or partially of African ankara fabric and prints. The suit is headlined by the Rammy Men's African Print Blazer, which comes in several prints and two price points. This lined, cotton-shell jacket features a black satin shawl collar. Hubby ordered a Rammy featuring solid and patterned bubbles of royal, light blue, black and white on a yellow/white background, also patterned and striped ($159.99). That's a lot going on, but it all works. The slim-fit, machine-washable Oba Men's African Print Dress Pants, $59.99, feature the same print as an inch-wide stripe down their sides. The jacket also comes in a black/brown geometric print and a burgundy/gold/black print. No coordinating pants for these were in stock when I checked, but plain black tux pants will do.
Then there's the Nala Off Shoulder African Print Formal Gown, $99.99. The full-length body-conscious dress is made of the company's Onna fabric -- stretchy, substantial, scuba-type-fabric -- and is of that same bubble print. The dress features tiny sleeves that are basically an extension of the off-shoulder, cuffed-look, sweetheart neckline; and a front slit that is to hit midthigh. The dress also comes in a gold/White Diamonds print. At 60 inches long, the Nala will require hemming for shorter wearers.
Fashions at D'Iyanu can sell out fast. Only size 30 waist in the dress pants, XL and XXL in the dress, were available at last look, but there's a link to receive an email when out-of-stock items are refreshed.
• YoRo Naturals' Organic Manuka Skin Soothing Cream ($25.95 at Amazon.com and eczemacompany.com). This oil-based skin cream purports to moisturize "even the driest of skin." It's made with six ingredients, including organic New Zealand Manuka honey -- a natural preservative said to have 1,000 times more methylglyoxal than regular forms of honey -- and Manuka oil. Yeah, but how good is this stuff? This relentlessly-dry-skin sufferer wanted to know. I tried it on the back of my hand and was happy with the results; hubby and I tried it more extensively later and love how it thoroughly moisturizes without being greasy.
• A product for the not-really-waning-in-our-neck-of-the-woods summer: BGS (Black Girl Sunscreen, $18.99 at Blackgirlsunscreen.com). The product, with a sun protection factor of 30, is the brainchild of Shontay Lundy, an outdoors enthusiast who was embarrassed one too many times by the white residue left on her skin by conventional sunscreens. BGS includes such natural ingredients as carrot seed oil, jojoba oil and shea butter ... and leaves no white residue. BGS is also advertised as fragrance-free, but still has that "sunscreen" smell.
• The Pocket Palette for ladies on the go. "Rather than lugging along your whole makeup bag" wherever you go, you can just carry The Pocket Palette -- a single-use, full-face pouch of travel makeup. It consists of mascara, lipstick/cheek tint and foundation. The line is available in a three- or 10-pack; users can select four options based on skin tone: Light, Medium, Tan and Dark. After receiving multiple samples, I tried the line, mixing the Tan foundation from one with the Medium from another and getting a blend that matched my skin color fairly decently. I liked the lip-cheek product more as a cheek color. The small encased mascara wand is generously endowed and can be messy if one is not careful. The Pocket Palette is available at thepocketpalette.com and Amazon.com for $11.99-34.99.
Send fashion-related news releases at least 30 days in advance to:
hwilliams@arkansasonline.com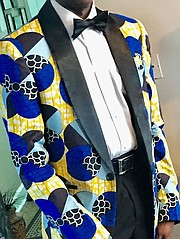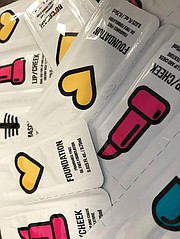 High Profile on 08/04/2019