Chris Collier, chief executive officer for the Arkansas Prostate Cancer Foundation, remembers distinctly how he got to know Dr. Gail Reede Jones.
It was around the late '80s, he says — "I was just a few years removed from college … I had a kidney stone, and I went to the emergency room. I didn't know what I had. I was just in excruciating pain." Collier was asked if he had a urologist. He didn't even know what one was. As it happened, Jones was on call.
Lying in bed in the ER, Collier heard a fragment of conversation between two nurses. One of them said, "Well I wonder how he's going to feel about that."
"I don't know," the other nurse replied. "I guess we'll find out in a minute."
Then Jones arrived. "She kind of ripped the curtain back somewhat forcefully, and announced, 'So! We have a stone.'… I'm laying there as a white man, and I'm looking at a black female doctor. And I thought, 'Wow.'
"That's where the love affair started."
Jones was his doctor for more than 20 years, helping him with multiple kidney stone problems.
"She has seen me in the most compromising positions possible, and I wouldn't be anywhere else," Collier says. "I'm just crazy about her."
Jones, a provider with Arkansas Urology, credits Collier and her other patients with her success in three decades of urology practice in Little Rock — "the people who … said, 'I'm entrusting my health to you.'" They helped her to focus when dealing with the inevitable, and subtle, signs of sexual bias.
"You always go through that early period where you explain who you are — 'No, I'm not the nurse.' I think many, many female physicians have gone through all of that. … When you'd walk through the room, and someone's on the phone, they would say, 'Oh, let me get off the phone; the nurse is here.' Now, you walk in the room and they say, 'Oh wait, the doctor's here.'
"I think people are more accepting of the fact [that] your personal health care is being now provided to you by someone who happens to be African American and someone who happens to be female."
Jones will be the first woman and first black honoree at the Prostate Cancer Foundation's annual Blue Ribbon Bash, its major fundraising event, on Aug. 22. Jones is being recognized for her passion for awareness of a disease that is three times more likely to affect black men. According to the foundation's website, prostate cancer can affect one in six men between ages 60 and 79, and black men are at higher risk than white, Hispanic or Asian men. Black men are also more frequently diagnosed with the disease in an advanced stage and have lower survival rates. The risk of prostate cancer goes way up for every father, brother or uncle who is diagnosed, especially if this diagnosis comes at a young age.
Helping educate people about the sobering facts concerning prostate cancer — and raising money to promote awareness of it — is the purpose of the Blue Ribbon Bash. Chaired by Billy Roehrenbeck, the event will begin at 6 p.m. in the Statehouse Convention Center's Wally Allen Ballroom. Little Rock Mayor Frank Scott will serve as master of ceremonies. The evening's lineup of activities includes a VIP reception and an auction. Tickets are $150 at arprostatecancer.org .
"You always go through that early period where you explain who you are — 'No, I'm not the nurse.' I think many, many female physicians have gone through all of that. … When you'd walk through the room and someone's on the phone, they would say, 'Oh, let me get off the phone; the nurse is here.' Now, you walk in the room and they say, 'Oh wait, the doctor's here.'"
In her practice, Jones treats both sexes, dealing with such things as kidney stones and urinary tract stone disease … and, prevalent among women, urinary tract infections.
"Arkansas Urology and the foundation have really worked together to help men and their families, to educate them about their prostate health in general" — and, after diagnosis, coach them through treatment and teach them "to be vigilant about surveillance later on," Jones says.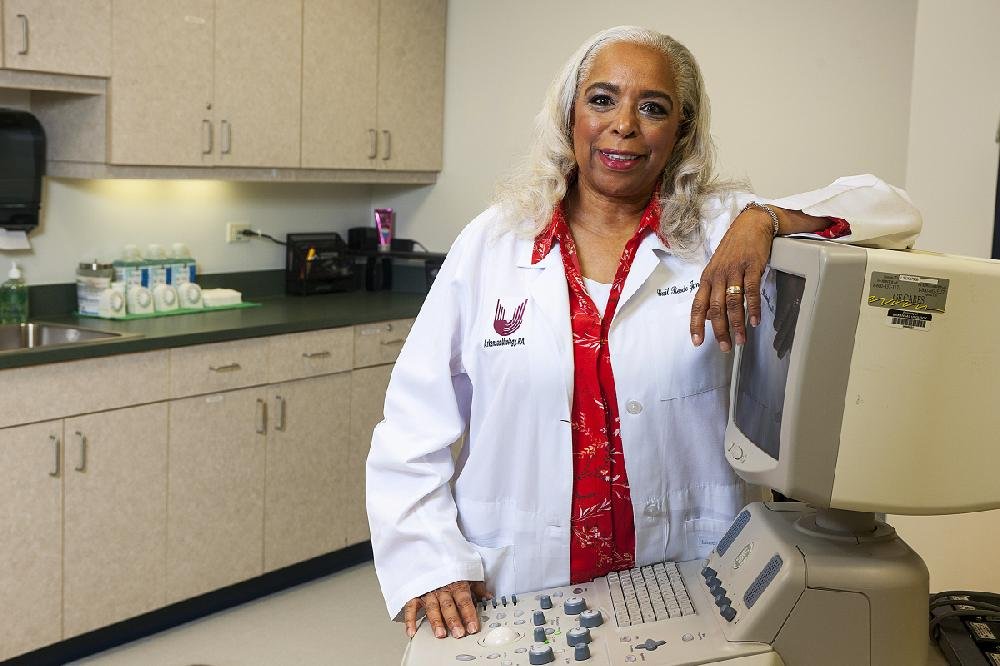 "In certain families, you got to a certain age, you need shoes, you find a way to go and work so you can buy your shoes.You want a new dress? I guess you can go on and get out there and put in the time to get ... the funds to do that."
STRAIGHT FROM THE BIG APPLE
A New York native, she was the third of 12 children of Gloria Branham Reede and Harold Carbot Reede. Her eldest sister died in childhood, so Jones had a lot of the older-sibling duties.
She never dreamed she'd end up in Arkansas. "It's not like your parents took you across the country every spring and summer vacation or something," she says. "And so no, I can't say that I had any thoughts of ever leaving the city."
As a child, Jones had no specific career aspirations, but "I knew I was going to have to work to earn a living," she says. Her parents served as her work-ethic role models. Her mother was a registered nurse, and her father worked in construction, specializing in refrigeration.
Her mother focused on her children getting an education. She was a graduate of Harlem Hospital School of Nursing, and Jones and her older siblings remember waiting up until nearly 11:30 for her to come home. "And usually one of her patients gave her something." By the time the Reede children got home from school, "she was tearing out of that door to catch that bus to get to work."
Jones' childhood hobbies were sewing, crocheting and related handiwork. And, she adds, there was her passion: books. "I can't think of not one single night of my life that I didn't read something before I went to bed."
Jones and her sister, Dr. Deborah Reede, always worked part-time jobs after school. Therefore, Jones wasn't involved in clubs and extracurricular activities in high school. After the last bell rang, Jones would head to New York Hospital, part of the Cornell University medical complex, and work in the dietary department. Deborah Reede had a similar part-time job working in the dietary department at a hospital in Queens.
"In certain families, you got to a certain age, you need shoes, you find a way to go and work so you can buy your shoes," Jones says. "You want a new dress? I guess you can go on and get out there and put in the time to get … the funds to do that."
To travel to and from her after-school job, Jones took the No. 7 subway line that went past Shea Stadium, which during its existence was home to the New York Mets and New York Jets. It was the line that took passengers from the site of the 1964 World's Fair straight into Manhattan. New York Hospital and Hunter College were both at the same subway stop on the line. So for convenience, Jones applied to Hunter College to do her undergraduate work. "I always jokingly call it UCLA — the University on the Corner of Lexington Avenue."
ASPIRING DIETITIAN
Jones and her sister had decided that they were going to be dietitians. But then one of Reede's instructors told her "'Sure you'd be a great dietitian, but you ever think about applying to medical school?'" This mentor encouraged Reede to apply to medical school; she studied in upstate New York.
Reede encouraged Jones to apply to medical school, too. All the courses needed to become a dietitian were, Jones says, "essentially the same courses you take to get into medical school with the exception that you just have to take an additional semester of organic chemistry and physics."
Jones spent one summer at Fordham University in the Bronx, earning her extra credits in organic chemistry, and did a semester of physics at Hunter. Then she applied to medical school and was accepted to Meharry, the historically black medical school in Nashville, Tenn. — "a place I had never been before in my entire life," she says. "But I went to Nashville, and it was a very good experience. All the folks that you ever encountered there, your professors, you felt that there was a definite interest in you getting where you needed to be."
That's where she met Dr. William Rutledge of Little Rock. He was a fourth-year student when she was in her first year. A surgical resident by the time her class started doing its clinicals, he encouraged her to pursue a surgical career.
"I very much wanted to do something surgical," Jones says. "A lot of it came from the energy and excitement of being around the surgeons … there was a certain excitement about doing that kind of work. … It was hard work. You worked hard."
Rutledge, Jones continues, "was very supportive of all the women [who] had an interest in surgery." Then she met another Arkansan — Dr. Henry Foster, a Pine Bluff native and head of the OB-GYN department. "I was really interested in being an obstetrician-gynecologist," she says.
But, the summer before Jones applied for a residency, she had an opportunity to work with some of the urologists. She was doing an obstetrician externship, "but then when our clinic time would end, and we had time, yeah, we would all hang out with the urologists … They would say, 'Come in this room here, let me show you this.'"
For the other women in Jones' fourth-year medical-student group, showing up among the urologists was more of a "shock and awe" thing, Jones believes. "But the more we'd go over there, the more I'd say, 'You know something, I think this is not bad. This is neat stuff.'"
On the advice of Dr. Marcel Hamburg at Meharry she applied to several urology residencies. She says it was mostly out of curiosity — as many of these programs had not had female applicants — that she was accepted into the University of Pittsburgh Medical College. While in Pittsburgh, Jones met the visiting Dr. Edith Irby Jones — yet another native Arkansan and the first black female graduate of what is now the University of Arkansas for Medical Sciences. (Irby Jones passed away on July 15.)
But it was Rutledge who persuaded Jones to come to Little Rock and consider beginning her solo urology practice there.
NEW HOME, NEW SUPPORT SYSTEM
She moved to Arkansas in July 1987 — "kind of an exciting time" for black doctors in Little Rock, she says.
"Everyone was in sort of fairly nascent stages," she explains. "There was like a more senior group of African American physicians and then probably a gap and then several of us that … had [recently] opened up their private practices. It was really that core of folks who were already here that I will say [were] part of why I think I've been able to stay here for 30 years.
"There weren't really very many solo practitioners practicing urology in the city of Little Rock," Jones adds. But within a decade all the private urologists came together and Jones was invited to be part of that group. "Since 1996, we have been Arkansas Urology … the first of the big, consolidated groups in the city."
Dr. Anthony Fletcher, a Little Rock cardiologist and personal friend, admires Jones as "a very energetic, outgoing individual and very personable."
"It's very easy to get to know Dr. Jones," Fletcher continues. "She's just a real person. She's down to earth. She's funny. She loves to have a good time and enjoy life, but yet she's very professional and serious about what she does during her day job."
Fletcher, who has served with Jones as a volunteer for the Arkansas Medical, Dental and Pharmaceutical Association, remembers the mixed reactions from men during Jones' early days practicing in the city.
"I think as time went on and she established herself as just a very comprehensive, caring individual who was well skilled at her craft … it became sort of a moot point that she was one of the [professionals] to go see and be evaluated by."
Jones describes her career as "an interesting journey." Her personal journey has included three decades of marriage to Jesse Mason, retired director of the Cooperative Education Internship & Placement Office at the University of Arkansas at Little Rock.
The couple met at what is now CHI St. Vincent Infirmary through Mason's father, who was being treated by Jones. Mason, who was in town from California, failed in his attempt to get Jones to go out with him on an impromptu date. But a subsequent long-distance phone call from him to her sparked a flame that turned into a roaring fire. Mason became a stepfather to Jones' now-grown sons, Jyermal "Jay" Jones and Khalid Reede Jones.
SCREENING IS KEY
Having a husband and sons who fall in a demographic that puts them especially at risk fuels Jones' mission to impart the importance of prostate screening.
"We do advise screening within certain age groups for sure. … It's sort of like there is an agreement [among] many in the … overall medical and health communities that ... African American males, and men who have had a history of prostate cancer in their family, should start getting screened at 40."
The American Urological Association recommendations for prostate screening rule out men at average risk who are under age 40, and men over age 70, for routine screening. "We see men, of course, over 70," Jones says "Plenty of men, for that matter."
When it comes to preventive advice Jones tells men if they're taking measures to ensure good heart health, they're already helping their prostates. "In general, we're talking about just [taking] care of your health."
She carries this message from the examination room to the advisory board of the Arkansas Prostate Cancer Foundation, on which she and most of her colleagues have served.
"We do so much in the community, in conjunction with the American Cancer Society, with the Arkansas Prostate Cancer Foundation," she says. "I think we're sort of [creating] synergy to help everyone that's got an interest in the men's health community and, especially, educating newly diagnosed prostate-cancer patients and their families and giving them guidance on how to go forward from there."
SELF PORTRAIT
Dr. Gail Reede Jones
PLACE OF BIRTH: New York, in the borough of Queens
FANTASY DINNER GUESTS: My paternal grandparents, John Reede and Viola Frazier Reede, from whom I'd like to hear about our family's Gullah-Geechee heritage; and my maternal grandparents, Harold and Ernestine Bran-ham, from whom I'd like to hear about our family's Florida roots. I'd also like to hear both their personal stories about their journey north during the Great Migration.
BEST ADVICE I'VE EVER BEEN GIVEN, AND BY WHOM: I cannot remember the best, but I can recall the one I think of often: "You cannot prevent or stop someone from insulting you, and they must also know they cannot prevent or determine how you respond to their insult. Haters never run out of material." – My husband, Jesse Mason.
A FAMOUS SAYING IS "PHYSICIAN, HEAL THYSELF." I SAY: When patients ask if their problem is related to aging — "Patient, yes. Most everything is related to the aging process and the initial elements started prior to conception. Patient, be aware!"
THE BOOKS ON MY NIGHTSTAND: News of the World — Paulette Jiles; Between the World and Me — Ta-Nehisi Coates; The Color of Law: A Forgotten History of How Our Government Segregated America — Richard Rothstein; and The Well-Educated Mind: A Guide to the Classical Education You Never Had — Susan Wise Bauer.
WHAT I MOST WISH PEOPLE WOULD REALIZE ABOUT ME: Many of my daily encounters are with people I have never met before who must reveal their lives and bodies to me … and I have less than 60 seconds to establish a trusting relationship. I give great respect to that person and am grateful for their confidence in me.
LIFE IS LIKE A DOCTOR'S OFFICE IN THAT: We are constantly working on losing the "wait."
ONE WORD TO SUM ME UP: Unscripted
"In certain families, you got to a certain age, you need shoes, you find a way to go and work so you can buy your shoes. You want a new dress? I guess you can go on and get out there and put in the time to get … the funds to do that."