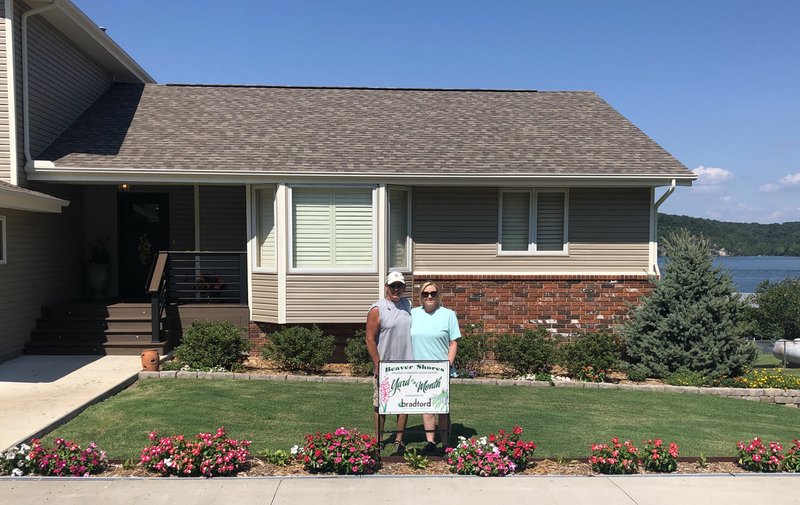 Courtesy photo The August Beaver Shores POA Yard of the Month went to Sean and Angie Spicer at 8090 N. Lakeshore Drive in Rogers. Sean does landscaping on the side and has done a transformation to this yard that was once full of Yuca plants. Now there are pink azaleas across the front, vincas, elephant ears, hosta plants, verbena, impatiens, a Japanese maple tree and Colorado blue spruce. Sponsor Bradford Yard Living + Landscaping provided a $25 gift card to the couple.
Laurenzo
to speak
The Writers' Colony at Dairy Hollow will host Jenna Laurenzo, who will speak at 2 p.m. Aug. 11 at the Main Stage Creative Community Center, 67 N. Main St. in Eureka Springs.
Laurenzo is the director, writer, producer and star of Lez Bomb, which made its world premiere at the 2018 Bentonville Film Festival, winning the best narrative feature jury award. The Five and Dime Drama Collective and Writers' Colony will present a preview of Lez Bomb, and Laurenzo will host a talk-back and question-and-answer session. Admission is free.
Information: (479) 253-7444 or writerscolony.org.
Blood center
seeks donors
The Community Blood Center of the Ozarks is currently experiencing a severe shortage of most blood types. While the goal is to maintain at least a three-day supply of blood, reserves of type O negative, A negative and A positive are significantly short and approaching emergency levels. An immediate donor response is needed to ensure that this lifesaving product continues to have a positive impact on patients at more than 40 area hospitals in the Ozarks.
Participants at CBCO mobile blood drives through Aug. 31 will receive a free "Super Hero" T-shirt. They are colorful reminders of the gift that means so much for local patients.
Help to save lives by giving blood at these upcoming blood drives:
•Fayetteville: 1-4 p.m. Aug. 14, APAC Central Inc., 755 E. Millsap Road; 10 a.m.-4 p.m. Aug. 15, Washington County Sheriff's Office, 1155 Clydesdale Drive
Information: (800) 280-5337 or cbco.org.
Oktoberfest
announced
The fourth annual Bentonville Oktoberfest will be held from 6 to 9:30 p.m. Sept. 21 at the First National Bank of NWA, 402 S.W. A St. in Bentonville.
Organized by the Rotary Satellite Club of Bentonville, the outdoor event features local and regional breweries, brats, a silent auction and music by Squirrel Jam and Take Cover. The Brewhouse sponsor is Keurig Dr Pepper, and proceeds will benefit Havenwood and the Northwest Arkansas Children's Shelter. Regular and VIP tickets are available. Attendees must be 21 or older.
Information: nwaoktoberfest.com.
Pack Rat
has contest
Pack Rat Outdoor Center is expanding its cinematic horizons. Last year, Pack Rat teamed up with the South Yuba River Citizens League from California and hosted Fayetteville's first Wild & Scenic Film Festival. With more than $6,000 in funds raised for the Buffalo River, via the Buffalo River Watershed Alliance, they continue the march of progress and conservational awareness by hosting the second annual Wild & Scenic Film Festival on Oct. 12 with a film contest. The winner will be shown at the film festival, as well as receive an assortment of prizes.
Information: packratoc.com.
Musical
seeks cast
The historical Cherokee musical Nanyehi -- The Story of Nancy Ward is hosting a casting call to support the musical's Nov. 15-16 production at The Joint inside Hard Rock Hotel & Casino Tulsa.
Auditions will be held from 2 to 5 p.m. and 7 to 9 p.m. Aug. 17 at the Fly Loft, 117 N. Boston Ave. in Tulsa. Dancers will audition from 4:30 to 5 p.m. Auditions are also offered from 2 to 5 p.m. Aug. 18.
Those auditioning for a singing role are asked to sing a cappella or provide their own accompaniment. A keyboard and CD player will be provided. Nonsinging hopefuls will read from the script, and dancers are asked to bring dancing shoes as they will be taught a short routine.
Nanyehi is presented by Cherokee Nation Businesses and Hard Rock Hotel & Casino Tulsa.
Information: nanyehi.com or email nanyehiproductions@gmail.com.
NAN Profiles on 08/11/2019
Print Headline: Local notes
Sponsor Content