For some people, when they think of the American West, turquoise is often at the top of the list. It is usually identified with that part of our country. But what about how it's mined?
For those who seek an answer, INSP's original six-episode series Turquoise Fever, which premieres at 8 p.m. Wednesday, will give some answers.
The show focuses on The Otteson family -- there are 10 of them -- and their relentless pursuit of some of the most valuable turquoise in the world. Often worth more than gold.
The Ottesons battle blistering days and freezing nights, detonate explosives on treacherous slopes, and struggle to pull enough of the stone from the desert to keep their business going for a fourth generation.
The family works just outside of Las Vegas, in the Great Basin Desert. Beneath the barren landscape is a treasure worth millions. Their challenge is to know how to find it.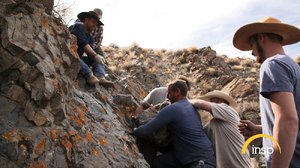 Members of the Otteson family work to find turquoise in Nevada's Great Basin Desert. Their struggles and triumphs are part of the new INSP series Turquoise Fever.
Style on 08/11/2019