JACKSONPORT — Looking as sleek as a spaceship freshly arrived from some stylish solar system, the new Visitor Center at Jacksonport State Park dazzles in sharp contrast to its time-worn 19th-century surroundings.
Designed as a 21st-century spin on the traditional dogtrot house, with a breezeway flanked by exhibit galleries, the $4.1-million structure stands on a levee overlooking the White River and the former Jackson County Courthouse.
The imposing brick courthouse was completed in 1872, in a variant of Second Empire style, for what was then a princely sum of $40,412. Open six days a week, it still houses historical exhibits in five ground-floor galleries. They remain worth a visit, as does the upstairs courtroom with its aura of legal drama from the decades just after the Civil War.
But the Visitor Center, open daily since March with exhibits that deploy some bells and whistles of digital legerdemain, is now the star of the show at Jacksonport. The project was financed, like other recent improvements in state parks, through the one-eighth of 1 percent conservation sales tax that voters approved in 1996.
Polk Stanley Wilcox, designer of the 12,000-square-foot center, describes the structure in Architect magazine as "our 'Miesian dog-trot' [an allusion to renowned modernist Mies van der Rohe]." The Little Rock-based firm calls it "a platform to see and experience the past, and more importantly to understand the value of our state's history."
The architects link the design to the Civil War, which saw the town's occupation by Confederate and Union forces, due to its strategic river location. The two glass cubes divided by the breezeway represent "the divided North and South under one roof ... a symbol of reunification." The entrance plaza's grove of six trees stands for "almost 6,000 Arkansans whose war ended in this place."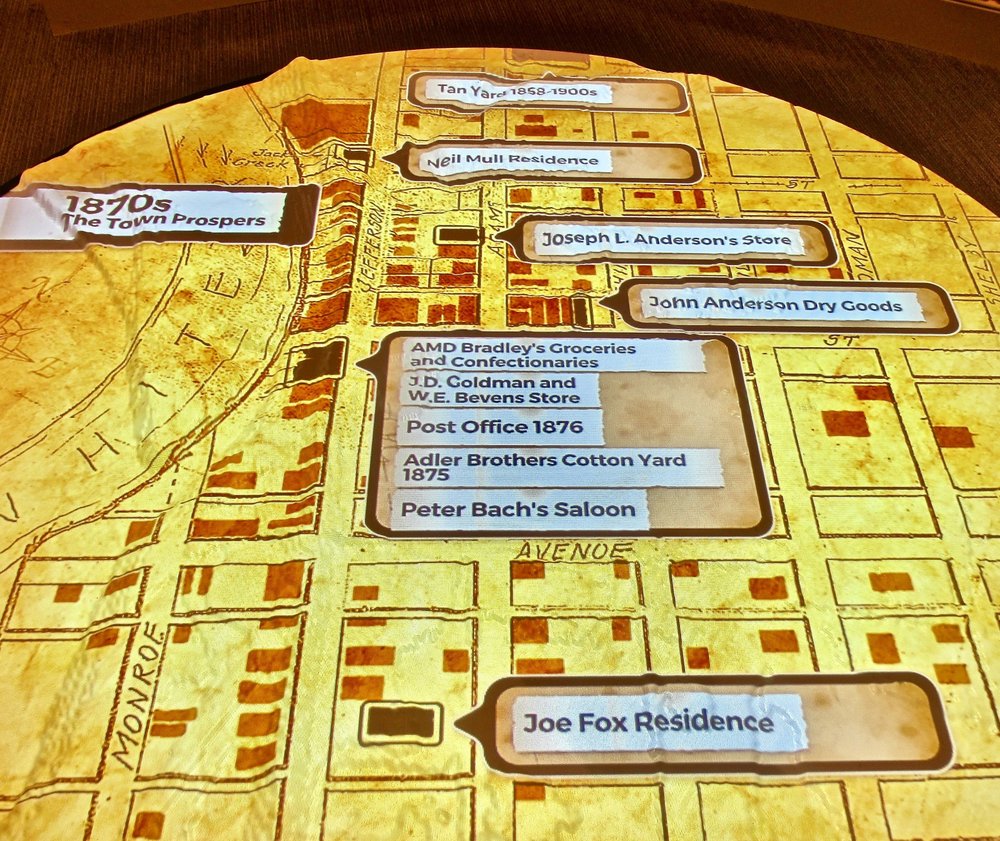 An illuminated map at Jacksonport State Park Visitor Center shows the layout of streets and businesses in decades of rise and decline. (Photo by Marcia Schnedler, special to the Democrat-Gazette)
Such lofty imagery aside, the visitor center's liveliest pleasures lie in the personal touches of exhibits, which put a human face on Jacksonport's rather brief span of prosperity. Population peaked around 700 in the 1870s, before railroads bypassed the town and the number of residents declined to the present 200 or so.
Particularly poignant is "Dear Mother: Letters From the War," a collection of correspondence between Confederate soldiers and their families back in Jackson County. Jacksonport was one of the first Arkansas communities to organize a Rebel unit, the Jackson Guards, who boarded the steamboat Mary Patterson for Memphis on May 5, 1861.
"There was not a dry eye in the throng," wrote an observer. "Mothers were there who saw their sons for perhaps the last time. Sweethearts gave farewell to those they would love until death. Who would not be moved to tears?"
A photograph of the Mary Patterson's captain, William Bateman, is posted with the notation that he was popular "but ran a tight ship. On one occasion, when a large group of intoxicated passengers caused problems, he tricked half of them into going onshore."
Wedding attire of Jacksonport's prosperous period is noted in the display "Why Not White?" Visitors learn that white gowns, which became fashionable in the mid-19th century, "were a lavish show of wealth" but also hard to clean. Instead, "many women chose another color so the dress could be worn on other occasions."
The nitty-gritty of 19th-century life is evoked by the label "Pretty Gross" above a collection of chamber pots and spittoons. More delicate is a painted cup and saucer with the notation that John A. Gardner bought them "as a surprise for his wife. They were among the first dishes sold in Jacksonport after the Civil War."
The new visitor center at Jacksonport State Park, six miles northwest of Newport off Arkansas 69, is open 8 a.m.-5 p.m. daily. The park's courthouse is open 8 a.m.-5 p.m. Tuesday-Saturday and 1-5 p.m. Sunday. Admission is free. Camping and a swimming beach are available. For details, visit ArkansasStateParks.com or call (870) 523-2143.
Style on 08/27/2019