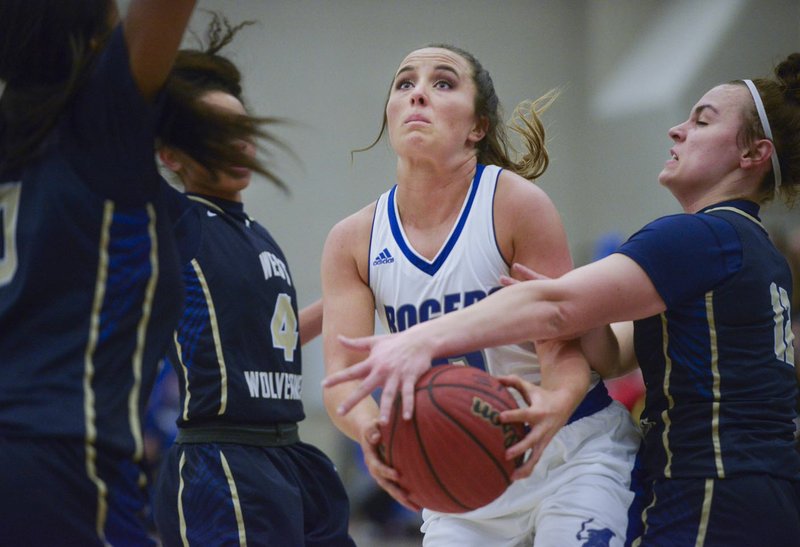 NWA Democrat-Gazette/CHARLIE KAIJO Rogers High School guard Courtney Storey (2) drives the ball for a layup during a basketball game, Friday, February 8, 2019 at Rogers High School in Rogers.
ROGERS -- The 3-point shot was open and available, and Rogers High's girls took full advantage of it Friday night.
The Lady Mounties connected on a dozen shots from beyond the arc -- six of them by senior guard Courtney Storey -- and that became the main offensive weapon as Rogers claimed a 53-37 victory over Bentonville West during 6A-West Conference basketball action in King Arena.
"We knew it was going to be a critical element in this game," Rogers coach Preston Early said. "We knew they had become a zone team over the last three or four games. One of the things we worked on is the spacing and ball movement.
"I give a lot of credit to our players for the way they moved the ball to open shooters. We tell them all the time ball energy creates open shots. We were relaxed and confident, and those things go hand-in-hand."
Storey found the open spot early and quickly hit a trio of 3-pointers in the first 4 minutes, then Kate McConnell hit her first to help Rogers (14-8, 6-4) grab a 13-5 lead with a minute left in the first quarter. Storey then hit one more in each quarter, with her sixth coming with 6:16 remaining.
That put Storey within one of the school record McConnell set earlier in the season, but she never had the chance to go for the tie. Early told his team to settle for layups as Rogers owned a 51-37 lead, and Storey did hit a short jumper to give her a game-high 21 points.
"We practiced a lot against the 1-2-2 this week, and our JV helped us work for the open shot," Storey said. "Then my team found me. It would have been nice to tie that record with Kate McConnell, but I'm OK with it. We were doing good."
McConnell added a trio of 3-pointers and finished with 13 points for the Lady Mounties, whose win sets up Tuesday's showdown against Springdale High for third place in the league standings, while Gracie Carr added two 3-pointers and finished with 10. Anna Kash led West (8-14, 3-7) with nine points, followed by Shania Wilson with 8.
West 8 9 14 6 -- 37
Rogers 15 8 18 12 -- 53
West (8-14, 3-7): Kash 9, Wilson 8, Curtis 7, Wood 6, White 4, Mahone 3.
Rogers (14-8, 6-4): Storey 21, McConnell 13, Carr 10, Treadwell 4, Cates 2, Covington 2, Figenskau 1.
Springdale High 54, Springdale Har-Ber 45
The Lady Bulldogs turned up the defensive effort in the second half and secured a road win against crosstown rival Har-Ber.
The Lady Bulldogs (13-8, 6-4 6A-West) held Har-Ber (9-14, 2-8) to just 17 second-half points after giving up 18 in the second quarter.
"Defensively in the third quarter we changed our lineup a little bit, and I thought that was a big key for us," Springdale coach Heather Hunsucker said. "I thought our defensive focus in the third quarter was a lot better."
Springdale senior and Arkansas signee Marquesha Davis had a game-high 24 points, and junior guard Thaly Sysavanh, who has battled the flu the past two weeks, had 12.
Har-Ber freshman Caylan Koons had 22 for the Lady Wildcats, scoring 17 in the first half. Chloe Joyner scored 11 including three 3-pointers.
Springdale exploded for 22 points in the first quarter, knocking down five 3-pointers including two each from Davis and Sysavanh.
-- Chip Souza • @nwachip
Springdale 22 9 12 11 -- 54
Har-Ber 10 18 7 10 -- 45
Springdale (13-8, 6-4): Davis 24, Sysavanh 12, Minchew 7, Pegue 7, Cause 4.
Har-Ber (9-14, 2-8): Koons 22, Joyner 11, Fotenopulous 5, Carter 3, Nelson 2, Stubbs.
Van Buren 59, Fayetteville 53
The Lady Pointers kept their composure as they walked off the court Friday night but erupted into a celebratory roar once the locker room door closed behind them.
It had been nearly 12 years since a Van Buren girls basketball team had defeated Fayetteville. But after senior Kayleigh Evans tacked on the final points with a layup at the buzzer, Van Buren came away with a stunning 59-53 win over the Lady Bulldogs (16-3, 9-1). It was Fayetteville's first loss in the 6A West Conference this season.
"It, feels great, amazing," said Evans, who has been on the losing end all three years she has played for the Lady Pointers. "I'm just so happy for my teammates. We just stuck together the entire game and kept fighting.
"We've been trying to beat Fayetteville since forever, so maybe we just wanted it more tonight."
Van Buren (11-12, 4-6) came in 1-13 all-time against Fayetteville, earning a 42-40 victory on Feb. 20, 2007. The Lady Bulldogs won their first meeting this season, 43-25, in Fayetteville on Jan. 11.
"Anytime you get a conference win at home is great," Van Buren coach Chris Bryant said. "But to beat a storied team and program as Fayetteville has been is pretty special, especially for our kids and the kids that came before them in our program.
"We've had some really good teams in the past that didn't have this opportunity."
Van Buren jumped out to a 6-0 lead on a pair of 3-pointers from Lexi Miller and Rylee Ryan, only to see Fayetteville storm right back with a pair of 3s from Sasha Goforth and Claudia Bridges. A putback by Coriah Beck then game the Lady Bulldogs an 8-6 lead with 5:16 left in the first quarter
Sophomore Brooklyn Kannady drilled a three to knot the score at 44-44 with 5:03 to play. Kannady hit four 3-pointers in the game to finish with 13 points.
Evans, who also had 13 points, followed with a 3-pointer and completed a fast break with a layup at the 3:29 mark to put the Pointers on top, 49-44.
Junior point guard Lexi Miller hit 4 of 4 free throws in the final 1:19 to put the game away. Miller finished with a game-high 21.
Sasha Goforth led the Lady Bulldogs with 15.
-- Steve Andrews • Special to the NWA Democrat-Gazette
Fayetteville 17 12 12 12 -- 53
Van Buren 15 18 6 20 -- 59
Fayetteville (16-3, 9-1): Goforth 15, Releford 10, Beck 8, Saitta 7, Byars 6, Bridges 5, Bailey 2.
Van Buren (11-12, 4-6): Miller 21, Kannady 13, Evans 13, Ryan 5, Greebe 4, Porter 3
Bentonville High 67, Rogers Heritage 32
Bentonville had three players score in double-digits on its way to win No. 20 after the team beat Rogers Heritage on Friday night.
Avery Hughes led the Lady Tigers (20-3, 9-1) with 13 points. Maryam Dauda followed with 12, and Emily Sanders had 11. Hughes also led the team with five assists, and Dauda corralled in a game-high seven rebounds. Bentonville had 10 players score during the game, which pleased coach Tom Halbmaier.
"It's nice to have that balance," Halbmaier said. "We just had good balance throughout our whole lineup tonight, and the shots, they were aggressive and good-looking shots. I thought our kids played a complete game tonight."
The Lady Tigers had some support from their bench as Kadie Kultgen scored eight points and provided some tenacity for Bentonville. The sophomore forced three jump balls in the second quarter alone as the team attacked Heritage on sides of the court all night.
Maddie Lynge and Danielle Dickerson each had six points to lead the Lady War Eagles (5-16, 1-9). Heritage kept attacking the paint on offense, looking for a kick out to their shooters behind the three-point line, but Bentonville was able to collapse the middle and force Heritage to take some rushed shots inside the arc.
-- Alex Nicoll • Special to the NWA Democrat-Gazette
Rogers Heritage 9 12 8 3 -- 32
Bentonville 20 22 15 10 -- 67
Rogers Heritage (5-16, 1-9): Lynge 6, Dickerson 6, Seiler 5, Jones 5, Pabon 4, Knight 2, Brooks 2, Giesen 2
Bentonville (20-3, 9-1): Hughes 13, Dauda 12, Sanders 11, Smith 9, Kultgen 8, Irlenborn 5, Hayes 3, Skidmore 2, Wagner 2, Baum 2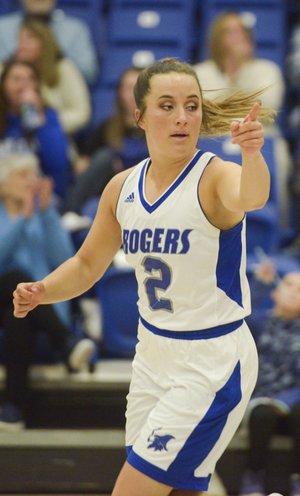 NWA Democrat-Gazette/CHARLIE KAIJO Rogers High School guard Courtney Storey (2) reacts after shooting a three during a basketball game, Friday, February 8, 2019 at Rogers High School in Rogers.
Sports on 02/09/2019
Print Headline: GIRLS BASKETBALL: Rogers' 3-pointers too much for West
Sponsor Content