Burge's, the restaurant on R Street in Little Rock's Heights neighborhood, is a pretty good place to chat with Kat Robinson about her latest book, Arkansas Food: The A to Z of Eating in The Natural State.
The well-lighted space, famous for its Smoked Turkey and Smoked Turkey Salad, has a long history that traces its roots to its original location in Lewisville, which was opened by Alden Burge in 1962. This spot opened in 1979, and in 2010, Burge sold his operation to current owner Jeff Voyles.
Robinson has ordered the Leftover Plate, which includes a couple of scoops of turkey salad on lettuce, tomato slices and half a peach topped with cottage cheese. Regulars call the tasty turkey paste "turkey crack" for its irresistible qualities.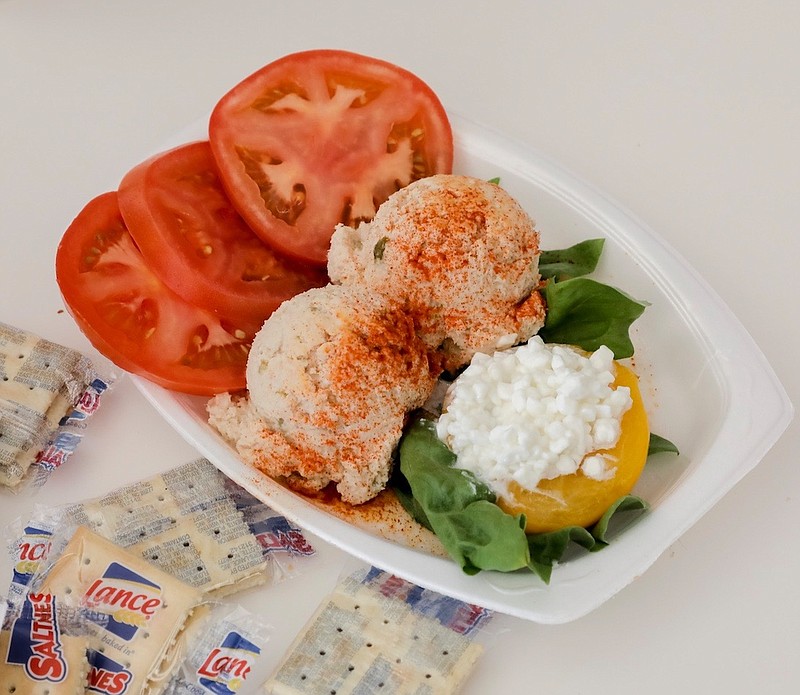 The Leftover Plate at Burge's in Little Rock Photo by John Sykes Jr.
The Leftover Plate has a story, Robinson says. Back in the early days of Burge's they wondered what else they could add to the menu. Realizing there was leftover turkey salad, they threw this dish together. It was so popular they had to keep it.
Robinson is cheerfully in her element talking about the state's grub. She is our culinary tour guide and cheerleader, gathering stories and recipes and spreading the word about what gets eaten here, where it came from, who makes it and who is scarfing it all down.
The A to Z of Eating in The Natural State starts with Apple Butter, ends with Zucchini Bread and covers everything in between, from catfish to barbecue, from chocolate gravy to Play-De-Do, tamales to pho, cheese dip to Grapette, collard greens to chow chow, wild game and Johnny Cakes to ... OK, that's enough.
But there's so much stuff here that it even spills over into the index.
"I thought I was looking at a book that was going to be 200 pages. I was wrong," Robinson says with a hearty laugh.
The volume, published late last year and also available in hardback, ended up being 288 pages. It's a treasure trove of Arkansas food facts, eateries and a nod to community food-based events like the Grady Fish Fry and the World Championship Squirrel Cookoff in Bentonville. It's also filled with photos taken by her, her partner, Grav Weldon, and culled from various archives.
And there are recipes, not only for dishes from restaurants well known and out of the way, but for fare from Robinson's collection of Arkansas cookbooks and those that have been passed along to her by home cooks and chefs alike.
"People started giving me their recipes," she says. "I asked on social media, my friends, all through the community of cooks and chefs and eaters out there."
The 45-year-old Robinson was born in Wilmington, N.C., and grew up in Little Rock. She is Mom to 10-year-old daughter, Hunter, and has been eating and writing her way across Arkansas since 2007, when she left her job as senior producer on the morning show at KTHV-TV, where she had worked for eight years.
She started a website, tiedyetravels.com, and a post about fried pies at Ms. Lena's Pie Shop in DeValls Bluff eventually landed her a gig writing for the Arkansas Times' Eat Arkansas blog. She has written for Food Network Magazine, Forbes Travel Guide, Serious Eats and USA Today, among others.
"When I figured out that people would pay me to write about food, I thought, 'I'll never starve,'" she says.
Her first book was Arkansas Pie: A Delicious Slice of the Natural State, followed by Classic Eateries of the Ozarks and Arkansas River Valley and Classic Eateries of the Arkansas Delta. All three were published by The History Press. She revisited pie last year with Another Slice of Arkansas Pie, which, like Arkansas Food: The A to Z of Eating in The Natural State, was published by her own Tonti Press imprint.
The new book was inspired by a question in 2007 from chef Lee Richardson, a New Orleans transplant who was then the executive chef at the Capital Hotel.
"He's out of New Orleans, where local food was starting to catch on, and he comes to Little Rock," Robinson says. "I was interviewing him for Today's Man magazine, and he asks me the question no one will answer for him: 'What is Arkansas food?'"
Oh, sure, there's fried catfish and Bradley County pink tomatoes and sweet Cave City watermelons, but Robinson admits she couldn't come up with anything definitive.
"I said, 'I don't know. I'm not an expert.'"
The question sent her on a quest.
"Arkansas doesn't have an overreaching culinary identity that really tackles the entire state," she says. "We have regional specialties and regional dishes."
Think cheese dip in central Arkansas, pickles in the Arkansas River Valley, fried chicken and spaghetti in the Ozarks.
And pie. Pie is sort of everywhere.
"Pie was the common denominator. That's why I've come back to it twice in books," she says. She even did an AETN TV special, Make Room for Pie, last year that received a Regional Emmy nomination.
It's all in Arkansas Food: The A to Z of Eating in The Natural State, which Robinson says is just the beginning.
"This is the jumping off point. I want it to take off outside the state, and I want people in the state to be proud of what we have to offer ... I know there are people who think everything we eat is covered in gravy or deep fried, and that's not the case. We have so much amazing cuisine to share with everybody and it's about time we did it."
What follows are a few recipes featured in the new book. Sadly, there isn't one for Burge's Smoked Turkey Salad, as the people there aren't into sharing their secrets of yumminess.
Unlike other recipes published in cover stories each week in this section, these have not been tried out in the gleaming, well-appointed Democrat-Gazette test kitchen.
Robinson writes that this Biscuit Pudding and sauce recipe is reportedly handed down from Liberty Bell, proprietor of a classic restaurant in Forrest City and now featured at the Ole Sawmill Cafe, which is run by her descendants. It also contains the word "jiggly," which is now our favorite technical cooking term.
Biscuit Pudding for Supper
5 eggs
3 cups sugar
2 teaspoons vanilla
4 cups whole milk
½ cup (1 stick) butter
1 ½ cans (total of 18 ounces) evaporated milk
¼ teaspoon nutmeg
¼ teaspoon cinnamon
1 (9-inch by 11-inch pan) leftover buttermilk biscuits or equivalent
Combine all ingredients and place in baking dish; cover with biscuits. Bake for 18-20 minutes at 350 degrees. Do not overbake. Remove from oven while dish is still jiggly.
Sauce
½ cup (1 stick) butter
½ cup sugar
1 teaspoon vanilla
1 tablespoon heavy cornstarch
1 cup water
Combine all ingredients and simmer in saucepan until it thickens, spoon over biscuit pudding.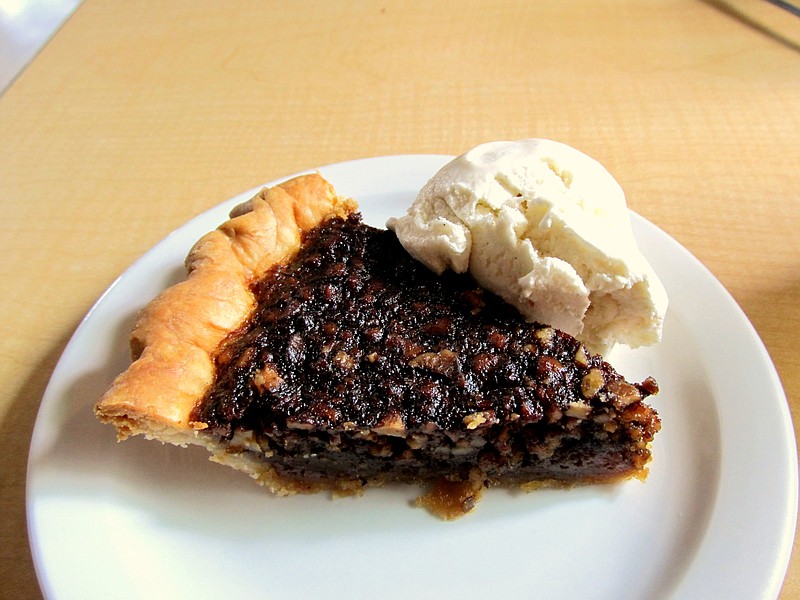 Black Walnut Pie from chef Janet Morgan at Arkansas House in Jasper Courtesy of Kat Robinson
This pie, made with black walnuts indigenous to Arkansas, is from chef Janet Morgan at Arkansas House in Jasper.
Black Walnut Pie
1 unbaked 8-inch pie shell
1 cup black walnuts, chopped
¼ cup butter, melted
½ cup brown rice syrup
½ cup sorghum molasses
3 eggs, beaten
½ teaspoon vanilla
Spread chopped walnuts over the bottom of the pie shell and set aside. Blend butter and and syrups with eggs and vanilla. Pour mixture over the nuts in the pie shell.
Bake at 425 degrees for 15 minutes. Reduce heat to 350 degrees and bake 25 minutes or until top cracks slightly. Cool thoroughly before cutting.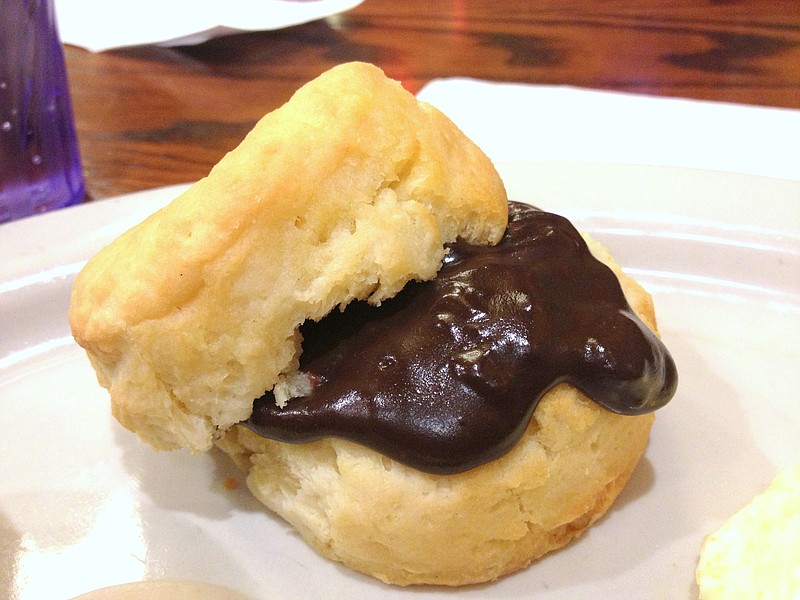 Chocolate Gravy Courtesy of Kat Robinson
Robinson says great examples of Chocolate Gravy can be found at Calico County in Fort Smith and Gadwall's Grill in North Little Rock.
Chocolate Gravy
3 tablespoons butter
6 tablespoons sugar
2 tablespoons all-purpose flour
3 tablespoons cocoa
2 cups milk
Heat butter in a skillet over low heat. Mix in sugar, flour and cocoa. Slowly pour one cup of milk into the skillet and whisk well to remove lumps. Whisk in remaining milk, stirring constantly, until mixture is thick, being careful not to scorch. Serve hot over biscuits.
Mexico Chiquito Cheese Dip Courtesy of Kat Robinson
Robinson says this recipe, written up in "dozens of Arkansas cookbooks" is the closest she has found to the original served at Mexico Chiquito.
Chiquito Style Cheese Dip
1 stick of butter
4 tablespoons flour
1 teaspoon paprika
1 teaspoon chili powder
1 teaspoon ground cumin
1 teaspoon garlic powder
1 teaspoon cayenne pepper
1 teaspoon hot pepper sauce
½ teaspoon dry mustard
¼ teaspoon salt
2 cups whole milk
1 pound Kraft American cheese, cubed (not pasteurized process cheese)
Melt butter in a saucepan. Add flour and stir around until flour loses its raw taste, about 3 minutes. Add spices and pepper sauce, then milk, stirring constantly. Add cheese and continue stirring until cheese is melted and completely incorporated into the emulsion. Remove from heat, serve with tortilla chips.
This stewed Okratouille recipe comes from Robinson via Chef Matthew McClure of the Hive at 21c in Bentonville.
Okratouille
1 yellow onion
1 pint chopped tomatoes
1 cup summer squash, diced
1 pint fresh okra, sliced ½-inch thick
Aleppo pepper
salt
canola oil
Stew the onion with oil and salt until translucent. Add chopped tomato to onions and continue to stew until they are completely cooked through and tender.
In a cast iron pan, begin to sear squash and okra over medium-high heat in canola oil; do not overcook. Allow the squash to cook until it is golden brown but not mushy. Repeat this process until all of the squash and okra are cooked and added to the stew.
Once the stew is built, simmer over low heat for 20 minutes to allow the flavors to blend and thoroughly cook the okra. Finish with a generous pinch of Aleppo pepper. Taste and adjust seasoning as desired.
Food on 02/13/2019