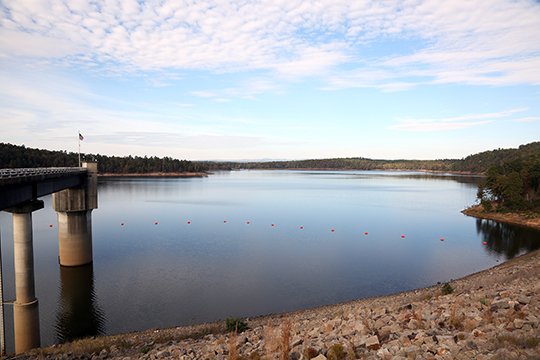 FILE — Dierks Lake is located in western Arkansas.
5:15 p.m. UPDATE:
The remnants of Tropical Storm Barry produced heavy rainfall in southern Arkansas causing the U.S. Army Corps of Engineers in Little Rock to begin releases from Dierks Lake.
The release of water from the lake is planned for a time between 10 p.m. and midnight, July 16, spokeswoman Laurie Driver said.
"The reservoir received more than 9 inches of rain in a nine hour period. The flood pool is rising about 2 feet per hour," Driver said. "Possible ungated spillway releases may be necessary."
She said residents downstream of Dierks Dam should be aware of rapidly rising levels and take necessary precautions.
— Stephen Simpson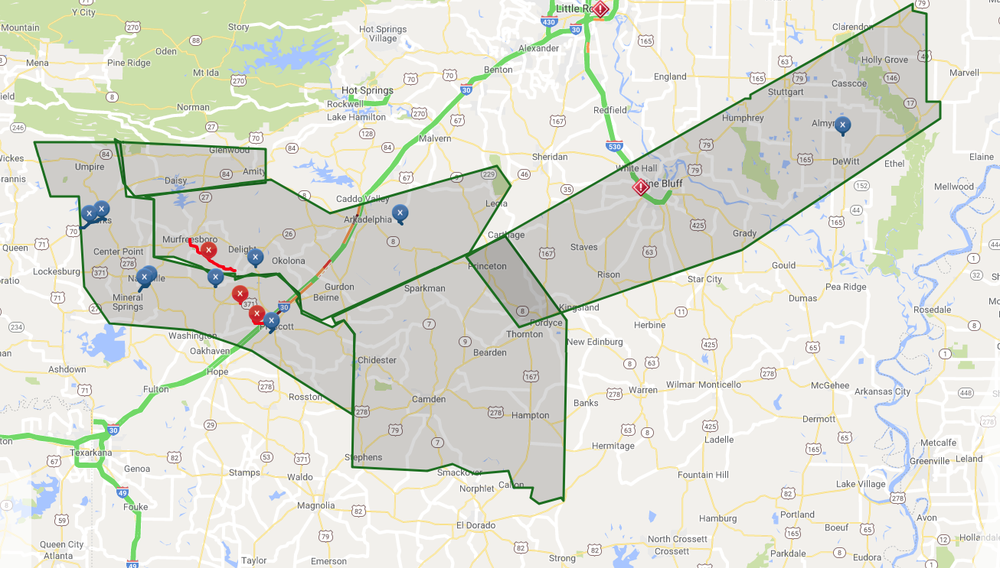 This screenshot from IDriveArkansas.com shows road closures across southwest Arkansas. High water is noted by the blue dots. The red dots represent washouts or other issues that have shut the road.
1:30 p.m. UPDATE:
Interstate 30 in southwest Arkansas has now reopened in both directions, according to the Arkansas Department of Transportation.
"The waters are receding and we're getting traffic moving again," he said. "The map's cleared up pretty quickly."
— Josh Snyder
12:15 p.m. UPDATE:
Traffic was backed up 10 miles along portions of Interstate 30 Tuesday morning as high water closures along the interstate and other highways in Arkansas caused delays, diverted traffic and trapped drivers stuck between closures.
The backup occurred in the westbound lanes of I-30 near Prescott, according to Department of Transportation spokesman Danny Straessle.
Department of Transportation officials are working to free drivers snared between the two major closures on I-30: in Nevada County north of Prescott and in Clark County near Gurdon, Straessle said.
As the water has receded enough to allow westbound traffic to traverse the inside lanes near Prescott, passenger vehicles are being turned around and led out as safely as possible, he said.
According to the transportation department, crews are going through the area between the closures, conducting health and welfare checks and distributing water, snacks and other useful items.
Drivers of commercial vehicles will have to wait until the water recedes, Straessle said.
Altogether, over a dozen portions of highways in Arkansas were closed due to high water at noon, according to the department, as the National Weather Service extended flash flood warnings for southern parts of the state.
I-30 westbound traffic is being diverted from the Gurdon exit to Arkansas 67, according to the Department of Transportation.
A portion of Interstate 30 in Nevada County has reopened after high waters receded, allowing motorists through.
There was no immediate estimate on when the water was likely to recede in all parts of southern Arkansas.
"There is nothing we can do to get the roads cleared," Strassle said. "We honestly don't know if more roads will be closed or not. [The storm] seems to be just sitting on that area. It's certainly overwhelming the drainage system and tributaries."
Several counties have requested assistance from the state, Arkansas Department of Emergency Management spokeswoman Barbara Hager said.
Howard County Judge Kevin Smith requested deployment of the Arkansas National Guard High Water Team, she said. That team will provide additional support to flooded areas outside the county.
In Clark County, officials requested drinkable water after a boil order was issued for the area, and officials in Pike County report they are expecting flood damage, Hager said.
— Josh Snyder and Stephen Simpson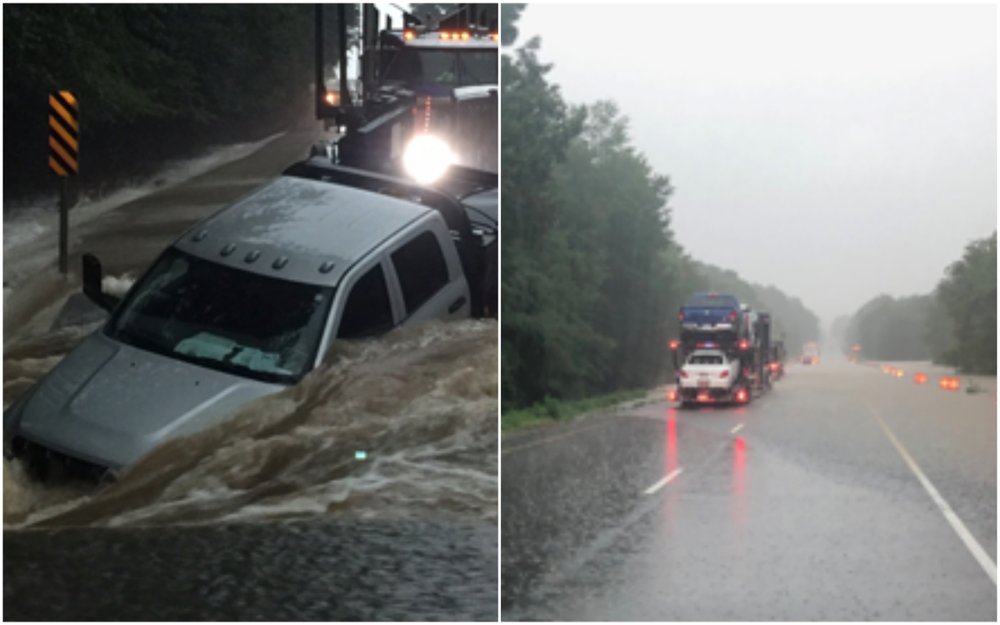 (Left) A truck rests in flooded waters along U.S. 371 in Nevada County. (Right) Segments of Interstate 30 in southwest Arkansas were closed Tuesday morning, officials said.
10: 21 a.m. UPDATE:
Portions of Interstate 30 were closed Tuesday morning due to high water from heavy rain that also prompted flash flood warnings for portions of southeastern and south-central Arkansas, officials said.
Multiple highways in Arkansas were closed due to high water after 10 a.m., including several sections of I-30 in Clark and Nevada counties, said Danny Straessle, Arkansas Department of Transportation spokesman. There was no immediate estimate on when the water was likely to recede.
Rescuers have pulled people from vehicles in Clark, Nevada, and Hempstead counties, said Barbara Hager, spokeswoman for the state Department of Emergency Management, said.
"We really don't want those folks on the road," Hager said. "That 'turn around don't drown' [slogan] is really meaningful right now."
Forecasters said they are closely monitoring the flooding as rain continues to fall across portions of the state.
In Howard County, Dierks has received at least 14 inches of rain Tuesday morning, said Erik Green, a National Weather Service meteorologist.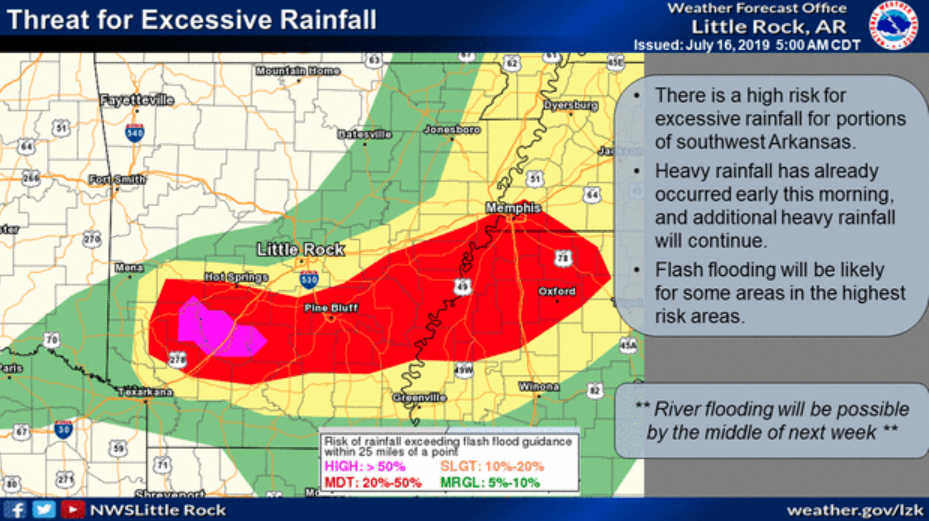 An Arkadelphia police dispatcher said water flooded the Clark County Humane Society and the city's train depot, but damage was limited. Though rain was still falling, the dispatcher said water levels there were receding.
In Jefferson County, the Disaster Recovery Center was "closed until further notice" due to flooding, according to officials.
The weather service said the rains are expected to let up shortly after noon.
"We'll see how long it lasts," Green said. "It looks like it might be into the early afternoon hours"
— Josh Snyder
EARLIER:
The National Weather Service said a flash flood emergency is in effect for southern Pike and southern Clark counties as heavy rain continued to move through the area.
At 7 a.m., flash flood warnings were also in effect for several other counties stretching from south of Mena to Arkadelphia to Brinkley. A flash flood watch covered a larger part of the state, including the Little Rock metro area.
Chris Buonanno, science and operations officer with the weather service in North Little Rock, said a "tremendous" amount of rain fell overnight. He noted that radar estimates showed more than a foot in parts of southwest Arkansas.
Shortly before 7 a.m., there was a report of traffic stopped on Interstate 30 at Gurdon because of water covering at least part of the highway. The Department of Transporation said a short time later that water was standing on the shoulder and a wreck involving two trucks and a car had occurred, but that traffic was moving through the area.
There were also multiple reports of high water around Arkadelphia. The weather service said it hadn't received any preliminary reports of water rescues.
The agency said after 5 a.m. that 6 to 9 inches of rain was recorded in Pike, Howard, Hempstead, Nevada and Clark counties.
"Additional thunderstorms are expected to continue to move over these same areas, with additional very heavy rainfall expected," the agency wrote, calling it a "particularly dangerous situation."
Up to 5 more inches of rain in those areas is possible, forecasters said.
Sponsor Content