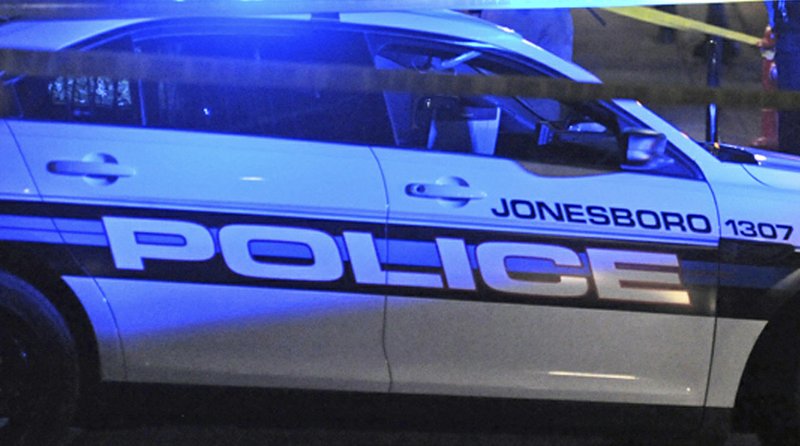 FILE - A Jonesboro Police Department vehicle is shown in this file photo.
5 p.m. UPDATE:
Jonesboro police arrested a person Thursday in connection with a double homicide near the Arkansas State University campus, a police spokesman said.
Kafena Russell, 37, and her brother Johnny Russell, 38, were found just after 8 a.m. Thursday shot dead in an apartment in the 400 block of Melrose Street, Jonesboro Police Department spokesman Sally Smith said.
A citizen had flagged down police saying there were two dead people in the residence, Smith said.
Police now believe the homicide happened on Wednesday evening, Smith said. People in the area told police they heard gunshots around 11 p.m. Wednesday night, though the 911 dispatch received no calls reporting the gunfire.
Smith released no information about the individual police arrested Thursday, except that he was being held at the Craighead County jail awaiting a probable cause hearing.
The Russells' bodies were taken to the state Crime Lab.
– Clara Turnage
EARLIER:
Northeast Arkansas authorities are investigating what appears to be a double homicide that occurred at a Jonesboro apartment complex, officials said.
Officers with the Jonesboro Police Department said they responded around 8:08 a.m. Thursday to the 400 block of Melrose Street in reference to a double homicide. The scene was within a mile of the Arkansas State University campus in Jonesboro.
"We had an officer patrolling in the area when he was flagged down by a citizen who advised him of the two deceased victims," spokeswoman Sally Smith said.
The Criminal Investigation Division was on scene and witnesses were being interviewed, she said.
"We don't have a lot of details right now, but more information is to come," Smith said.
– Stephen Simpson
Sponsor Content