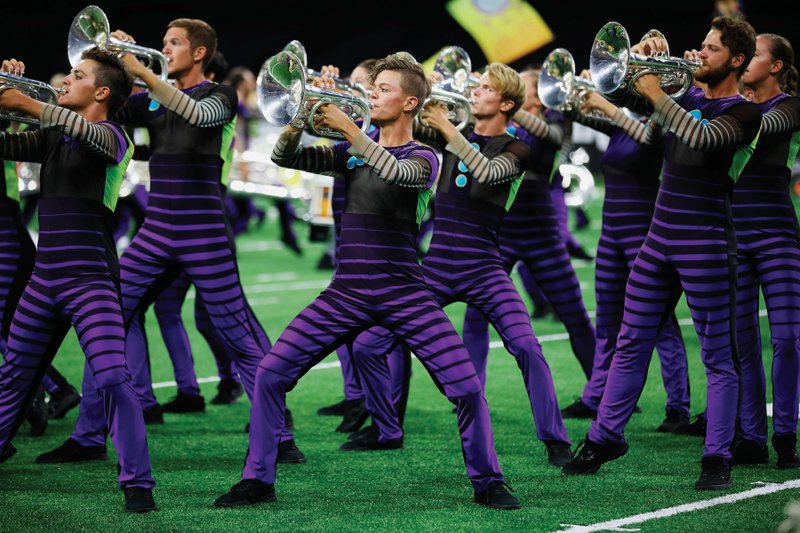 Blue Knights of Denver will compete in DCI Arkansas July 24 at Little Rock's War Memorial Stadium. Special to the Democrat-Gazette.
British rock band Yes, on their "Royal Affair" concert tour, performs at 6:30 p.m. today at the Walmart AMP, 5079 W. Northgate Road, Rogers. Also on the bill: Asia, with the return of founding member Steve Howe; John Lodge of The Moody Blues; and Carl Palmer's ELP Legacy with guest vocals by Arthur Brown. Gates open at 5. Tickets are $30-$99.50 plus fees; $22.50 per ticket in a four-ticket Lawn 4-Pack.
Also at the Walmart AMP this week:
• Third Eye Blind, Jimmy Eat World and Ra Ra Riot, on the "Summer Gods Tour," 7 p.m. Thursday. Gates open at 5:30. Tickets are $30.50-$80 plus fees; each ticket in a four-ticket Lawn 4-Pack is $23.
• Why Don't We performs at 7 p.m. Friday. Tickets are $30-$79.50 plus fees.
Call (479) 443-5600 or visit amptickets.com.
'DCI Arkansas'
Drum Corps International brings world-class drum corps to Little Rock "DCI Arkansas," 7 p.m. Wednesday at War Memorial Stadium, 1 Stadium Drive, Little Rock.
The performers include Bluecoats of Canton, Ohio; Blue Knights of Denver; Boston Crusaders of Boston; The Cavaliers of Rosemont, Ill.; Colts of Dubuque, Iowa; Crossmen of San Antonio; Jersey Surf of Camden County, N.J.; Music City of Nashville, Tenn.; Phantom Regiment of Rockford, Ill.; and Santa Clara Vanguard of Santa Clara, Calif. The current summer tour includes more than 100 shows in 37 states, en route to World Championship Finals on Aug. 10 in Indianapolis. Tickets are $30 in advance, $37 day of show. Call (317) 275-1212 or visit dcitickets.showare.com/eventperformances.asp?evt=552.
Annie at Rogers
Arkansas Public Theatre stages Annie (music by Charles Strouse, lyrics by Martin Charnin, book by Thomas Meehan, based on Harold Gray's comic strip Little Orphan Annie), 8 p.m. Friday-Saturday and Aug. 1-3 and 8-10, 2 p.m. July 28, Aug. 4 and 11 at the Victory Theater, 116 S. Second St., Rogers. Doors and concessions open at 7. Cabaret seats are $39, or $68 for a table of two; balcony seats are $28. Call (479) 631-8988 or visit arkansaspublictheatre.org.
The theater will also hold auditions for The Rocky Horror Show by Richard O'Brien, 7 p.m. July 29 at the Victory Theater, based on readings from the script, singing and a dance combination. The show contains adult language and content and is recommended for mature audiences. An audition packet, including audition times, scenes, character descriptions and rehearsal schedule, is available for download at arkansaspublictheatre.org. Production dates are Sept. 13-15, 19-22 and 26-29.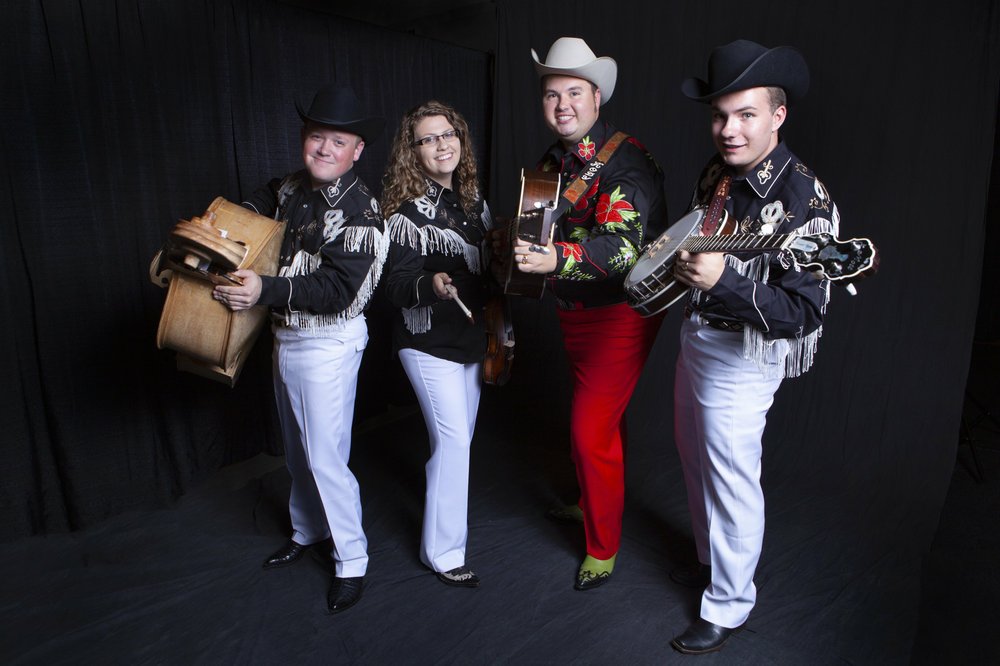 The Kody Norris Show -- (from left) Tyler Wiseman, Mary Rachel Nalley, Kody Norris and Josiah Tyree -- performs Monday in Paragould.
Bluegrass Monday
"Bluegrass-retro-rockabilly-hillbilly" band The Kody Norris Show — Norris, guitar; Mary Rachel Nalley, fiddler, mandolin; Josiah Tyree, banjo; and Tyler Wiseman, upright bass, with all four contributing vocals — performs at 7 p.m. Monday at the Collins Theatre, 120 W. Emerson St., Paragould, part of Jonesboro public radio station KASU-FM, 91.9's Bluegrass Monday concert series. The station will literally "pass the hat" to pay the group; suggested donation is $5 per person. Doors open at 6. Call (870) 972-2367, email mscarbro@astate.edu or visit the Bluegrass Monday Facebook page.
Muppet Movie
Fathom Events, the Jim Henson Co. and Universal Pictures are marking the 40th anniversary of the release of The Muppet Movie with big-screen screenings Thursday and July 30, including, at 12:30 and 7 p.m., the Breckenridge 12 and Colonel Glenn 18 in Little Rock and at 7 p.m. at the Malco Fort Smith Cinema and the Razorback Cinema in Fayetteville. Ticket information is available at FathomEvents.com.
Art spaces
The Arkansas Arts Council and Mosaic Templars Cultural Center are hosting a free informational meeting regarding a potential new arts community development in Little Rock and North Little Rock, 6:30-9 p.m. Wednesday at the center, 501 W. Ninth St., Little Rock. The meeting is in conjunction with the Windgate Foundation's invitation to Artspace Projects Inc., a nonprofit developer of inexpensive spaces for artists and creative workers, to conduct a feasibility study to help determine for artists and community members to help determine specific needs in terms of space and amenities, affordability and location preferences for multi-use facilities for artists. Entertainment, food, and beverages will be available at 6:30; the meeting will start at 7. Call (816) 309-1939.
Preservation nominations
Preserve Arkansas is now accepting nominations — the deadline is 5 p.m. Aug. 16 — for the 2019 Arkansas Preservation Awards, honoring outstanding preservation achievements, people who make a difference in their communities and projects that inspire others to protect the state's special historic places.
Individual awards will recognize leading craftspeople, homeowners, volunteers, and professionals; theme awards salute outstanding education and advocacy initiatives, community programs and dedicated stewardship. Project awards honor the restoration, rehabilitation, and adaptive reuse of buildings and sites and compatible design in historic areas.
Nominations will be in 13 categories: Outstanding Service in Neighborhood Preservation, Outstanding Work by a Craftsman, Excellence in Preservation through Rehabilitation, Excellence in Preservation through Restoration, Outstanding Achievement in Adaptive Reuse, Excellence in Personal Preservation Projects, Outstanding Achievement in Preservation Advocacy, Outstanding New Construction in a Historic Setting, Outstanding Preservation Reporting in the Media, Ned Shank Award for Outstanding Preservation Publication, Outstanding Achievement in Preservation Education, Excellence in Heritage Preservation and the Parker Westbrook Award for Lifetime Achievement.
To submit an nomination online, visit arkansasonline.com/0714preserve. Call (501) 372-4757 or email info@preservearkansas.org.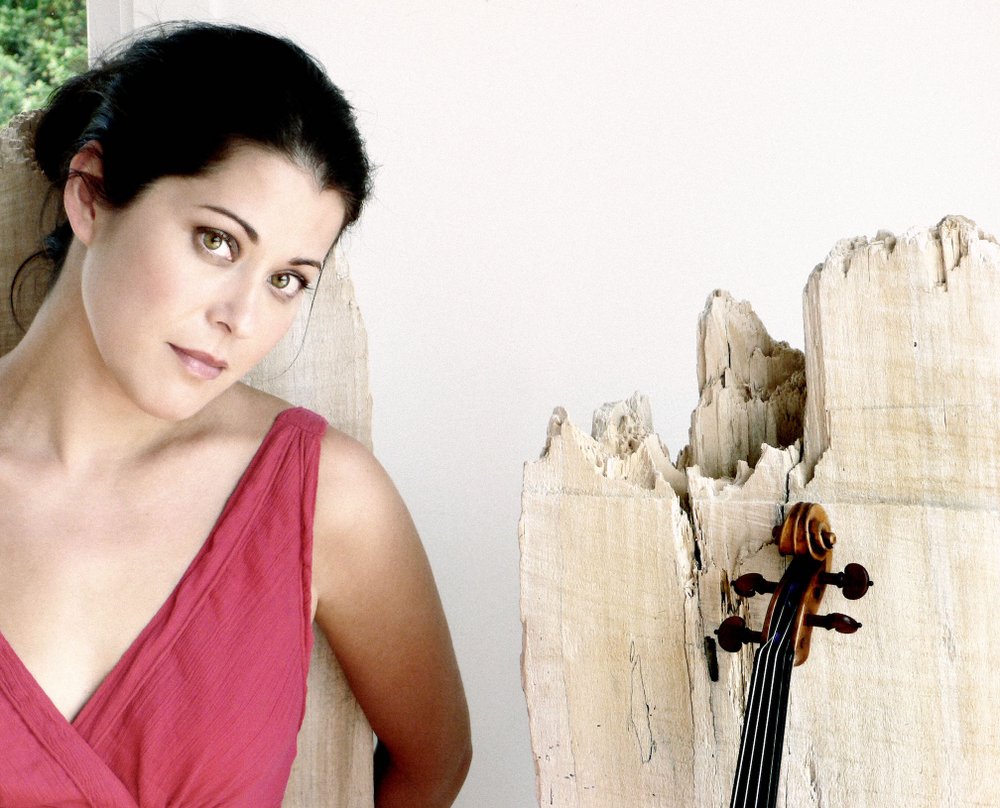 Violinist Jennifer Frautschi solos with the Symphony of Northwest Arkansas on Nov. 9 at Fayetteville's Walton Art Center to kick off the orchestra's 65th anniversary season.
SoNA season
The Symphony of Northwest Arkansas opens its 65th anniversary season Nov. 9 with a 7:30 p.m. Masterworks concert in Baum Walker Hall at Fayetteville's Walton Art Center, 495 W. Dickson St.
Honoring the 250th birthday of Ludwig van Beethoven, the orchestra and Music Director Paul Haas will perform Beethoven's Violin Concerto with soloist Jennifer Frautschi, plus Blow It Up, Start Again by American composer Jonathan Newman and the Symphonic Dances by Sergei Rachmaninoff.
The rest of the lineup (except as noted, all concerts, 7:30 p.m. at Walton Arts Center, with Haas on the podium):
• Dec. 21: A Very SoNA Christmas, with the SoNA Singers, area high school and collegiate choruses and guest artists. 2 and 7:30 p.m.
• Dec. 22: "The Snowman: A Family Concert," the orchestra's annual performance of the score accompanying a screening of the animated children's movie The Snowman. 2 p.m.
• Feb. 1: Carmina Burana by Carl Orff with guest soloists, the Bentonville High School Chamber Singers, the University of Arkansas Children's Choir and the SoNA Singers.
• March 21: SoNA Principal Clarinet Trevor Stewart solos in the Clarinet Concerto in A major, K.622, by Wolfgang Amadeus Mozart and Beethoven's Symphony No. 3, "Eroica."
• May 2: "Four Dance Episodes" from Rodeo by Aaron Copland and Pictures at an Exhibition by Modest Mussorgsky, orchestrated by Maurice Ravel.
Season subscriptions are $140-$250, $45 for students with a valid ID. Single tickets are $33-$55; for The Snowman, $9. A limited number of free tickets are available to patrons under 18. Call (479) 443-5600 or visit sonamusic.org.
Style on 07/21/2019
Print Headline: Yes, Asia at Walmart AMP; drum corps in LR
Sponsor Content