While Mindy Kaling won an Emmy for co-writing an episode of The Office, she entered the public consciousness without saying a word at all.
In the second episode of the series, her character Kelly Kapur reacted to her obnoxious, maladroit supervisor Michael Scott greeting her in an Indian accent so stereotypical The Simpsons Apu might have taken offense by slapping him in the face. I tell her it resonated like the slap Sidney Poitier gave a snobbish, bigoted Mississippi patrician in In the Heat of the Night.
"I can't tell if you're being tongue-in-cheek. I think you are, but I will take it at face value," she admits by phone from Los Angeles. "It was the first time I was on screen on television. I knew Steve. He's so different from Michael Scott. It's not that I was triggered emotionally or politically, but because he's so funny to have someone be doing something in front of your face like that, it was very hard not to laugh. I was incredibly nervous because it was the first time I was on stage on a show, and I wanted to stay on stage. I didn't want my character to quit or be so offended that I left. So those were my neuroses for that scene."
Since that moment in 2005, Kaling has been mining her own neuroses and those of her characters in both The Office and in The Mindy Project. She also wrote and stars in Late Night, which opens in Arkansas today. In The Mindy Project, Kaling played a hard-drinking, dating obsessed OB-GYN, whose bad behavior was somewhat redeemed by her seriousness about her profession.
For Late Night, however, Kaling outsourced the diva demeanor to two-time Oscar-winner Emma Thompson, who won her statuettes for starring in Howards End and for adapting Jane Austen's novel for Ang Lee's Sense and Sensibility. Because of all the accolades Thompson has earned for appearing in Shakespeare plays or other classics, it's easy to forget that the British actress first earned notice for being a comic like the one she plays in Late Night.
"She's so funny, and she comes from comedy. She was in (Cambridge University's) The Footlights (which also gave us John Cleese and Graham Chapman of Monty Python). The standup in the film is not CGI'ed. That's actual footage of her that we used. To cast someone in a movie where they not only had to be a seasoned standup but a seasoned talk show host, you need someone who is inherently funny because it's not like we had all this rehearsal time. We shot the movie in 25 days. I'm a self-proclaimed Emma Thompson nerd, so I felt I wanted to write a big comedy part for her, so she could flex that muscle," Kaling says.
While Thompson's talk show host Katherine Newbury is as funny as the woman who plays her and has serious writers as guests, she can be an office bully and can hurt those around her, similar to the way Kaling's sitcom characters are.
"Emma's character is interesting. She has a snobbiness about her and a kind of literariness about her that is both a good thing about her -- because it shows that she's smart and that she cares about -- in my opinion -- the right things, but snobbery is not necessarily good when you're trying to entertain everyone because it can be alienating. Just because something is popular doesn't mean it's bad," she says.
Bud Abbott made more money than Lou Costello on the vaudeville circuit because playing a straight man required a comic's talent while also having just enough aversion to the spotlight to let the comic shine. In playing the first writer for Katherine Newbury who isn't white or male, Kaling says that ceding center stage offers its own challenges.
"I have made a career out of playing sociopaths and really delusional women, and I find that really fun to do because personally I think of myself as a little more reserved and hopefully more grounded. Playing Molly [her Late Night character] was one of my biggest challenges. I've never played someone who's vulnerable or relatable or anybody in some way you might know. I was happy that [Canadian director] Nisha [Ganatra] was there to help me with that character," she recalls.
While portraying a writer on a TV show dominated by guys might not initially seem a stretch for her, Kaling says that she researched how comics like Seth Meyers (who appears in the movie) and Stephen Colbert put together their shows and discovered it's a far different process than putting together a script for The Mindy Project.
"One of the challenges of this movie is that it was actually four different kinds of writing. One was dialogue writing, which I'm used to from The Office and The Mindy Project, but then it was also standup jokes, which is incredibly difficult to do well, and then all the monologue jokes for the Late Night talk show. I had to do monologue jokes that killed and monologue jokes that are bad," she says.
"I think the journey that Emma and I go through is so relatable that people who don't look like us can still like."
In addition, Kaling avoided setting up Molly Patel for situations where she vanquished other scribes who undermined her contributions to the show. While backbiting makes for entertaining episodes of Game of Thrones, it's not an accurate depiction of how writers rooms can or should work.
"Particularly for my character, it felt disingenuous to make all the white, male characters enemies because the people who've given me so many opportunities in my career are white men," she says. "To me, with the journey she goes on with those other writers on the staff, I didn't want for them to be two-dimensional and for Molly to be perfect and correct all the time. I wanted it to be that they come to an understanding and could come together and be allies. That was really important to me."
Over that last few weeks, Kaling has seemed omnipresent, appearing on Late Night with Stephen Colbert and The View. She has also served as a writer and a producer on television adaptation of Four Weddings and a Funeral, which comes to Hulu in July and another project for Netflix.
She's understandably taking a short vacation that's scheduled to coincide with her 40th birthday, but on her break she'll be spending time with her 1-1/2-year-old daughter. Kaling admits, "I'm going to try and relax as much as I can with a 1-1/2-year old [laughs]."
When asked if having a daughter has affected what she might do with her writing, she cautiously replies, "I think it's maybe a little early yet because she's a baby right now. I think I'm going to need some time to reflect on this period of my life. It's hard to observe things while you're in it. I'll need more time to think about it and what's funny about it and what's gruesome about it. I am inspired, but it's still kind of baking."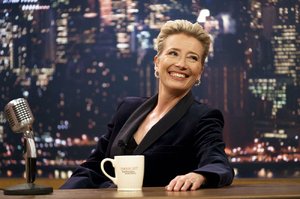 Legendary talk-show host Katherine Newbury (Emma Thompson) is in danger of being replaced by a younger, hipper comedian in Late Night, a comedy-drama directed by Nisha Ganatra from a screenplay by Mindy Kaling.
MovieStyle on 06/14/2019