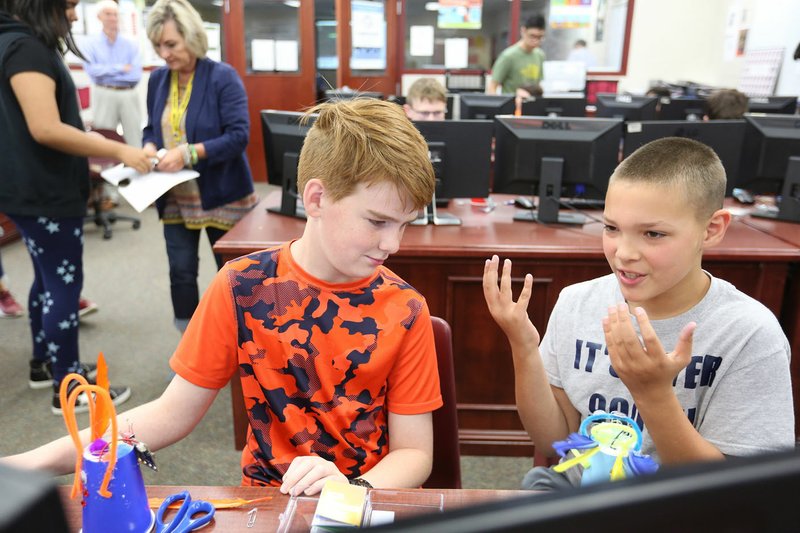 NWA Democrat-Gazette/DAVID GOTTSCHALK Phoenix Sosebee (right), a sixth grade student, describes Wednesday, June 11, 2019, the idea behind his Micro Bit Creature to Chad McDowell, also a sixth grade student, during the Bulldog It Up IT Camp at Springdale High School. Students in sixth through eighth grades had the opportunity to work with Springdale High School information technology students and teachers during the week long class.
SPRINGDALE -- Teens are the teachers during this week's Bulldog IT Up summer camp, a chance for them to share their interest in computer science with younger pupils.
Forty-nine kids in grades six through eight are participating in the camp, where they've learned to program a robot, create an application and build a website. The "IT" in the camp's name stands for information technology.
The camp is free to the students. Springdale High School received $25,000 through the Computer Science Innovation Grant Program, which the Arkansas Department of Education launched last fall. That's enough money to sustain the summer camp for four years, said Josefina Perez, a career and technical education teacher at the school.
Campers receive a T-shirt, snacks, lunch and a certificate of completion. The camp was scheduled to meet every day, 8 a.m. to 4 p.m., this week.
Perez and fellow teachers Kathy Johnson and Shannon Green have been the adults on site. Six high school students, all juniors or seniors, also are working as teachers. All have taken computer science classes at their school.
"I just thought it would be cool," said Jennifer Barbosa, a senior at Springdale High School, about her decision to sign up as a teacher. "I think it's a really good opportunity to expose younger kids to technology."
The kids seemed to be enthusiastic and enjoying the camp, Barbosa said.
Campers engaged in two activities Wednesday. In one classroom, they made creatures out of plastic cups decorated with feathers, pipe cleaners and pompoms. Students also attached a Micro Bit -- a tiny computer with an LED display they programmed to show faces, words and other designs of their choice.
Students in an adjoining room sat in front of computer screens learning the animation software program Alice. Ava Sawyer and Lola Maestri, longtime friends who will be eighth-graders at Central Junior High School this fall, sat next to each other, figuring out how to manipulate an animated witch.
"Right now we're just messing with it," said Ava, 13. "It's kind of hard to get the right coordinates and everything for it, but otherwise it's pretty fun."
Ava also enjoyed programming a small robot using Java code.
"You can make it dance and everything," she said.
A version of the Bulldog IT Up camp was open only to girls in some previous years, when it was funded through a grant from the National Center for Women and Information Technology. This year, however, both boys and girls are welcome.
Springdale High teachers hope to get kids excited about computer science long before they reach high school. They also want to track the students they're seeing this week in an effort to maintain their interest in the subject.
"We're going to have them come back next year and be helpers or maybe have an advanced thing so we don't lose them," Johnson said.
Parents are invited to visit the camp at 2 p.m. today to see all the things their children have done, Perez said.
A sign hanging in one of the camp's classrooms states America has enough people in the pipeline to fill only 29% of the new jobs available in the computer science field.
"High demand and a shortage of qualified people normally mean higher salaries!" the sign states.
Gov. Asa Hutchinson announced the Computer Science Innovation Grant Program in September, pledging to reimburse after-school coding clubs, robotics teams and other extracurricular computer-science programs for the cost of curriculum, software licenses, professional development and student incentives.
Springdale was among 15 school districts that received a total of $241,798 through the grant program. Springdale's $25,000 grant was the highest amount awarded, followed closely by the Greenland School District with $24,950 and Fort Smith, which received $24,800.
Schools had to submit proposals that would result in increased student participation in computer science courses, and increased teacher capacity and understanding of computer science principles, as well as increased community understanding and local industry support of computer science programs.
Metro on 06/14/2019
Print Headline: Students teach younger pupils computer skills
Sponsor Content