House lawmakers on Friday declined to reauthorize funding for Arkansas' Medicaid program, less than 48 hours after a federal judge struck down the program's work requirement for roughly 116,000 Arkansans who receive their health care through the state's "private option" expansion.
Immediately following the vote, which fell well short of the three-quarters majority needed to pass the appropriation, Republican leaders said they will try again next week.
House Speaker Matthew Shepherd, R-El Dorado, told reporters that another vote on the appropriation could be held Monday or Tuesday.
"I'm still optimistic," Shepherd said. "We all know, anytime this appropriation comes up, it's going to be a bit of a challenge."
Senate Bill 99 would appropriate more than $8 billion for the Division of Medical Services, part of the Department of Human Services. SB99 includes spending authority for both the traditional Medicaid program as well as the expansion, which covers people earning up to 138 percent of federal poverty level. At last count, Arkansas' Medicaid expansion program provided health insurance to 235,962 Arkansans, only a portion of whom were subject to the work requirement.
The House voted 52-28 in favor of SB99, with 11 members voting present and nine members not voting. The bill needed 75 votes to pass. Nearly every Democrat voted in favor of the bill, while Republicans were split. Republicans control both houses of the Legislature.
"Some House members still have questions regarding Wednesday's work requirement ruling," Republican Gov. Asa Hutchinson said in a statement Friday. "That's to be expected. I expect a second vote next week, and I trust the bill will pass."
[RELATED: Complete Democrat-Gazette coverage of the Arkansas Legislature]
The expansion program, also known as Arkansas Works, was upended Wednesday when U.S. District Judge James Boasberg in Washington, D.C., vacated a pair of waivers from the Department of Health and Human Services allowing Arkansas and Kentucky to require that recipients of their Medicaid expansion programs prove that they are working, volunteering or enrolled in school or training in order to receive health care.
Boasberg's rulings came just a few hours after the Arkansas Senate passed SB99 out of that chamber on Wednesday.
On the House floor on Friday, a series of lawmakers asked the House chairman of the Joint Budget Committee, Rep. Lane Jean, R-Magnolia, for more time to consider the impact of Boasberg's ruling.
"I don't think anybody here has been given proper information," said Rep. Julie Mayberry, R-Hensley. "We really don't know how this affects our budget, long-term planning. The information I have received, all of it has just come from reading the newspaper."
Rep. Grant Hodges, R-Rogers, added his skepticism that the state would be allowed to continue Arkansas Works as is, despite calls from state leaders for the U.S. government to appeal the judge's decision.
"Why is this appropriation not being amended at all now that we know the work requirement piece is out of it?" Hodges asked.
While Jean told lawmakers that delaying the appropriation vote would be "OK by me," he said that Shepherd, the House speaker, desired to have it run Friday to gauge support.
Jean added that he had received assurances from the Department of Human Services that the agency has money to cover an estimated $20 million shortfall in its budget if an appeal of the work requirement is not successful.
On Thursday, Attorney General Leslie Rutledge said Boasberg's ruling will prevent the state from removing further Medicaid enrollees from the program for failing to report work or other activities. More than 18,000 people were removed from the program between June and January for failing to comply with the work requirement.
Also on Friday, House Minority Leader Charles Blake, D-Little Rock, said Democrats were preparing legislation that would force the Department of Human Services to begin the process of re-enrolling Arkansans who had been kicked of the program.
"We can't let the loudest and the most angry determine what the future of Medicaid is in our state," Blake said.
Blake said it would be up to Republican leaders and the governor to whip rank-and-file Republicans into supporting the Medicaid appropriation.
The House majority leader, Rep. Marcus Richmond, R-Harvey, was one of the lawmakers to vote "present" on SB99. He could not be reached for comment later Friday afternoon.
The work requirement, passed by the Legislature in 2017, was largely seen as a way to reduce the expansion's costs and to appease conservative Republicans, who had repeatedly caused hiccups in the annual process of re-authorizing spending authority for the program.
At that time, lawmakers also approved a request to remove an estimated 60,000 people from the program by reducing eligibility to 100 percent of the federal poverty level. The federal government has yet to approve that request.
The program is often referred to as the "private option" because it uses Medicaid dollars to purchase private insurance for low-income people.
When adding in the people covered under traditional Medicaid, the appropriation bill rejected by the House on Friday included spending authority to cover the health care of more than 882,377 Arkansans, starting July 1.
Legislative leaders are operating under a plan that the ongoing regular legislative session will recess April 12 and take a break until a brief return in May to make fixes and override any vetoes.
While debating the measure Friday, Rep. Robin Lundstrum, R-Elm Springs, asked Jean whether the appropriation for the Medicaid expansion could be separated from the appropriation for traditional Medicaid, in order to have a separate vote on each.
Jean responded -- in comments later reiterated by the House speaker -- that the Medicaid expansion program had always been tied to the greater Medicaid program, and the expectation was that it would continue to be treated that way.
Faced with the possibility that the Legislature might not opt to renew the Medicaid expansion program without a work requirement, proponents of the program Friday hearkened back to old estimates that ending the expansion program altogether would sink the state's budget into a hole. Those estimates were based on the increased costs of covering people through traditional Medicaid, as well as costs associated with the treatment of uninsured people at public hospitals.
Soon after the House vote, the left-leaning advocacy group Citizens First Congress sent an email to supporters stating "this action jeopardizes Arkansas' entire state budget and the only viable access to healthcare" for low-income Arkansans. The email encouraged recipients to contact their representatives to support SB99.
Department of Finance and Administration spokesman Scott Hardin said on Friday that the agency does not have a current estimate on the cost of nonrenewal.
In the wake of Wednesday's court ruling, president Donald Trump's administration announced Friday that it had approved a work requirement for Utah's expanded Medicaid program.
Utah voters in November approved a full expansion of Medicaid as envisioned in the Affordable Care Act, to cover people with annual incomes up to 138 percent of the poverty level -- up to about $17,235 for an individual. But state legislators had different ideas and approved a more limited expansion, to 100 percent of the poverty level, or $12,490 for an individual, with work requirements. That is the program approved Friday, according to The New York Times.
House vote on Senate Bill 99
This is the roll call on Senate Bill 99, which would appropriate funds for the Medical Services Division in fiscal 2020. The bill required 75 votes for passage in the 100-member House of Representatives. The bill failed 52-28.
YEA (52)
Fred Allen, D-Little Rock
Stan Berry, R-Dover
Charles Blake, D-Little Rock
Ken Bragg, R-Sheridan
Karilyn Brown, R-Sherwood
LeAnne Burch, D-Monticello
Craig Christiansen, R-Bald Knob
Nicole Clowney, D-Fayetteville
Bruce Coleman, R-Mountainburg
Andrew Collins, D-Little Rock
Carol Dalby, R-Texarkana
Andy Davis, R-Little Rock
Dan Douglas, R-Bentonville
Les Eaves, R-Searcy
Jon Eubanks, R-Paris
Brian S. Evans, R-Cabot
Deborah Ferguson, D-West Memphis
Ken Ferguson, D-Pine Bluff
David Fielding, D-Magnolia
Charlene Fite, R-Van Buren
Lanny Fite, R-Benton
Vivian Flowers, D-Pine Bluff
Jack Fortner, R-Yellville
Denise Garner, D-Fayetteville
Don Glover, D-Dermott
Megan Godfrey, D-Springdale
Michelle Gray, R-Melbourne
David Hillman, R-Almyra
Monte Hodges, D-Blytheville
Mike Holcomb, R-Pine Bluff
Doug House, R-North Little Rock
Joe Jett, R-Success
Jasen Kelly, R-Benton
Fred Love, D-Little Rock
Roger D. Lynch, R-Lonoke
Tippi McCullough, D-Little Rock
Gayla H. McKenzie, R-Gravette
Ron McNair, R-Alpena
Reginald Murdock, D-Marianna
Mark Perry, D-Jacksonville
Jay Richardson, D-Fort Smith
Chris Richey, D-West Helena
Johnny Rye, R-Trumann
Jamie Scott, D-North Little Rock
Matthew Shepherd, R-El Dorado
Keith Slape, R-Compton
John Walker, D-Little Rock
Jeff Wardlaw, R-Hermitage
Les Warren, R-Hot Springs
Danny Watson, R-Hope
David Whitaker, D-Fayetteville
Carlton Wing, R-North Little Rock
NAY (28)
Sonia Eubanks Barker, R-Smackover
Mary Bentley, R-Perryville
Harlan Breaux, R-Holiday Island
Sarah Capp, R-Ozark
Joe Cloud, R-Russellville
Cameron Cooper, R-Romance
Bruce Cozart, R-Hot Springs
Jana Della Rosa, R-Rogers
Jim Dotson, R-Bentonville
Justin Gonzales, R-Okolona
Grant Hodges, R-Rogers
Robin Lundstrum, R-Elm Springs
John Maddox, R-Mena
Julie Mayberry, R-Hensley
Austin McCollum, R-Bentonville
Stephen Meeks, R-Greenbrier
Josh Miller, R-Heber Springs
John Payton, R-Wilburn
Clint Penzo, R-Springdale
Rebecca Petty, R-Rogers
Aaron Pilkington, R-Clarksville
Laurie Rushing, R-Hot Springs
Brandt Smith, R-Jonesboro
Stu Smith, R-Batesville
Nelda Speaks, R-Mountain Home
Dan Sullivan, R-Jonesboro
Dwight Tosh, R-Jonesboro
Richard Womack, R-Arkadelphia
DID NOT VOTE (9)
Gary Deffenbaugh, R-Van Buren
Mickey Gates, R-Hot Springs
Spencer Hawks, R-Conway
Lane Jean, R-Magnolia
Jack Ladyman, R-Jonesboro
Mark Lowery, R-Maumelle
Stephen Magie, D-Conway
Milton Nicks Jr., D-Marion
Jim Wooten, R-Beebe
PRESENT (11)
Rick Beck, R-Center Ridge
Justin Boyd, R-Fort Smith
Frances Cavenaugh, R-Walnut Ridge
Cindy Crawford, R-Fort Smith
Marsh Davis, R-Cherokee Village
Jimmy Gazaway, R-Paragould
Steve Hollowell, R-Forrest City
Lee Johnson, R-Greenwood
Marcus Richmond, R-Harvey
James Sorvillo, R-Little Rock
DeAnn Vaught, R-Horatio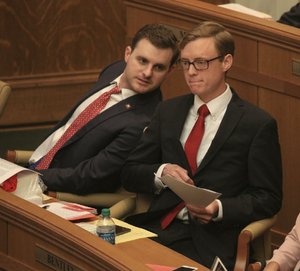 Photo by Staton Breidenthal
Rep. Austin McCollum (left) confers Friday with Rep. Grant Hodges after Hodges questioned why the Arkansas Works program wasn't being amended after the work requirement was struck. More photos are available at arkansasonline.com/330genassembly/.
A Section on 03/30/2019