Johnny Cash played a lot of prison shows. He performed them all over the country. In Sweden, and about 50 years ago, in his home state of Arkansas. He did these shows for free, because he felt an affinity for the prisoners. Some people think it's because he felt like he was one of them.
He wasn't. The only time Cash was in prison was when he had a guitar around his neck.
That said, he did do jail time; he was arrested at least seven times. But he never spent more than a night in jail at a time. It was usually his penchant for altering reality that got him in trouble; he talked about a typical arrest in his song "Starkville City Jail," which was about the time -- in the early hours of May 11, 1965 -- he was arrested in Starkville, Miss., after performing at Mississippi State University. He was charged with public drunkenness after being caught picking flowers in a resident's yard at 2 a.m.
Those stories don't exactly jibe with the legend of Cash as a hard man, the kind who just might have "shot a man in Reno, just to watch him die." The song that included those lines, "Folsom Prison Blues," was written in 1953 while Cash was a staff sergeant in the U.S. Air Force in West Germany, after he'd watched Crane Wilbur's 1951 crime noir Inside the Walls of Folsom Prison with other military personnel.
The film apparently made quite an impression on Cash, though it was indifferently received at the time as part of a series of Warner Bros. pictures that purported to show the horrors of prison. In The New York Times, a byline-less review was dismissive of the movie: "Though Bryan Foy the producer, who obviously is in favor of reform, pokes his cameras into dark cell blocks, towers, yards and rock quarries of the penitentiary, all he captures is another prison picture indistinguishable from those uninspired melodramas that have come regularly from the West. Folsom, it says here, was, until after the turn of the century, a veritable hellhole -- a dungeon where 'idleness and brutal restraint rot a man's mind.'" The review went on to say that despite the movie's self-proclaimed authenticity, the prison depicted in the film "looks like any old 'big house' on any Hollywood lot."
Watching the film today, one thing leaps out: it's supposedly a depiction of Folsom Prison's "notorious past;" of the way it was before reforms were implemented in 1944.
"Today the picture is an entirely different one," the unseen narrator, a personification of the prison, intones at the end. "Through the years that followed, my board of directors gave me modern new buildings to house my growing population. But what is more important, they gave me a change of heart, administrators who were merciful as well as just. Today, under the direction of an enlightened penologist, my guards are chosen by competitive examination, and without political interference ... In my prison hospital, you will find every modern appliance, every expert medical care. To correct a man's thinking, you must keep his body fit ... I can't keep all the men you send to me. The great majority will one day be sent out on parole. Their care, their rehabilitation is your problem as well as mine. You can't lock them up and forget them. Sooner or later one of them may be your next-door neighbor."
Cash had a hit with "Folsom Prison Blues" in 1955 -- the song shares a melody and some lyrics with Gordon Jenkins' 1953 big-band tune ("I'm stuck in Crescent City," vocalist Beverly Mahr sings, "just watchin' life mosey by") -- and Cash eventually acknowledged that he had adapted "Crescent City Blues" into "Folsom Prison Blues" and paid Jenkins a settlement of about $75,000.
Still, saying Cash "stole" Jenkins' song is an over-simplification. Cash would later acknowledge that he owned and listened to Jenkins' 1953 concept album Seven Dreams, which included "Crescent City Blues," while he was serving in Germany. And he even said he raised the possibility that Jenkins might be upset with producer Sam Phillips when he first recorded the song, and that Phillips had assured him he didn't need to worry about a plagiarism suit.
And he didn't, until the live version of "Folsom Prison Blues," recorded before an audience of inmates at the namesake institution, became a career-revitalizing hit in 1968. Only then did Jenkins step up to challenge the song's paternity.
And think about Staff Sgt. Cash there in Germany, feeling imprisoned in Landsberg Air Force Base in Bavaria, serving three years, sitting on his bunk in his boxer shorts and writing songs, wood-shedding his guitar techniques under the tutelage of fellow Arkansan Reid Cummins. He'd later say he had no inkling he'd make it as a performer -- according to Cash biographer Michael Streissguth his barrack mates wouldn't even let him sing along when they harmonized to records by the Chordettes.
At worse, Cash was guilty of an artistic misdemeanor. He trespassed, but not seriously. He just picked someone else's flowers.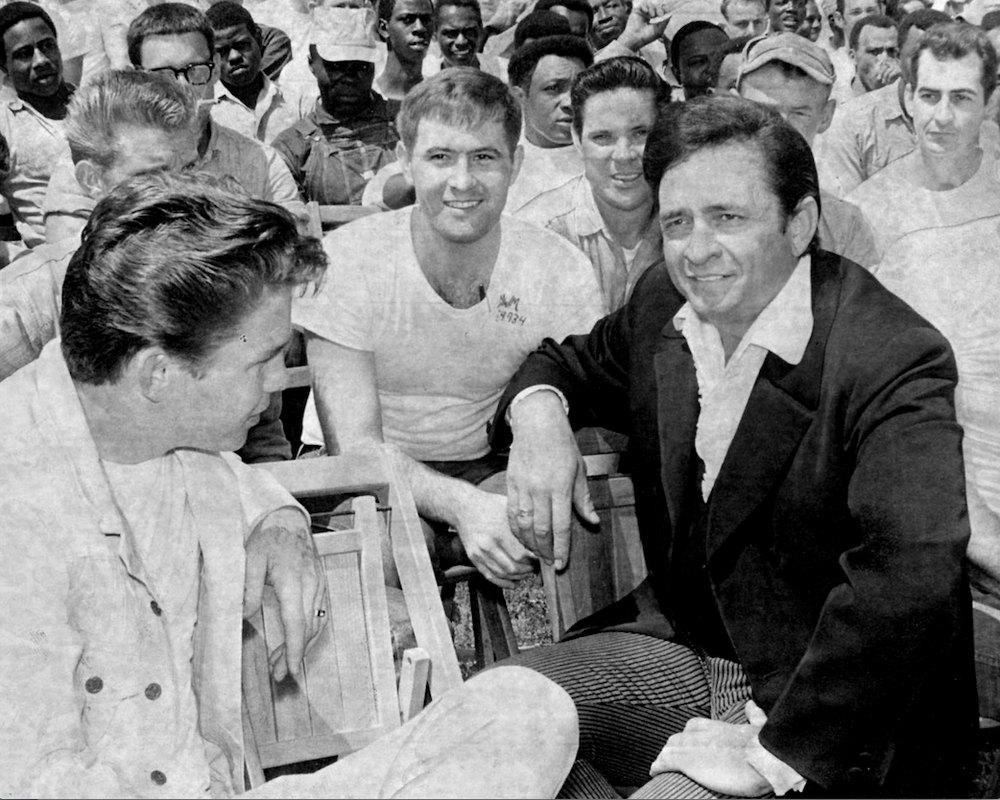 Johnny Cash (right) talks with inmates at Cummins Prison in 1969. (Democrat-Gazette file photo)
But if Cash was never a serious criminal, he was serious about prison reform.
While the concert at Folsom might have marked a turning point in his career -- it felt like Cash became the biggest pop star in America with the "Hello, I'm Johnny Cash" that opened that iconic show -- it was hardly the first time he'd played for a prison population. He'd been playing for the incarcerated since 1957; a 20-year-old would-be armed robber named Merle Haggard was in the audience in San Quentin when Cash played there on Jan. 1, 1958.
"Early on Cash thought that taping some of these shows for an album would be great," producer Bob Johnston told Austin, Texas-based music writer Louis Black. "Everyone at Columbia turned him down right down the line."
But by the mid-1960s, Cash's career had bottomed out. He hadn't scored a pop hit since "Ring of Fire" in 1963 and while he consistently charted on the country side, in those days the difference in sales figures was such that a No. 1 country hit might not even register on the pop charts. He was missing live shows and showing up late; living out the myth as a self-destructive pill-popping hell-raiser.
When Johnston was brought in to run Columbia's Nashville operation in 1967, Cash had just gotten sober. He tentatively floated the idea of a live prison album once again, at the same time telling Johnston that if they went ahead with the project the label would likely drop the artist and fire the producer. Still, Johnston immediately got on the phone with Folsom's warden and made it happen.
At Folsom Prison came out in May 1968. It sold 7 million copies and went to No. 15 on the pop charts (it was a No. 1 country record). In June 1969, At San Quentin (a much inferior album, though it does contain the Shel Silverstein-penned "A Boy Named Sue," which became Cash's biggest hit single, spending three weeks at No. 2 on Billboard's Hot 100 chart, held out of the top spot by the Stones' "Honky Tonk Women") was released, going on to sell 9 million copies.
And in between, at the peak of his career, he came home and played a show in Arkansas.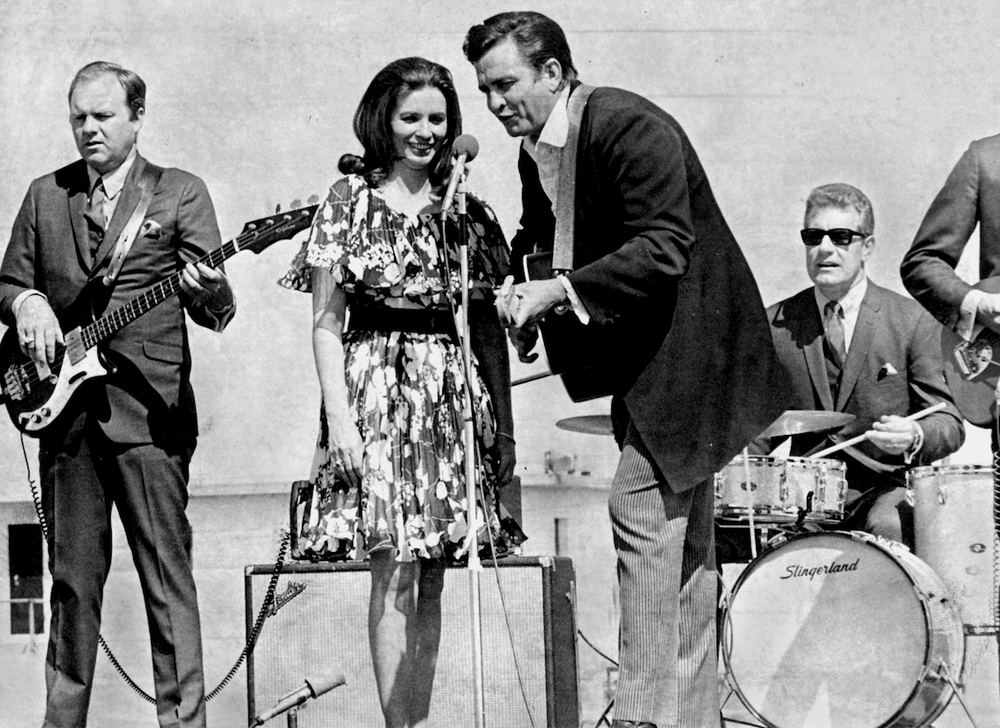 June Carter Cash and Johnny Cash at the microphone during their show at Cummins Prison. (Democrat-Gazette file photo)
You can find some footage of Cash's show at Cummins Prison on April 10, 1969, on YouTube. It doesn't come across as terrifically impressive. It was filmed for Cash's new weekly television variety show, and you can understand why they didn't use it though it was broadcast locally by KATV later that fall.
Part of the seemingly subdued nature of the show is no doubt attributable to the environment -- Cash and his four-piece band, augmented by his wife, June Carter Cash, and a complement of backup singers, are situated on a riser in the prison yard on a sunny afternoon (the show started at 1:45 p.m.), not inside in an auditorium environment where board engineers might have had more control over the sound. (The cheers on the 1968 hit version of "Folsom Prison Blues" were either added or enhanced by Johnston in the studio; the prisoners had been warned against over-enthusiastic response and forbidden to stand up during the show.)
While Cash sounds in good voice, the overall performances lack dynamism. The crowd's reaction -- 900 prisoners and 200 invited guests -- comes off as more polite than fanatical as Cash runs through a fairly standard set, talking a little about his forthcoming San Quentin album before launching in "He Turned the Water Into Wine." Maybe the highlight of the show was a tune Cash knocked out the night before called "When I Get Out of Cummins."
He then announced he was giving $5,000 to build a prison chapel and publicly challenged Gov. Winthrop Rockefeller to match his donation. Cash had supported Rockefeller's re-election campaign that year, playing several shows to benefit the campaign, in part because of the governor's commitment to prison reform. At the time, Arkansas' prison system was reputedly the worst in the country, with atrocities such as the "Tucker telephone" -- a torture device that delivered a shock to an inmate's genitals -- and a trustee system that allowed inmates dominion over others in common use. (A series of scandals involving physical abuse of inmates led a federal judge to declare the state's entire penal system unconstitutional in 1970.)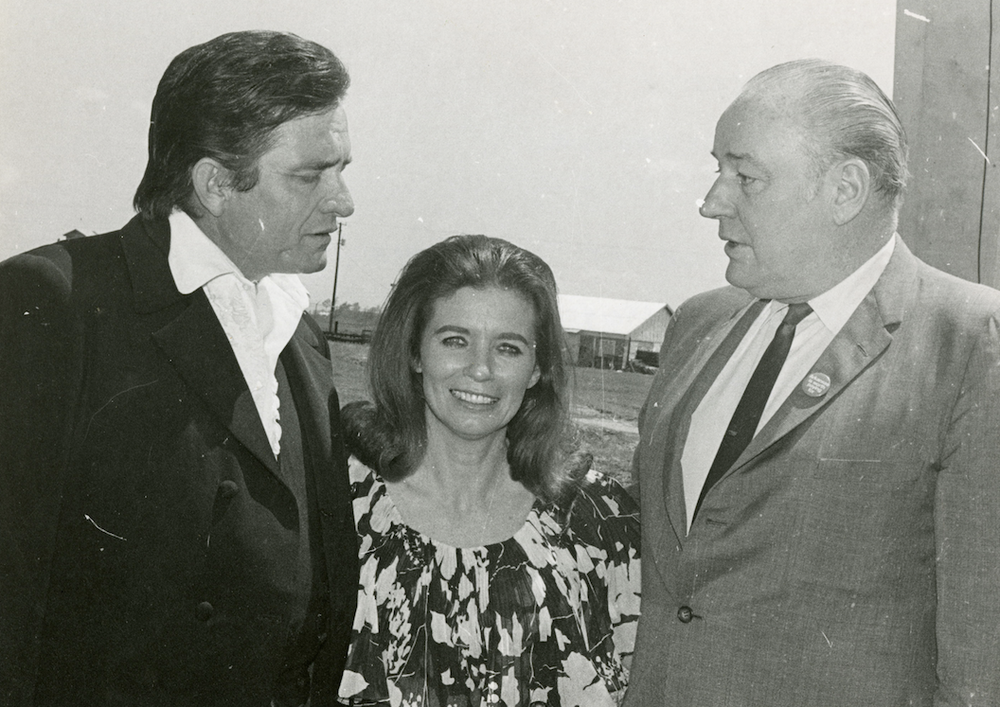 Johnny Cash (from left) and June Carter Cash with Arkansas Governor Winthrop Rockefeller. (Democrat-Gazette file photo)
Cash didn't exactly discourage the popular perception of him as some kind of romantic outlaw; to do so would have been bad for business. But his commitment to prison reform was real -- he believed in rehabilitation, possibly because he hoped himself able of redemption. That might have been a hard sell to his largely Southern, largely rural constituency in the late 1960s when Merle Haggard's "Okie From Muskogee" and Guy Drake's "Welfare Cadillac" were seen as silent majority correctives to a burgeoning counter-culture.
Haggard and Drake later said their songs were parodies of a certain reactionary mindset, but that didn't keep them from being appropriated by the law and order crowd, or President Richard Nixon from requesting that Cash sing them at a function at the White House in 1970. Cash demurred, saying he'd rather not play the songs (and that he didn't have time to learn them anyway). Yet the Man in Black's politics were nuanced and personal.
While he famously rebuffed Nixon by playing songs seemingly designed to make the president uncomfortable at the function -- "What Is Truth?" with its closing verse "the ones that you're calling wild/are gonna be the leaders in a little while/this old world's waking to a newborn day/and I solemnly swear that it'll be their way;" "Man in Black" and "The Ballad of Ira Hayes" were the most pointed. He probably voted for Nixon in 1968 and may have voted for him again in 1972.
In one of his autobiographies Cash wrote about how Nixon, who admittedly was ignorant of Cash's music (which may have accounted for his curious requests), seemed genuinely at ease and kind of charming during a post-show visit with the singer. Nixon led Cash and June Carter on a tour of the White House and urged the singer to stretch out on Lincoln's bed.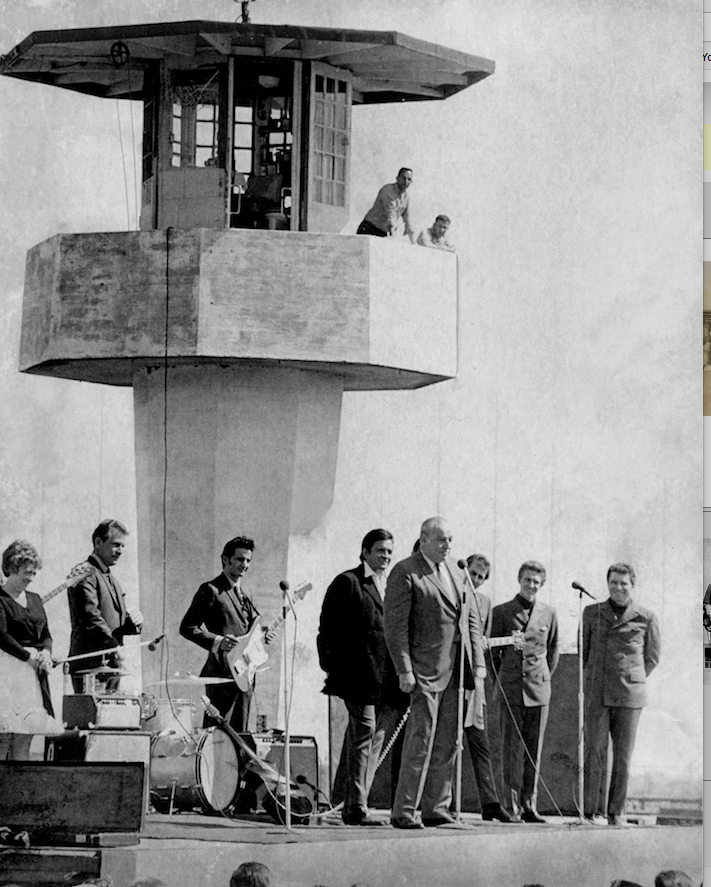 Arkansas Gov. Winthrop Rockefeller (at microphone) and Johnny Cash (behind Rockefeller), are beneath a guard tower at Cummins Prison in 1969. Cash performed a show for the inmates. (Democrat-Gazette file photo)
Two years later, when Cash testified before the Senate Judiciary Committee's subcommittee on national penitentiaries, stressing the need to treat newly released prisoners decently and to keep youthful offenders out of adult prison (citing the case of a 15-year-old Arkansas car thief who had died after being raped by adult inmates) he also visited Nixon in the Oval Office to discuss reform. He regularly visited the jail near his home in Tennessee to play cards with the inmates and advocated for the parole of songwriter Glen Sherley, the Folsom Prison inmate who wrote "Greystone Chapel," which Cash covered on his At Folsom Prison album.
After Sherley, who was serving a potential life sentence, was paroled by California Gov. Ronald Reagan in 1971, Cash flew him to Nashville, Tenn., took him on the road with his band, and got him a publishing deal and an appearance on The Mike Douglas Show. Sherley was married in Cash's home; Cash was his best man.
Cash spoke about Sherley during his Senate testimony, citing him as an example of what enlightened penal practices could do.
Unfortunately, Sherley would end up disappointing Cash, who had to fire him after he allegedly threatened Tennessee Three bassist Marshall Grant with a knife. (Cash had Grant fire Sherley.) It was the last straw -- Sherley had been showing up late, his songwriting had fallen off. Sherley fell back into drugs; by 1978, he was homeless, living in his truck in California. He committed suicide, shooting himself in the head in his brother's trailer, in May 1978.
Sherley's failure is in some respects reminiscent of the trajectory of Jack Henry Abbott, the criminal and author of the remarkable prison memoir In the Belly of the Beast. Norman Mailer (among others) worked to free Abbott in 1981, just as his book was published to rave reviews. But just six weeks after being paroled, Abbott stabbed and killed a waiter in a New York cafe. He was convicted and sent back to prison, where he committed suicide in 2002.
By 1980, Cash had become disillusioned with his prison-reform work. Some of his biographers cite an incident -- accounts vary on the location -- where he and June Carter Cash were accosted by a group of prisoners as they walked down a cellblock hallway. Cash told country music historian Mark Stielper they were spat at as the inmates banged on their cell bars with tin cups, calling him a "phony" and threatening to rape June.
That might have been the last time Cash was in prison.
Email:
pmartin@arkansasonline.com
blooddirtangels.com
Style on 03/31/2019