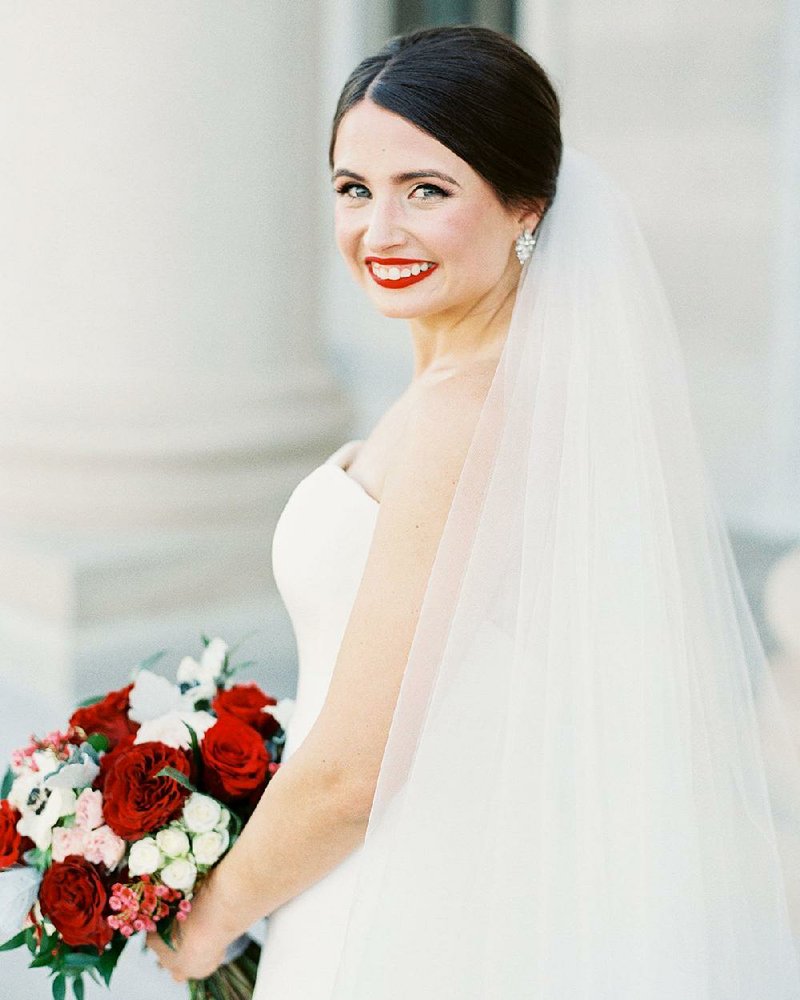 Caroline Hunter Heineck
First Presbyterian Church was the setting at 5:30 p.m. Saturday, Nov. 2, for the marriage of Caroline Hunter McCaleb and Andrew Paul Heineck. The Rev. Jennie Williams of Highland Valley Methodist Church officiated.
Parents of the bride are John Weems McCaleb and the late Virginia "Ginger" Beeson McCaleb of Little Rock. Her grandparents are Donna and the late Miles McCaleb of Cleveland, Miss., the late Grady Beeson and the late Beverly Bort.
The groom is the son of Laura Sue and Paul Kenneth Heineck of Greensboro, N.C. His grandparents are Joyce and Mack Ellington of Franklin, Tenn., and Carol and Kenneth Heineck of St. Louis.
Music was by organist John Churchwell.
Given in marriage by her father, the bride wore a strapless gown of pearl-colored silk by Romona Keveza. She carried a bouquet of white hydrangeas, burgundy and red roses, blush spray roses, white anemones and dusty miller.
Rachael Virginia McCaleb of Kansas City, Mo., was her sister's maid of honor. Matron of honor was Cynthia Kay Holland of Ithaca, N.Y. Bridesmaids were Emily Ann Harrell of Little Rock; Morgan Heineck Hansard of Clarksville, Tenn., sister of the groom; and Molly Lyle Brazil of Greensboro, N.C. They wore red gowns and carried a smaller version of the bridal bouquet.
Also assisting the bride were Lindy Beeson Dalla of Houston and Samantha Jayne Beeson of Denver, both cousins of the bride.
Richard Harrison Burdge of Hermitage, Tenn., was best man. Groomsmen were Benjamin Sawyer Toline of Memphis; Luke Allen Patton of Cookeville, Tenn.; Jordan Ryan Hansard of Clarksville; and Blake Alexander Heineck of Greensboro, brother of the groom. Guests were seated by David Orlando Perez of Clarksville.
A reception was held at the Junior League of Little Rock building. Tables held a mix of tall centerpieces with a cascade of hydrangeas, roses, delphinium and mixed foliage with low compote-style arrangements of wedding flowers. Music was by Diamond Band Empire.
The bride has a master's degree in communication sciences and disorders from the University of Central Arkansas and is a speech-language pathologist.
The groom is a graduate of Tennessee Technical University with a bachelor's degree in chemical engineering. He is a quality engineer.
The couple will live in Tulsa after a honeymoon in Cancun, Mexico.
High Profile on 11/10/2019
Print Headline: Caroline Hunter McCaleb - Andrew Paul Heineck
Sponsor Content