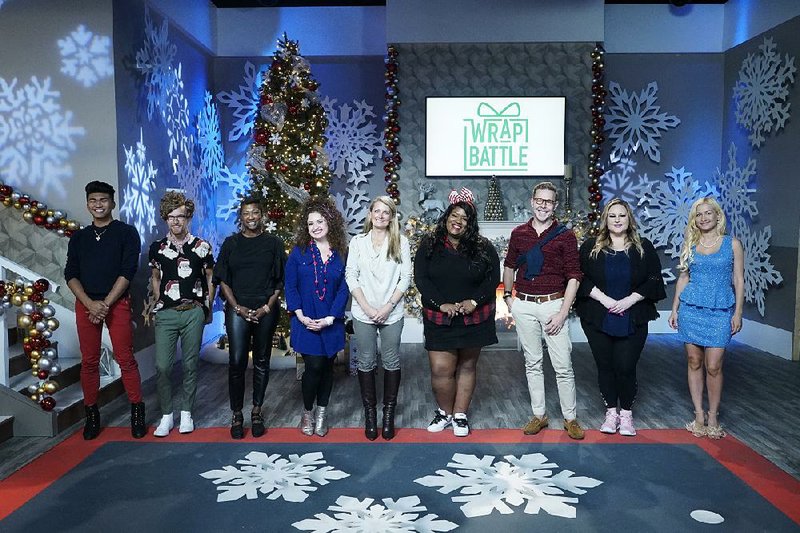 Anthony Anderson (from left), Joe Henline, Mia Canada, Josette Galian, Kimberly Kennedy, Parker Simmons, Eddie Ross, Anita Ivancevic and Olga Von Light compete on Freeform's new reality series Wrap Battle.
As Thanksgiving has almost passed, TV networks continue rolling out more and more Christmas programming. One case in point is Freeform's new reality series, Wrap Battle, which premieres at 7 p.m. Monday, with another episode following at 8.
Comedian Sheryl Underwood (The Talk) serves as host, and Carson Kressley (Get a Room with Carson and Thom) and Wanda Wen (founder of the luxury paper brand Soolip) are judges. During the show's run, guest judges will include Candy Spelling, Sandra Lee, Sherry Cola, Diggy Simmons, Lala Kent and Sabrina Soto.
The six-episode series will follow nine contestants as they battle to become the ultimate wrapper and take home the $50,000 grand prize. The competitors will be challenged to create eye-popping gift-wrapping masterpieces and inspire viewers to push their own wrapping to a higher level. Challenges range from creating the most over-the-top gift basket to wrapping some of the most outrageous objects.
The winner will also receive the opportunity to design his or her own custom holiday wrapping paper to be sold in Paper Source stores across the country. The winner will get to showcase his or her talent at The SoNo Collection, a shopping destination in Norwalk, Conn. The winner will also be part of the main event for the new, interactive holiday experience and receive a $1,000 shopping spree to The SoNo Collection.
Style on 11/24/2019
Print Headline: On the cover
Sponsor Content