Frequently, outlaws become legends because the myths that build up around them are more interesting than the lives they actually led. For example, Bonnie and Clyde looked nothing like Faye Dunaway and Warren Beatty, and the movie named after them is probably better for it.
The story behind Queen & Slim is fictional. That's a safe bet considering that one of the credited writers is James Frey, the man behind the fabricated memoir, A Million Little Pieces. Sadly, the difficulties the title characters (Jodie Turner-Smith and Daniel Kaluuya) endure throughout the film all too real.
Queen & Slim
80 Cast: Daniel Kaluuya, Jodie Turner-Smith, Bokeem Woodbine, Benito Martinez, Chloë Sevigny, Flea, Sturgill Simpson
Director: Melina Matsoukas
Rating: R for violence, some strong sexuality, nudity, pervasive language, and brief drug use.
Running time: 2 hours, 12 minutes
They meet on a Tinder date and have fewer sparks than damp kindling. She's out for the evening simply because a client she represented as an attorney in a death penalty case has been executed and she's understandably distraught. Her date is a likable enough fellow, but he seems too sweetly dispositioned to tell a server she botched an order, and his vanity plate advertises his faith. While she's an atheist.
As he takes her home after a meal and idle chatter, a trigger-happy cop pulls them over. Moonlighting singer Sturgill Simpson is terrifying as the irate officer.
Even though Slim's worst transgression is not signaling a turn, the cop berates them and shoots Queen in the leg when she tries to document the situation on her cellphone. Slim scuffles with the policeman and shoots him.
In an instant, they become America's most wanted fugitives.
Turning themselves in isn't an option. Having already become cynical about the law, Queen thinks their best chance is to flee from Ohio to New Orleans where her uncle (Bokeem Woodbine) lives. The mismatched pair are making several bad decisions in short order but having killed a policeman makes even credible claims of self-defense hard to prove.
Primary screenwriter Lena Waithe (The Chi) and freshman feature director Melina Matsoukas awkwardly juggle harsh realism and romantic fantasy. To their credit, they can deliver some powerful jolts, like the early outburst of violence.
There are also eye-rolling moments: The two manage to slip in and out of some jurisdictions because they've become folk heroes to people who've become weary of overbearing law enforcement. This trope gets old fast because many of Queen and Slim's "supporters" become violent themselves and attack people who aren't abusing others.
The names "Queen" and "Slim" are never explained (although the latter seems to get his name from being able to gorge massive quantities of food without putting on weight), and neither is their romance. While being bound together in their escape from authorities, their bonds seem less like a love that death can't stop and more like a pairing of convenience.
In this case, maybe forced necessity.
Kaluuya and Turner-Smith are both solid and seem to change physically as their flight becomes more desperate. They get some help from Waithe's clever dialogue. Kaluuya delivers a "how are babies made" monologue for the ages, and Waithe's supporting characters are intriguing.
Waithe and Matsoukas would like to "print the legend" as John Ford put it in The Man Who Shot Liberty Valance. In this case, the legend seems underdeveloped, and the real world reminds us this wouldn't happen off-screen.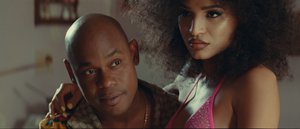 A pair of fugitives find themselves having to trust the shady Uncle Earl (Bokeem Woodbine), a New Orleans hustler in a polyamorous arrangement that includes Goddess (Indya Moore), in Queen & Slim.
MovieStyle on 11/29/2019