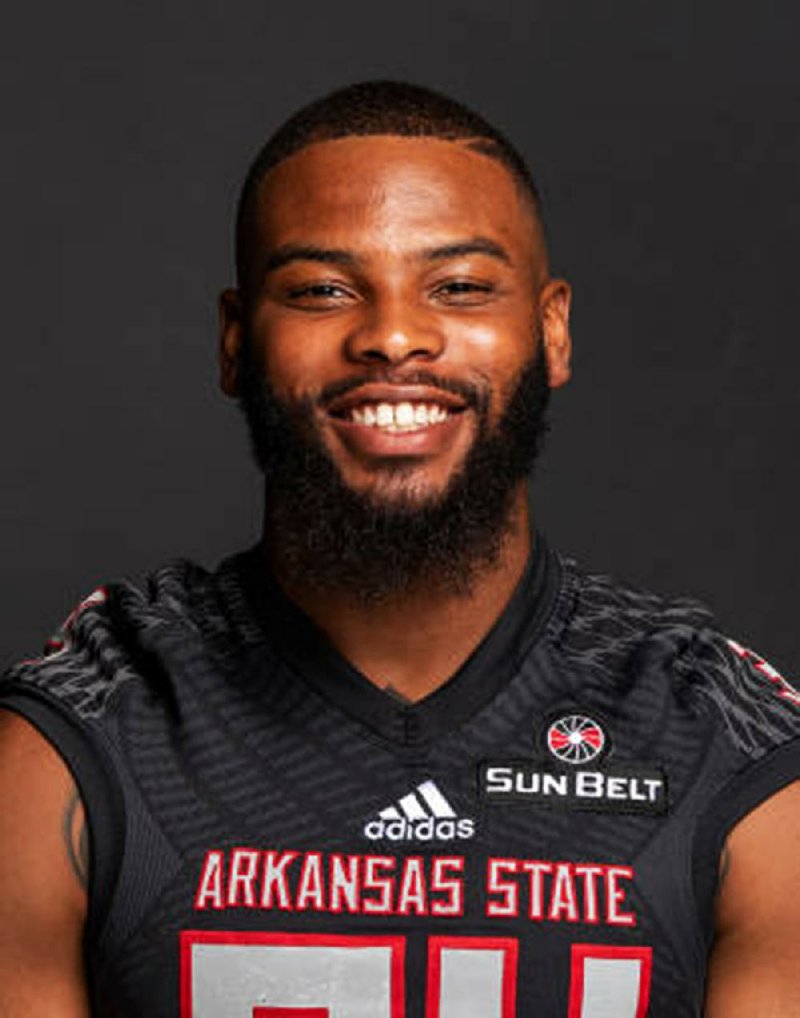 Darreon Jackson
JONESBORO -- Arkansas State University Coach Blake Anderson continued to stay mum on senior defensive back Darreon Jackson's status following Wednesday evening's practice at Centennial Bank Stadium.
Jackson has been away from the team for about a week and did not travel for Saturday's Georgia State game in Atlanta. Anderson said last week and on Monday's Sun Belt teleconference call that Jackson is dealing with "off-the-field issues."
Jackson was not at practice Wednesday.
Pressed if Jackson is suspended, Anderson wouldn't disclose any more than what he's been saying.
"He's dealing with off-the-field issues," Anderson said.
Asked if he expects Jackson back this season, Anderson said, "It's out of my control. I'll find out when everybody else does. He's dealing with off-the-field issues, and I'll find out when everybody else finds out. ... I'm just coaching the guys that are here."
With Jackson out, senior Logan Wescott has stepped into his spot at nickel back. Wescott started Saturday and finished with a team-leading 14 total tackles, including 12 solo.
"Logan made a lot of plays," ASU defensive coordinator David Duggan said Wednesday. "With every rep, he'll get better. Certainly there were times when he could have done things a lot better, but he's done a really good job of filling in for DJ."
Injury updates
Anderson provided more updates on key injuries Wednesday, as the Red Wolves (3-3, 1-1 Sun Belt Conference) held another no-contact practice during this bye week. ASU hosts Louisiana-Lafayette next Thursday in Jonesboro.
Senior defensive tackle Kevin Thurmon, who's missed the last two games with a broken hand, still has a chance to play, as long as he's able to be fitted with a proper cast on his surgically repaired hand.
"Doctors seem optimistic that they can cast it up and that he can play with it. Now how well, I don't know, and how effective he'll be with one hand in a cast," Anderson said. "But it looks as if it's gonna be possible."
Anderson also said senior running back Jamal Jones, who missed the Georgia State game with a knee injury and sat out Wednesday's practice, is improving and will likely be available against the Ragin' Cajuns.
As Anderson said earlier in the week, sophomore starting running back Marcel Murray also is expected to be "full speed" against Louisiana-Lafayette.
Murray's and Jones' positive outlooks are good news for a Red Wolves' backfield that has already lost junior Ryan Graham and freshman Isaiah Azubuike for the season.
Junior DJ Chatman, who is now No. 2 on the depth chart behind Murray, should have a greater workload moving forward as well. Chatman, a junior college transfer, is easily the Red Wolves' biggest running back on the roster, standing 6-1, 230 pounds.
"Well you like his size, power," Anderson said. "He's got the speed to be explosive ... he's a good blocker, he's able to shed tackles."
Anderson said he expects senior wide receiver Dahu Green, who's been nursing a knee injury since fall camp, to finally be 100 percent by the Louisiana-Lafayette game.
ASU has been very cautious this season when it comes to putting Green back on the field. Green did not play in the first four games, and he saw very limited action in the last two games. Lately, the only thing holding Green back has been soreness, according to Anderson.
"He's been slow getting back," Anderson said. "He's sore. He's sore today, but not injured. It's just a matter of getting him back to full speed. But I think he'll be ready by Thursday as well."
Anderson revealed Green has been dealing with a PCL strain and said the injury wasn't as minor as they initially expected.
"He got rolled up better than we thought," Anderson said. "It was loose. It was significant enough to keep him from being able to play the way we want to. It wasn't surgical, but it needed a good four to six weeks to get well."
Junior center Jacob Still, who missed the Georgia State game and has battled for much of the season what Anderson has described as "wear and tear" on his body, was held out of Wednesday's practice. Anderson indicated Still has a chance to play against Louisiana-Lafayette.
"Not guaranteed, but hopeful," Anderson said.
Also, reserve sophomore defensive lineman Hunter Moreton, who suffered a shoulder injury against Georgia State, could be "potentially out for the year," according to Anderson.
"I don't expect him to play on Thursday, and he may have surgery," Anderson said. "We'll find out in the next 24 to 48 hours."
Hatcher's turnovers
Redshirt freshman quarterback Layne Hatcher was thrown into the fire once junior starter Logan Bonner had to have season-ending thumb surgery on his throwing hand Sept. 25.
In his two starts since, Hatcher has thrown for 739 yards, 8 touchdowns and has completed 68.7 percent of his passes. But he's also thrown four interceptions -- all coming in the second half of games -- and has been sacked six times.
Hatcher was highly critical of himself following Saturday's 52-38 loss to Georgia State.
"I thought the guys around me played well enough to win. I let them down. I didn't play good enough to win," Hatcher said in his postgame presser. "I made some bad decisions, did some dumb things. I let the offense down tonight."
Anderson has expressed plenty of confidence in Hatcher and has been impressed with how he's stepped in for Bonner, but the costly picks are also well on the radar.
"Any time we turn the ball over, it concerns me, but yeah, when the quarterback turns the ball over, even more," Anderson said. "I think he's done a great job of managing the pressure that he's been put under for a freshman. [There are] some things that he'll get better at. Throwing the ball away and not taking sacks is one, and then just forcing the ball at times is the other.
"He'll get better as we go, but right now he's got to manage games. He's been a great leader. He's put in the time and effort. There's just some things he's gonna learn through experience, and that comes one play at a time."
Arkansas State
(3-3, 1-1 Sun Belt)
DATE OPPONENT TIME/RESULT
Aug. 31 SMU L, 37-30
Sept. 7 at UNLV W, 43-17
Sept. 14 at Georgia L, 55-0
Sept. 21 Southern Illinois W, 41-28
Sept. 28 at Troy* W, 50-43
Oct. 5 at Georgia State* L, 52-38
Oct. 17 Louisiana-Lafayette* 6:30 p.m.
Oct. 26 Texas State* 6 p.m.
Nov. 2 at Louisiana-Monroe* 4 p.m.
Nov. 16 Coastal Carolina* 2 p.m.
Nov. 23 Georgia Southern* 2 p.m.
Nov. 29 at South Alabama* TBA
*Sun Belt Conference game
Sports on 10/10/2019
Print Headline: Anderson: DB not with team
Sponsor Content