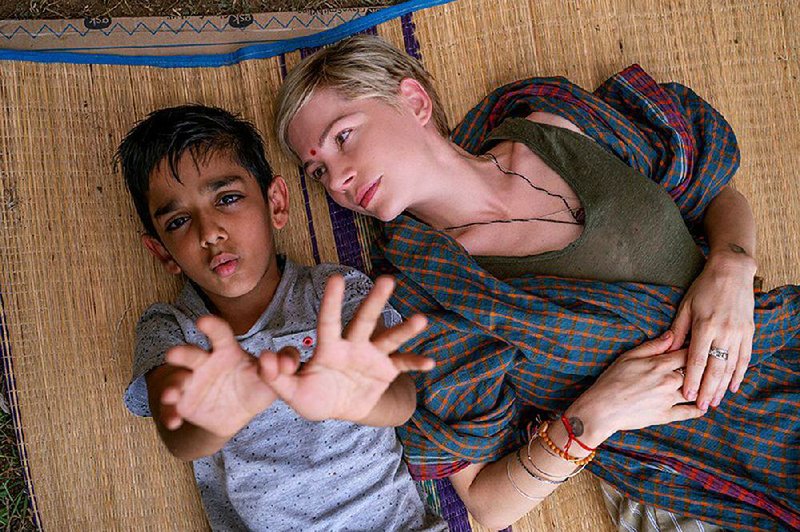 Jai (Vir Pachisia) is an 8-year-old orphan who's being cared for by Isabel (Michelle Williams) in Bart Freundlich's soapy showcase for powerhouse acting After the Wedding.
I barely remember the original version of After the Wedding that came out in 2007, though I recall being enthusiastic about it. It was made by Danish writer-director Susanne Bier, who was on quite a streak at the time, coming off the fantastic psychological drama Brothers (2004), a story about a soldier who returns from a war to find his wife romantically entangled with his younger brother. (It was remade by Hollywood in 2009 with Jake Gyllenhaal and Tobey Maguire in the key roles.)
Bier's version of After the Wedding stars Mads Mikkelson as the manager of an Indian orphanage who's called to Copenhagen to meet with a potential donor. Things quickly get complicated. It's probably better to say no more about the plot. I wrote a positive review of the film, but didn't include it in my year-end Top 10 list. That reaction was in line with the general reception of the film; it was nominated for a Best Foreign Language Oscar but didn't win. The Rotten Tomatoes review aggregator site has it at 88% positive based on 104 reviews. So call it a good but not particularly memorable film.
After the Wedding
83 Cast: Michelle Williams, Julianne Moore, Billy Crudup, Abby Quinn, Alex Esola, Will Chase
Director: Bart Freundlich
Rating: PG-13, for thematic material and some strong language
Running time: 1 hour, 52 minutes
But Julianne Moore remembered it; and she and her husband/collaborator Bart Freundlich have been planning to remake it as an English language film for some time.
There is no glorious tradition of remaking foreign films for American audiences. (A British director once told me movies were Americanized the same way Champagne was -- by adding 10% more sugar. He was wrong about that. About 97% of the Champagne imported by America qualifies as dry. Russians tend to like demi-sec. On the other hand, some importers believe Americans would drink a lot more Champagne if the sweeter sec and demi-sec varietals were more readily available in this country.)
But if someone is going to remake a foreign film for American audiences, you could do worse than have Moore attached to the project. She made the producers' hiring of the original director a condition of her participation in Gloria Bell, a remake of Chilean director Sebastián Lelio's 2013 film Gloria.
And Gloria Bell is, in artistic terms, a very successful remake. Like a great cover version of a popular song, it remains faithful to the spirit of the original while exploring further nuances. And that's clearly what the filmmakers intended here.
Michelle Williams takes on the Mads Mikkelson role here, Moore plays her would-be benefactor, and the twisty plot follows the same contours as the old film. While the gender-flipping necessitated some changes and I imagine that Moore is in more scenes and had more lines than her counterpart Rolf Lassgard did in Biers' film, the two movies basically start and end in the same place. So if you remember the 2007 film, you might not suffer whiplash from the revelations that keep piling up like rear-ended Camrys on a foggy turnpike.
And you might better enjoy the acting clinic put on by Williams and Moore, who approach their respective characters from opposite corners; Williams' Isabel being quiet and wounded while Moore's Theresa is large and aggressive. (And Billy Crudup plays Theresa's artist husband, Oscar, with the same kind of patient rationality he displays in Where'd You Go, Bernadette -- watching these two movies in close proximity might give you the impression that he specializes in playing the grownup in the room.)
There's nothing to criticize about how Freundlich leads us through the story; it's handsomely photographed and tastefully shot. It's only that the story feels manipulative as the emotional stakes keep being raised. There were four or five moments when my wife, Karen, pointed out that what was happening on the screen would never happen in real life.
Basically it's a soap opera performed by over-qualified actors. If you have a weakness for gasp-inducing melodrama, you'll like it. Otherwise you might appreciate the work of the performers. It seems unlikely that either Williams or Moore will win any award nominations for this film, but that's not because of the quality of their work.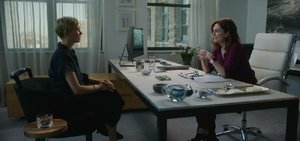 Theresa (Julianne Moore) is a retiring philanthropist prepared to give Isabel's (Michelle Williams) foundation a big check — if she's willing to meet certain conditions — in After the Wedding.
MovieStyle on 09/06/2019
Print Headline: After the Wedding
Sponsor Content