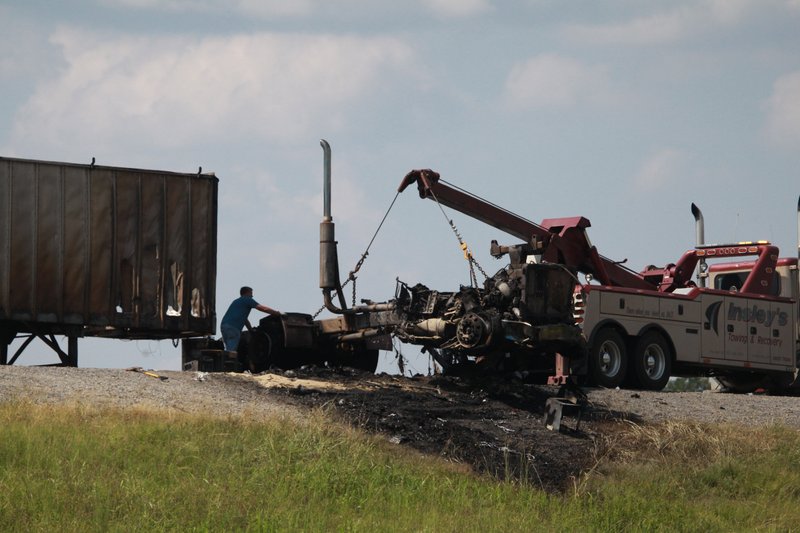 Workers shift the remains of a tractor-trailer following a crash on Interstate 530 in Pine Bluff. ( Dale Ellis )
4:14 p.m. UPDATE:
The person who died after a four-vehicle crash Tuesday afternoon near Pine Bluff was identified by the Jefferson County coroner as Penny Howard, 58.
Coroner Chad Kelley said she was pronounced dead at 12:40 p.m., and her cause of death is not yet known.
3:09 p.m. UPDATE:
Lanes of Interstate 530 closed due to a fatal wreck around exit 36 have been reopened, according to the Arkansas Department of Transportation. All lanes in both directions had been closed.
An online traffic map from the department still shows slowed traffic in the area.
2:25 p.m. UPDATE:
A fiery four-vehicle crash on northbound Interstate 530 left at least one person dead and closed traffic across all lanes in both directions.
Arkansas Department of Transportation spokesman Danny Straessle said a large truck traveling northbound around noon at high speeds in a work zone collided with a passenger car.
Two other passenger cars traveling northbound were also struck, and Straessle said three of the four vehicles caught on fire.
Straessle said one person from one of the passenger vehicles has been confirmed dead, though he did not know if it was the driver or a passenger.
Straessle said he also did not know about additional injuries to others involved.
The area is under construction as state Department of Transportation reconstructs the bypass, Straessle said.
The interstate has two lanes in each direction, and Straessle said crews closed one lane on the northbound side Tuesday morning to install an overhead sign.
During the time of the crash, crews were transitioning to close the other lane and reopen the lane closed during the morning, Straessle said, and traffic was supposed to be slow through the area.
No cars on southbound I-530 were affected, Straessle said, but lanes were closed to help emergency vehicles access the site of the crash.
EARLIER:
A "serious" crash on Interstate 530 has closed all lanes in both directions near Pine Bluff, according to the Arkansas Department of Transportation. Traffic is being detoured in both directions at Exit 37.
Traffic is at a standstill on southbound I-530 between roughly exits 36 and 37, according to online maps by the state Department of Transportation. Traffic is at or near a standstill on northbound I-530 between exit 39 and 37. Slowed traffic surrounds the stopped sections.
An automated traffic alert just after 1 p.m. listed the crash as possibly fatal. State Department of Transportation spokesman Danny Straessle said he had no additional information as of 1:25 p.m.
CORRECTION: A previous version of this story stated the crash occurred on Monday. The crash occurred on Tuesday.
Sponsor Content