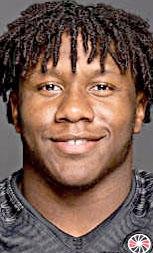 Isaiah Azubuike
JONESBORO -- A few weeks ago, Isaiah Azubuike's name was no where to be found on Arkansas State University's two-deep depth chart, and the talk centering on how much he'd be used this season wasn't definitive.
The true freshman running back from St. Louis impressed Red Wolves' coaches during fall camp. But, like most freshmen in college football, Azubuike would likely have to wait some time before it was his turn.
"You go back and forth. It's a long season, and you hate to not use him if you're gonna need him," ASU offensive coordinator Keith Heckendorf said Sept. 9. "So it's a conversation we have weekly in terms of what we feel like we need to do to win, and what's best for him, and what's best for our football team. He wants to play, he's hungry to play and he's shown that he can play."
But things can change quickly.
Sophomore starter Marcel Murray rolled an ankle in the first half of a Week 2 victory over UNLV on Sept. 7. Because of that injury, Murray sat out the blowout loss at No. 3 Georgia the following week, and he played one play in Saturday's home victory over Southern Illinois. Junior backup Ryan Graham also tore an ACL in the SIU game, thus ending his season.
So about being patient with Azubuike again?
"That conversation's over now," Heckendorf said Monday with a smile. "He going."
Not only is it over, but there's a new one developing as a result. The 5-11, 200-pound Azubuike is having to grow up even quicker, and he'll be a focal point in ASU's backfield moving forward.
"Well I came up here expecting that," Azubuike said. "So when that time came, I know I had to step up in a bigger role than what most would expect out of me. So I'm just ready since the beginning. Even before I got here, I was ready for it."
Azubuike was a three-star prospect coming out of St. Louis Lutheran North High School and was the No. 31-rated player in Missouri, according to 247 Sports Composite rankings. As a senior, Azubuike was a second-team all-state selection.
His first collegiate action came during ASU's 43-17 victory at UNLV, when he rushed 11 times for 25 yards. The next week at Georgia, Azubuike had his true welcome-to-college-football moment facing one of the nation's top-ranked rush defenses amid a roaring crowd of over 90,000.
"That was really like the biggest game I've ever played in," Azubuike said. "You couldn't hear a lot of stuff on third down."
On Saturday, it was Azubuike who helped ice a 41-28 victory over Southern Illinois at Centennial Bank Stadium. He finished the night with 88 yards on 15 carries.
Murray played the very first snap. but his ankle immediately started to bother him, and he sat out the rest of the night. Later in the game, Graham suffered the torn ACL.
So following ASU's fourth-and-goal stop at the 5 and with 6:04 left in the fourth quarter and the Red Wolves up 13, it became Azubuike's turn to run the show. On a game-sealing, 11-play, 77-yard final drive, Azubuike rushed eight times for 46 yards to help ASU run the clock out and move to 2-2 on the season.
"Coach tells me that too -- he just needs me ready, just in case they go down," Azubuike said. "I feel like he feels that I'm stepping up more to that and that I'm almost ready and that I still got room for improvement. We all do."
ASU Coach Blake Anderson said Monday that Murray is still day-to-day with that ankle injury, and he won't be rushed back. It's unknown how much, or if, Murray will be able to play in Saturday's Sun Belt opener at Troy (2-1).
If Murray can't go or is limited, expect the Red Wolves to once again rely heavily on Azubuike, as well as redshirt junior DJ Chatman, who's played in spots.
"The more reps you get, kind of like a shooter, man, the more you give those guys the ball, they tend to get better with time," Anderson said. "The reps that they've had are gonna help."
It was a year ago when Murray burst onto the scene as a true freshman and finished the season as ASU's leading rusher with 860 yards and eight touchdowns, despite splitting carries with veteran Warren Wand.
Fast forward to now, and the parallels between Murray and Azubuike are becoming clearer. Azubuike is listed as the same height as Murray and is three pounds heavier, and Heckendorf said the two have many similar characteristics as running backs.
Now Azubuike is trying to learn from Murray as much as he can.
"I ask him all the time what could I have did better in a certain play, what I should have hit, anything like that," Azubuike said. "He tells me he messed up all the time, but he just knew he just had to keep going, keep studying, keep watching film, keep getting better."
Sports on 09/26/2019
Print Headline: ASU freshman RB's time now
Sponsor Content