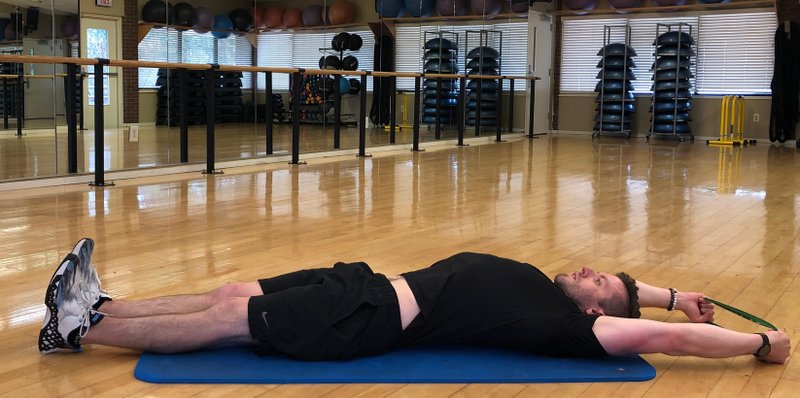 Josh Holt, fitness director of Little Rock Racquet Club, does steps 1 and 5 of the Stretch Band ISO Rollup on March 18 for Matt Parrott's Master Class. (Arkansas Democrat-Gazette/Celia Storey)
The best core exercises tend to be performed in one of two positions, supine (lying face up) and prone (lying face down). For some people, one of those positions works better than the other.
When I think back to my days as a full-time personal trainer, I distinctly recall consistent requests for loss of abdominal fat. Most clients wanted their waistlines leaner, and most figured that the way to make them lean was related to performing more situps. More and more.
So, I became very skilled at explaining how abdominal fat loss actually occurs and the fact that developing abdominal strength through situps and other exercises is only part of the equation. We discussed the importance of cardiovascular work, nutrition and other factors that influence one's girth.
Nevertheless, almost every exercise program I created included some element of abdominal training, mostly because it's an important part of developing good posture and maintaining lower back health. These programs included exercises performed in the prone position, supine position, seated position and even a few in the standing position.
I had learned that certain people respond more favorably to one position or the other based on health factors. This information shaped my strategy on abdominal training over the years.
One commonality I noticed was that many older adults were not well suited for floor exercise. No, let me rephrase that: Floor exercises were not well suited to them. Knee injuries, hip pain and other conditions often prevented my older clients from moving to the floor without discomfort. If this sounds familiar, I have a workaround for you. An exercise bench, or even a firm bed mattress, can be a good alternative to floor-based training. Personally, I perform my roll-ups, situps and hip raises using an exercise bench almost exclusively. I feel it's more comfortable, and it eliminates the need to get down on the floor (which is usually less clean than a bench anyway).
There's another cool tip that can help those who have difficulty performing a situp or roll-up, and this week's exercise is a perfect way to demonstrate it. The Stretch Band ISO Roll-up includes a little arm swing to generate momentum that helps one do the roll-up. It's a great way to reduce back strain while challenging the abdominals and shoulders simultaneously.
1. Select a light/medium stretch band and lie on your back on the floor. Hold one side in each hand so that the stretch band is tight with the hands shoulder-width apart.
2. Extend the hands overhead as you lie on the floor with your legs outstretched. Keep the stretch band taut by pressing your hands apart while holding it.
3. Bring the arms forward until they are over your chest. Just as they reach this position, slowly sit up by rolling your shoulders forward.
4. As you reach a full situp position, slowly reverse the movement and lie back down. Allow the arms to return to the overhead starting position.
5. Continue performing this movement pattern for 12 repetitions. Do two sets of 12.
The Stretch Band ISO Roll-Up is comfortable because one can adjust the amount of arm swing based on fitness level. Beginners might use a little faster arm swing while experienced exercisers might elect to move slowly through the range of motion.
Although it's performed in the supine position, that doesn't have to mean supine on the floor. The exercise can be performed on a bench or a firm bed. Enjoy!
Matt Parrott has a doctorate in education (sport studies) and a master's in kinesiology and is certified by the American College of Sports Medicine.
vballtop@aol.com
Style on 04/13/2020
Print Headline: If the floor's too low to go, do your roll-ups higher up
Sponsor Content