BENTONVILLE — A new partnership is giving hospitality workers the chance to get back to work while giving back to the community.
The Northwest Arkansas Council and local nonprofit Pure Charity recently announced a partnership with Get Shift Done to launch Get Shift Done for Northwest Arkansas. Get Shift Done is an initiative that started in March in north Texas to help service workers and to support the demand of the nonprofits, especially those focused on hunger relief, according to its website.
The partnership is supported by the Walmart Foundation, Walton Family Foundation and Willard & Pat Walker Charitable Foundation. The program has $255,000 committed by those supporters and includes up to $100,000 in matching money from Get Shift Done, said Jeannette Balleza Collins, entrepreneurial development director of the Northwest Arkansas Council. The council is a nonprofit focused on economic development and philanthropic endeavors in the region.
Service workers who have lost jobs or hours because of covid-19 will be paid $15 an hour to work at nonprofits that focus on hunger relief. The Pack Shack, Fayetteville Roots, Seeds That Feed and The Salvation Army Northwest Arkansas Area Command are participating. The job will depend on the nonprofit's needs.
The partnership gives the groups a chance to align solutions based on three problems hitting simultaneously during the pandemic: volunteer numbers dropping, an increase in food insecurity and hospitality workers who are working fewer hours or lost their job, Collins said.
Get Shift Done provided the playbook on how to operate and tackle those issues and others including social distancing guidelines and how it could affect unemployment benefits. Volunteers are brought into the program through the Shiftsmart app, which also handles all scheduling, matching and whatever else they need to know or do. Shiftsmart allows volunteers to complete paperwork and get paid within 24 hours of completing their shifts, Collins said.
"That was a really beautiful aspect of it because people who are in need of that funding are able to get that supplemental income and do it relatively quickly," Collins said. "Especially when so many things are uncertain."
Jenna Melnicki is one of countless service industry workers whose job has been affected by the pandemic. Melnicki said she was working about 40 hours a week at Bike Rack Brewing Co. when businesses started closing.
She found out about the initiative through the Pack Shack, where she first volunteered in the spring before shutdowns began, Melnicki said. She grew interested in the initiative when her hours were cut nearly in half.
Melnicki worked her first shift through the program last week at a soft launch at the Pack Shack, where volunteers packaged macaroni and cheese meals to be distributed into the community.
"It's helping me out tremendously," Melnicki said. "It's been extremely stressful trying to keep steady work coming in."
Bret Raymond, chief executive officer of the Pack Shack, reached out to the NWA Council after being inspired by friends involved with the Get Shift Done Launch in Dallas.
"It's a tremendous solution to a great challenge," Raymond said.
The launch of Get Shift Done in the region comes at a critical time, Raymond said. Unemployment benefits from the federal Coronavirus Aid, Relief, and Economic Security Act ended July 31 and more workers will be in need of assistance, he said.
"The opportunity now to get out and get out safely and do work that is very much needed to help others in the community, I think is a great opportunity for people who may need some extra money in their pocket because their job has been impacted by covid-19," Raymond said.
The pilot program is supposed to last three to four months, but continued interest and money from the community and nonprofits could change that, Collins said.
"If we continue to get support, we really think it's an amenity that should be in place for closer to six to eight months," she said.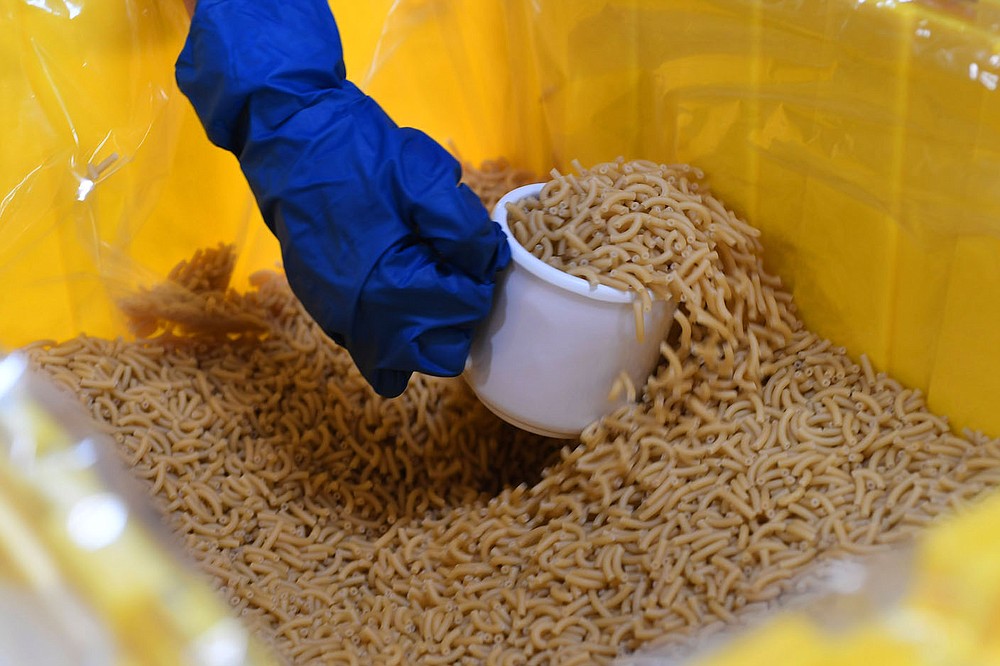 Melnicki scoops dry noodles while helping assemble food packs at The Pack Shack. (NWA Democrat-Gazette/J.T. Wampler)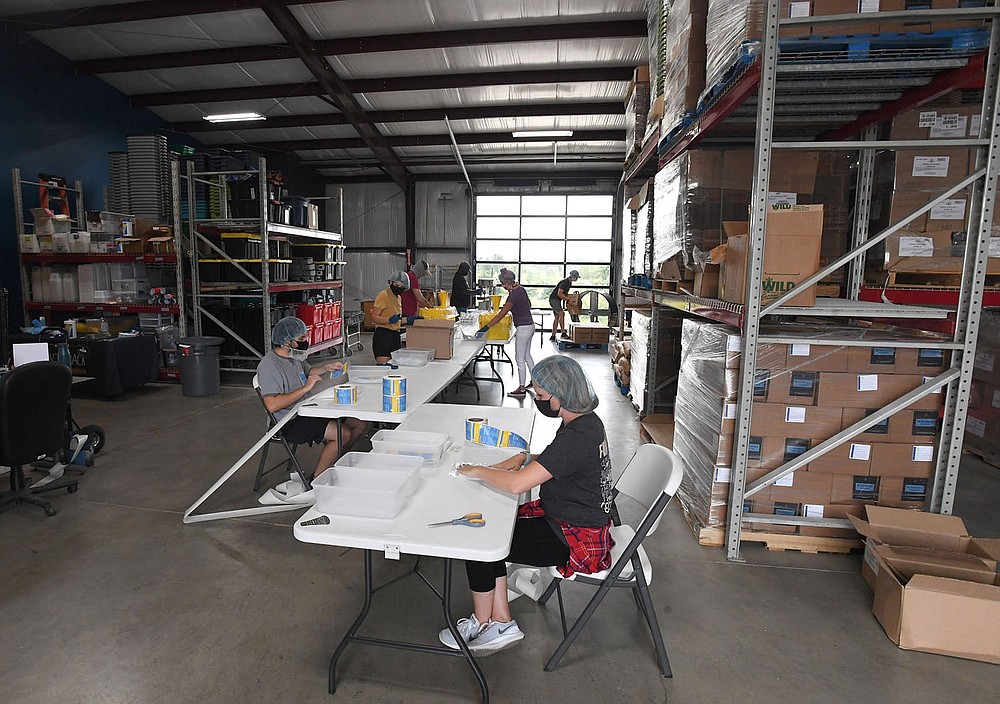 Employees along with some restaurant workers make meal packs July 29 at The Pack Shack in Cave Springs. Visit nwaonline.com/200809Daily/ for photo galleries. (NWA Democrat-Gazette/J.T. Wampler)
Other Get Shift Done locations
North Texas
Washington, D.C.
El Paso, Texas
New Orleans
Greater Houston
Central Arkansas
San Antonio
Rio Grande Valley, Texas
Angelina County, Texas
Austin, Texas
Source: Get Shift Done