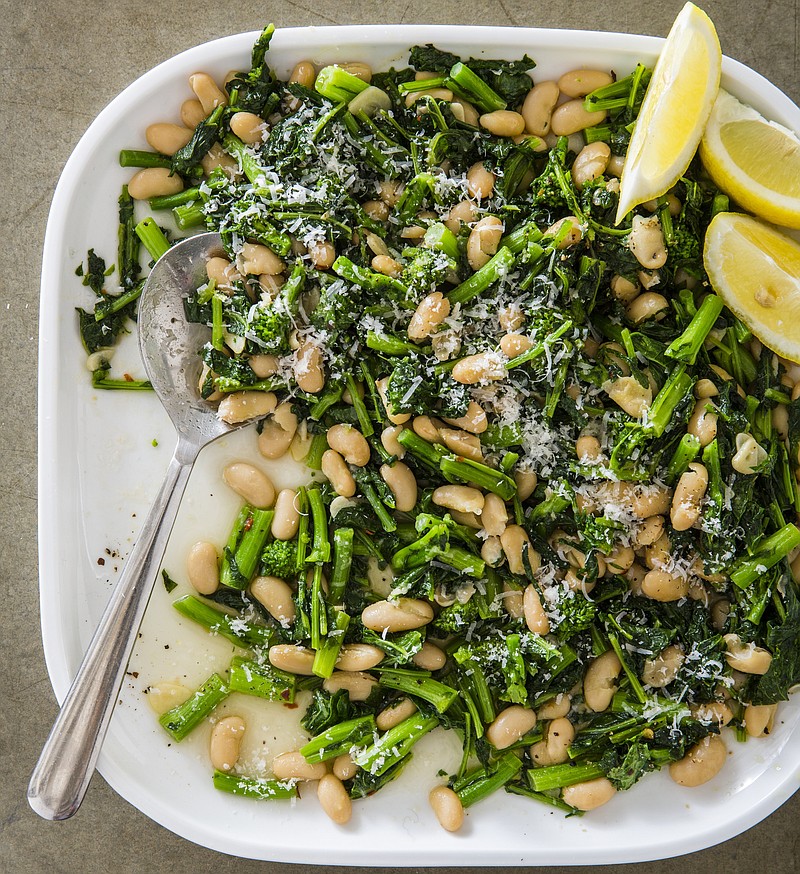 Broccoli Rabe With White Beans Courtesy of America's Test Kitchen
A week's worth of quick, healthful meals for budget-minded families
SUNDAY: Take it easy and prepare or buy a smoked turkey breast for family day. Alongside, Broccoli Rabe With White Beans (see recipe) is delicious. Add whole-grain rolls. No one will resist Peach Crumble for dessert. Heat oven to 350 degrees. Combine 12 (about 3 pounds) fresh peaches (peeled and sliced) and ¼ cup sugar; spoon into a 3-quart baking dish coated with cooking spray. Combine ½ cup flour, 5 tablespoons packed light brown sugar, ½ teaspoon nutmeg and 3 tablespoons butter in a medium bowl. With 2 knives, work butter into flour mixture until it resembles coarse bread crumbs; spread over peaches. Bake 40 to 45 minutes or until golden.
Plan ahead: Save enough turkey and Peach Crumble for Monday.
MONDAY: Use the leftover turkey and add sliced tomatoes for Grilled Turkey, Tomato and Swiss Cheese Sandwiches on whole-grain bread spread with Dijon mustard. Coat outside of bread with cooking spray and grill in a nonstick skillet until golden and cheese melts. Serve with deli potato salad. Warm the leftover peach crumble for dessert.
TUESDAY: Make dinner quick tonight and serve a fully cooked smoked ham steak. Rub Cajun seasoning blend on both sides before heating, if desired. Serve with baked sweet potatoes, deli broccoli salad and cornbread. A slice of honeydew melon is dessert.
WEDNESDAY: Every kid likes Mom's pizza, whether she makes it or buys it. Add a chopped lettuce salad and vanilla ice cream for dessert.
Plan ahead: Save enough ice cream for Saturday.
THURSDAY: We enjoyed these Bella Burgers for a meatless dinner. Heat grill and coat 4 large portobello mushrooms, 1 large red bell pepper (cut into quarters) and 1 red onion (sliced) on both sides with cooking spray. Grill the vegetables on both sides about 4 to 6 minutes total or until lightly charred and tender. Meanwhile, whisk together 2 tablespoons Italian dressing and 2 tablespoons mayonnaise. Spread whole-grain hamburger buns with dressing mixture and layer with lettuce, tomato, mushroom, pepper and onion. Add your recipe for deviled eggs to the plate, along with steak fries (from frozen). Nectarines are dessert.
FRIDAY: Pasta Soup (see recipe) is a delicious low-cost entree. Serve the soup with a crisp lettuce wedge and crusty bread. For dessert, fresh plums are in season.
SATURDAY: The family likes your lamb chops best. Serve them with Creamed Corn-Stuffed Tomatoes (see recipe). Add mixed greens and sourdough rolls. For dessert, a wedge of chilled cantaloupe with leftover ice cream is refreshing.
THE RECIPES
Broccoli Rabe With White Beans
¼ cup extra virgin olive oil, divided use
3 cloves garlic, thinly sliced
¼ teaspoon crushed red pepper
1 pound broccoli rabe, trimmed and cut into 1-inch pieces
1 (15-ounce) can cannellini beans, rinsed
¼ cup unsalted chicken broth
½ teaspoon coarse salt, plus more to taste
Black pepper to taste
Grated parmesan cheese and lemon wedges for garnish
In a Dutch oven on medium, heat 2 tablespoons oil and cook garlic and red pepper 2 to 4 minutes or until garlic is golden brown. Stir in broccoli rabe, beans, broth and ½ teaspoon salt and cook 4 to 6 minutes or until broccoli rabe is tender, stirring occasionally. Off heat, stir in remaining 2 tablespoons oil and season with salt and black pepper to taste. Serve, passing parmesan and lemon wedges separately. (Adapted from "Vegetables Illustrated," America's Test Kitchen)
Makes 6 servings.
Nutrition information: Each serving contains approximately 160 calories, 6 g protein, 10 g fat, 13 g carbohydrate, no cholesterol, 210 mg sodium and 3 g fiber.
Carbohydrate choices: 1.
Pasta Soup
3 (14-ounce) cans unsalted chicken broth
2 (14 ¾-ounce) cans cream-style corn
2 (10-ounce) cans enchilada sauce
1 (4-ounce) can chopped green chiles
1 (10- to 12-ounce) can chicken breast with liquid
5 ounces vermicelli or angel hair pasta, broken into pieces
1 ½ teaspoons cumin
½ teaspoon each onion powder and dried oregano
1 medium onion, chopped, for garnish
Shredded Colby-Monterey Jack cheese blend for garnish
In a large pot, combine broth, corn, enchilada sauce and chilies; mix well. Bring to a boil over medium-high heat. Add chicken, vermicelli, cumin, onion powder and oregano; mix well. Reduce heat to low; simmer 8 minutes or until vermicelli is tender; stir occasionally. Ladle into bowls and garnish with onions and cheese.
Makes about 13 cups.
Nutrition information: Each cup (without cheese) contains approximately 141 calories, 8 g protein, 1 g fat, 24 g carbohydrate, 10 mg cholesterol, 296 mg sodium and 2 g fiber.
Carbohydrate choices: 0.5.
Creamed Corn-Stuffed Tomatoes
6 medium tomatoes, tops and cores removed
2 teaspoons olive oil
2 cups corn kernels (about 4 ears corn)
1 poblano chile, cored, seeded and finely chopped
Coarse salt and ground black pepper to taste
3 tablespoons freshly grated Pecorino-Romano cheese
1 teaspoon chopped fresh thyme, plus sprigs for garnish
¼ cup fresh bread crumbs
Heat oven to 350 degrees.
Scoop seeds and pulp from tomatoes using a melon baller to create a shell; transfer to a bowl. Using your hands, squish the pulp and seeds until smooth but slightly chunky; set aside.
Heat oil in a large nonstick skillet on medium. Add corn and poblano; season with salt and black pepper. Cook 8 to 10 minutes or until tender, stirring occasionally. Add reserved tomato mixture and cook 3 minutes or until it's absorbed into corn and skillet is dry; stir occasionally. Add grated cheese and chopped thyme. Arrange tomato shells, cut-side up, in a casserole dish. Spoon heaping ¼ cup corn filling into each shell. Sprinkle with bread crumbs. Bake 20 to 25 minutes or until the filling is heated through, shells are tender and topping is golden. (Adapted from "Lighten Up, Y'all" by Virginia Willis, Ten Speed Press)
Makes 6 servings.
Nutrition information: Each serving contains approximately 101 calories, 4 g protein, 3 g fat, 19 g carbohydrate, 1 mg cholesterol, 41 mg sodium and 3 g fiber.
Carbohydrate choices: 1.
Susan Nicholson is an Atlanta-based cookbook author and registered dietitian. She can be reached by email:
susan@7daymenu.com
Sponsor Content