• Sean Penn says he has expanded his fight against the coronavirus beyond his own expectations. The two-time Oscar winner's disaster relief organization CORE has gone from providing 6,500 tests in a couple weeks to administering more than 1.3 million within a five-month span. The organization started at four sites in Los Angeles and currently operates in 32 locations in cities including New York, Atlanta, Chicago, Detroit, New Orleans and Washington. The organization, which started as an international relief group, had initially planned to operate testing sites in Los Angeles for three months. It's now expanding its services and bracing for the winter months when the virus could surge and strain resources. CORE, which stands for Community Organized Relief Effort, has since late March grown to 900 staff and volunteers. It has been testing an average of 15,000 people per day in Los Angeles since May 26, CORE officials said. Penn applauded the efforts of those who have willingly helped his organization during the pandemic. "We were able to come in and absorb some sites then expand out to other sites," Penn said, as CORE workers wore hazard suits to distribute tests at a free drive-thru covid-19 test site in Los Angeles. The organization is focused on giving free tests to low-income groups and communities along with first responders and essential workers. "We recruited very quickly at the beginning because people wanted to help," he said. "They feel there's an energy that's going to make a real impact."
[CORONAVIRUS: Click here for our complete coverage » arkansasonline.com/coronavirus]
• Katy Perry has given birth to a baby girl named Daisy Dove Bloom. The pop superstar and her partner, actor Orlando Bloom, got UNICEF to announce the news on its Instagram account. Perry and Bloom are goodwill ambassadors for the United Nations agency that helps children. UNICEF posted a black and white photograph of the infant's hand and said the happy couple told the organization: "We are floating with love and wonder from the safe and healthy arrival of our daughter." In the Instagram post, the couple also spoke about how fortunate they were to have had a "peaceful" birthing experience with good health care -- something, they said, many families do not experience. "Smile," Perry's fifth major-label album, will be released today. The 35-year-old talked about finding her smile again after a few years of pain in an interview. "I went through a reckoning of self and really re-prioritized what was important and my association with validation, or my relationship with validation," she said. The baby is Perry's first. Bloom and his former wife, Miranda Kerr, have a son, Flynn, who was born in 2011.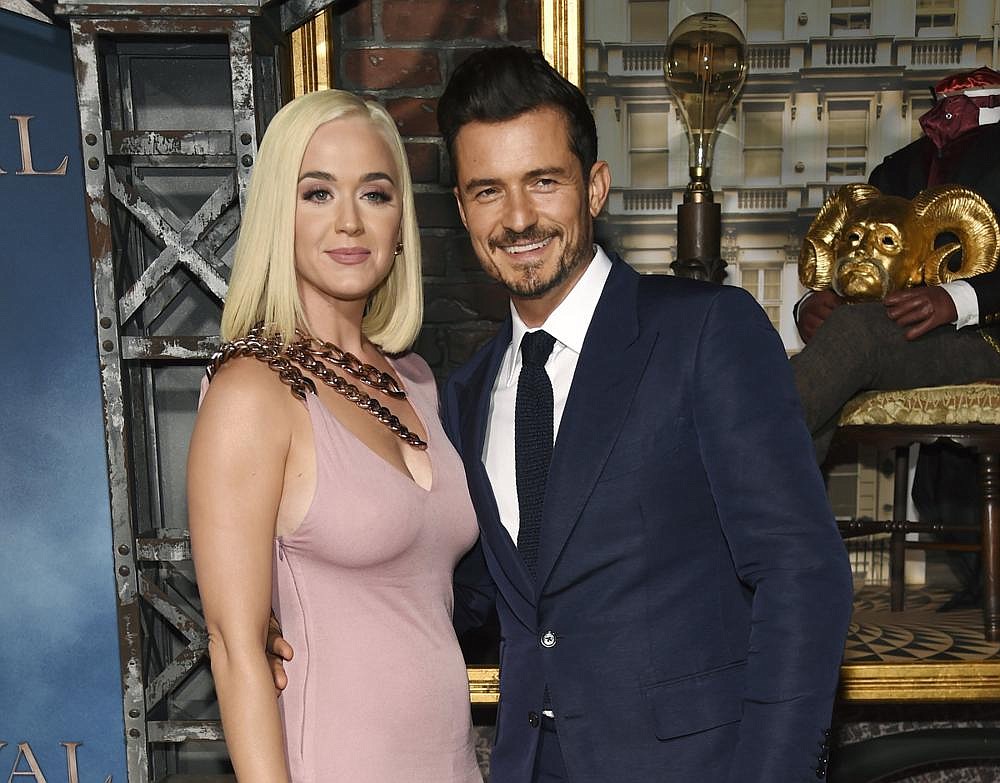 This Aug. 21, 2019 file photo shows Orlando Bloom, right, a cast member in the Amazon Prime Video series "Carnival Row," with singer Katy Perry, at the premiere of the series in Los Angeles. Perry has given birth to a baby girl named Daisy Dove Bloom. (Photo by Chris Pizzello/Invision/AP, File)