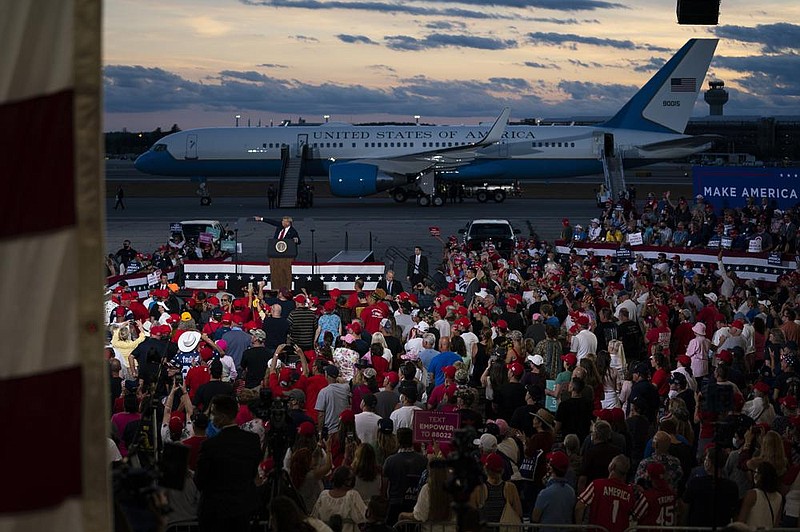 President Donald Trump holds a campaign rally Friday in Londonderry, N.H., where he criticized crowds that protested near the White House during the Republican convention. (AP/Evan Vucci)
LONDONDERRY, N.H. -- Fresh off accepting the Republican Party's nomination, President Donald Trump said Friday that he was the only thing standing between "democracy and the mob," as he lashed out at protesters who accosted his supporters as they left the White House the night before.
Trump held a rally in New Hampshire on Friday evening as he launches an aggressive travel schedule heading into the fall campaign. In his convention finale a day earlier, Trump blasted Joe Biden as a hapless career politician who will endanger Americans' safety.
Trump opened his Friday rally with a rant against demonstrators who accosted guests departing his Thursday night convention speech at the White House and at times needed to be escorted by police officers. It marked his latest attempt to frame the election as a dire choice between two futures for the nation -- a theme he was expected to amplify on the campaign trail.
"They walked out to a bunch of thugs," Trump said, criticizing Washington, D.C., Mayor Muriel Bowser for not doing more to protect his supporters. "Unhinged, manic rage. You ought to see last night in Washington, it was a disgrace."
Trump said he directed White House Chief of Staff Mark Meadows to study how to call in the National Guard to the nation's capital. Trump previously ordered federal troops to the District of Columbia in May amid protests over the killing of George Floyd in the custody of Minneapolis police.
[Video not showing up above? Click here to view » https://www.youtube.com/watch?v=ozWZYbYfkp4]
"We're not supposed to go in unless we call it an insurrection, and that's a big statement," Trump said. "But you know what we're going to do. ... We're going to have to look at it, because we're not going to let that happen to people that go to the White House to celebrate our country."
Trump said the demonstrators were "anarchists," adding: "They're just looking for trouble. Has nothing to do with George Floyd. Has nothing to do with anything. They don't even know who George Floyd is."
"The agitators will go from rioting in the streets to running the halls of government," he added, saying voters needed to support him to "save democracy from the mob."
"No one will be safe in Biden's America," Trump said.
KAMALA HARRIS TARGETED
Speaking in New Hampshire, a state he lost in 2016 by fewer than 2,000 votes and is a top pickup opportunity for him in 2020, Trump launched a new attack on Democratic vice presidential candidate Kamala Harris, speculating on the possibility that she could assume the presidency from the 78-year-old Biden.
"You know, I want to see the first woman president also, but I don't want to see a woman president get into that position the way she'd do it, and she's not competent," Trump said. "She's not competent."
Trump departed the White House by motorcade Friday, requiring it to weave through streets packed with demonstrators participating in a commemoration of the 1963 March on Washington for Jobs and Freedom. The motorcade made it to Joint Base Andrews without incident.
Trump spoke Thursday night for more than an hour on the White House lawn to a tightly packed crowd, with many people foregoing masks.
In New Hampshire, a campaign advisory said masks for attendees were "required" in accordance with Republican Gov. Chris Sununu's executive orders, and were provided.
Similar indoor-outdoor rallies at aircraft hangars in recent weeks have seen limited compliance with face-covering mandates. The event format has become the Trump campaign's go-to amid the pandemic.
"This is a peaceful protest," read signs handed out by the Trump campaign, echoing a rationale Trump has used to contrast virus risks at his political events with the same risks posed at racial justice protests sweeping the nation.
Trump is eager for a return to normal activities and complained on the way to New Hampshire about the state of the college football season. In the Big Ten conference, coaches and medical personnel are working on multiple plans for staging a football season -- including one that would have the league kicking off during the Thanksgiving weekend. The conference is filled with teams from battleground states considered critical in the upcoming election.
"No, I want Big Ten, and all other football, back -- NOW," Trump tweeted. "The Dems don't want football back, for political reasons, but are trying to blame me and the Republicans. Another LIE, but this is what we are up against!"
Trump's pace of travel is expected to pick up to a near-daily pace.
BIDEN PLANS SOME TRAVEL
Biden, who has largely weathered the pandemic from his Delaware home, announced Thursday that he will soon resume limited campaign travel.
Trump reacted to Biden's announcement, saying, "Today it was announced that Joe Biden is coming out of the basement," saying it was "because the poll numbers have totally swung."
Biden plans to take his presidential campaign to battleground states after Labor Day in his bid to unseat Trump.
No itinerary is set, according to the Democratic nominee's campaign, but the former vice president and his allies say he plans to highlight contrasts with Trump, from policy arguments tailored to specific audiences to the strict public health guidelines the Biden campaign says its events will follow amid covid-19.
"He will go wherever he needs to go," said Biden's campaign co-chairman Cedric Richmond, a Louisiana congressman. "And we will do it in a way the health experts would be happy" with and "not the absolutely irresponsible manner you saw at the White House."
Richmond said it was "always the plan" for Biden and his running mate to travel more extensively after Labor Day, the traditional mark of the campaign's home stretch when more casual voters pay more attention.
Biden has conducted online fundraisers, campaign events and television interviews from his home, but traveled only sparingly for speeches and roundtables with a smattering of media or supporters.
His only confirmed plane travel was to Houston, where he met with the family of Floyd, the Black man who was killed by a white Minneapolis police officer May 25, sparking nationwide protests. Even some Democrats worried quietly that Biden was ceding too much of the spotlight to Trump. But Biden aides have defended their approach. "We will never make any choices that put our staff or voters in harm's way," campaign manager Jen O'Malley Dillon said in May.
PANDEMIC A MAIN ISSUE
Throughout his home-based campaign, Biden blasted Trump as incompetent and irresponsible for downplaying the pandemic and publicly disputing the government's infectious-disease experts. Richmond said that won't change as Biden ramps up travel.
"We won't beat this pandemic, which means we can't restore the economy and get people's lives back home, unless we exercise some discipline and lead by example," Richmond said, adding that Trump is "incapable of doing it."
Biden said he'll "meet people where it matters -- not at irresponsible rallies, or staged for TV to boost egos. but real people's communities, in real local businesses, in their lives." He said he'll hold events "consistent with the state rules" about crowd sizes and other regulations.
Trump casts Biden as wanting to "shut down" the economy to combat the virus. "Joe Biden's plan is not a solution to the virus, but rather a surrender," Trump declared during his acceptance speech on the final night of the Republican National Convention.
Biden said only that he would be willing to make such a move as president if public health experts advised it. The Democrat also has called for a national mask mandate, calling it a necessary move for Americans to protect each other.
Trump has urged Americans to wear masks but opposes a national requirement.
Harris on Friday talked about the idea in slightly different terms than Biden, acknowledging that a mandate would be difficult to enforce.
"It's really a standard. I mean, nobody's gonna be punished. Come on," the California senator said, laughing off a question about how to enforce such a rule during an interview that aired Friday on "Today." "Nobody likes to wear a mask. This is a universal feeling. Right? So that's not the point, 'Hey, let's enjoy wearing masks.′ No."
DEBATES EMBRACED
Biden says he won't skip debates with Trump this fall, vowing he'll use the opportunity to confront his rival and be a "fact checker on the floor."
Biden said Thursday that there's no question the debates will take place, after House Speaker Nancy Pelosi told reporters earlier in the day that she didn't think Biden should debate the president at all. Pelosi said she knows she disagrees with Biden on this, but she doesn't think he should "legitimize a conversation" with Trump.
But Biden has repeatedly said he is eager to take on the president.
Separately, the U.S. armed forces will have no role in carrying out the election process or resolving a disputed vote, the top U.S. military officer told Congress in comments released Friday.
The comments from Gen. Mark Milley, chairman of the Joint Chiefs of Staff, underscore the extraordinary political environment in America, where the president has expressed concern that the expected surge in mail-in ballots will make the vote "inaccurate and fraudulent." Biden has suggested Trump might not accept the election results if he loses.
"I believe deeply in the principle of an apolitical U.S. military," Milley said in written responses to several questions posed by two Democratic members of the House Armed Services Committee. "In the event of a dispute over some aspect of the elections, by law U.S. courts and the U.S. Congress are required to resolve any disputes, not the U.S. military. I foresee no role for the U.S armed forces in this process."
Information for this article was contributed by Holly Ramer, Bill Barrow, Mary Clare Jalonick, Alexandra Jaffe, Michelle Price, Lolita C. Baldor and Will Weissert of The Associated Press.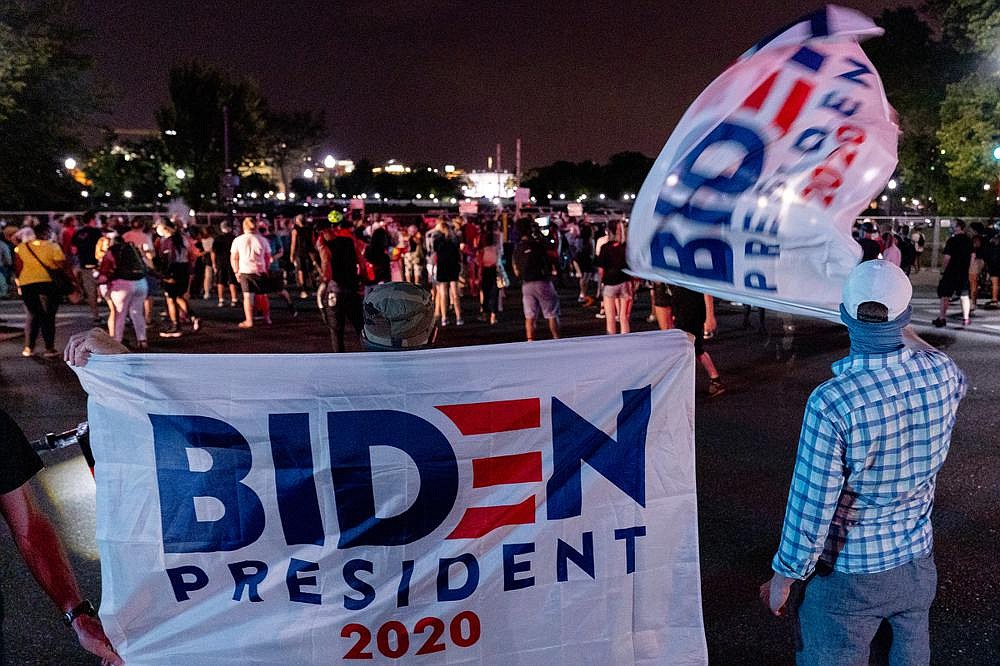 Supporters of Joe Biden gather Thursday near the White House on the fourth day of the Republican National Convention. (AP/Andrew Harnik)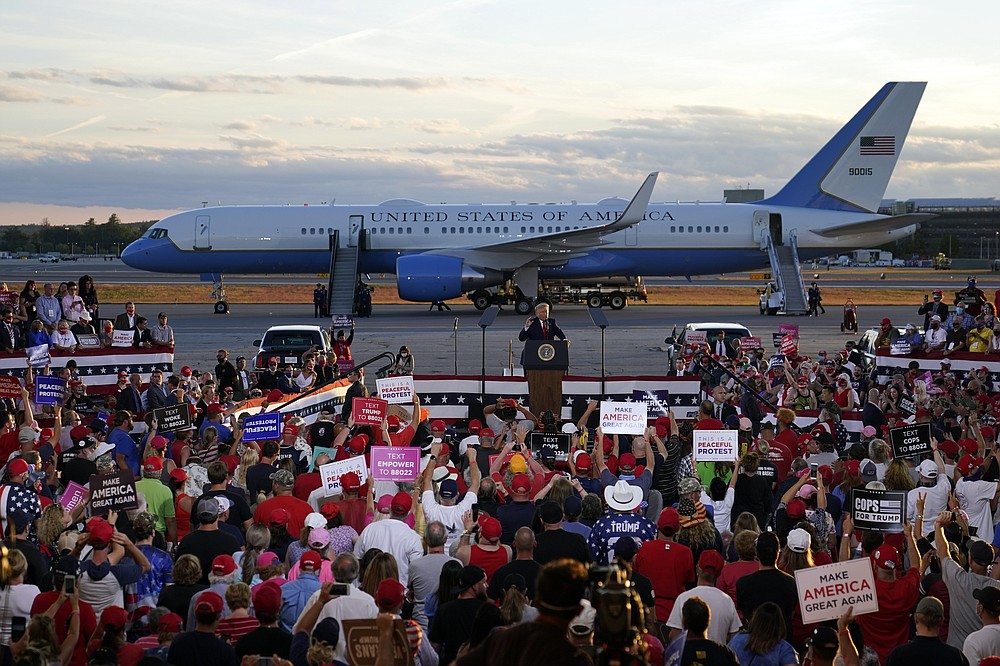 President Donald Trump speaks during a campaign rally at Manchester-Boston Regional Airport, Friday, Aug. 28, 2020, in Londonderry, N.H. (AP Photo/Charles Krupa)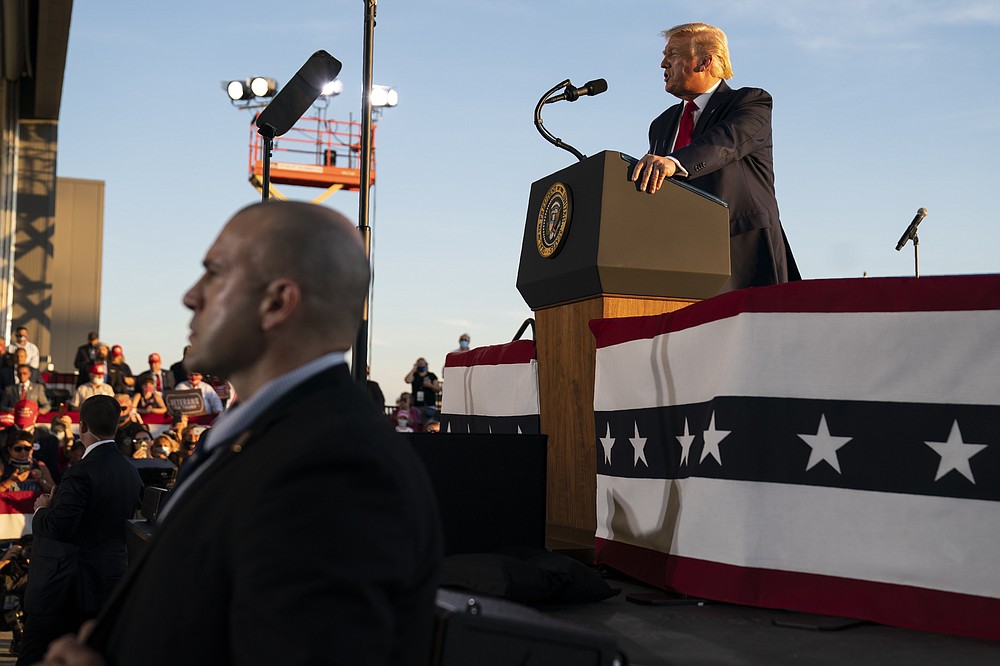 President Donald Trump speaks during a campaign rally, Friday, Aug. 28, 2020, in Londonderry, N.H. (AP Photo/Evan Vucci)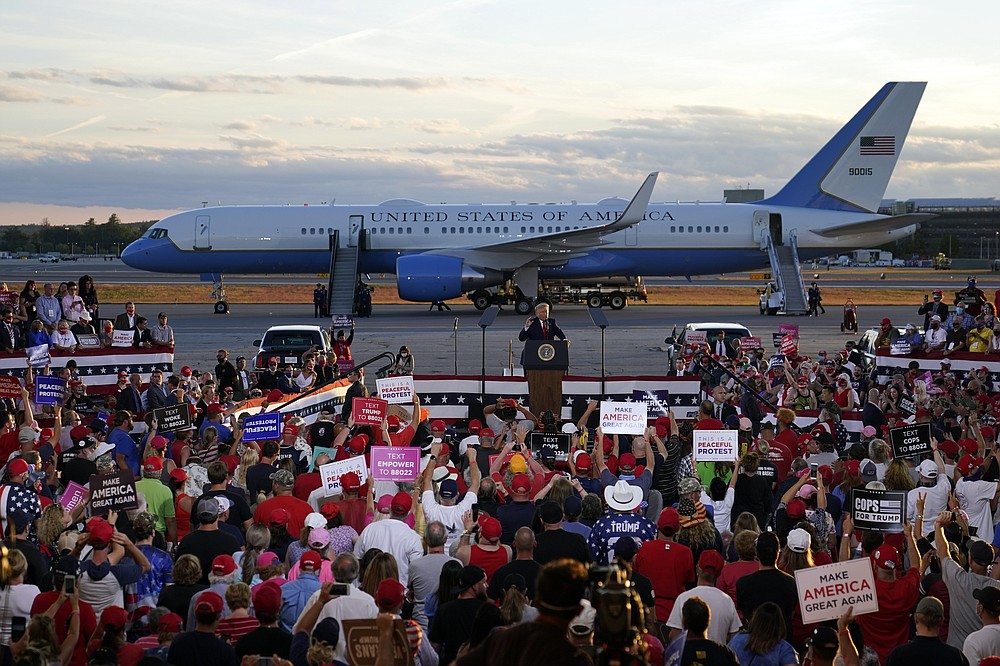 President Donald Trump speaks during a campaign rally at Manchester-Boston Regional Airport, Friday, Aug. 28, 2020, in Londonderry, N.H. (AP Photo/Charles Krupa)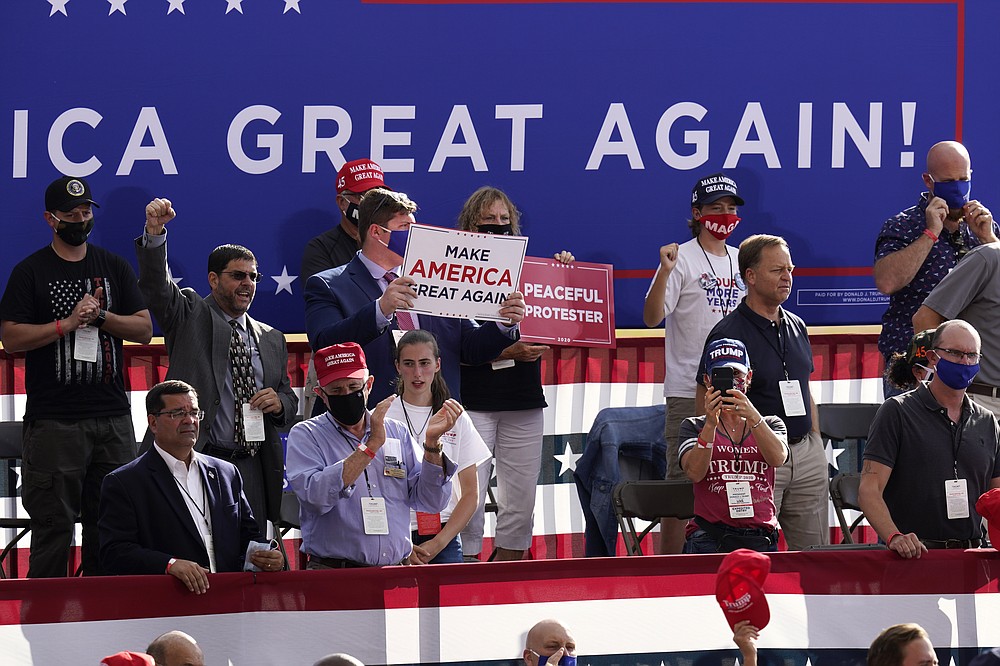 People wait for a campaign rally for President Donald Trump to begin at Manchester-Boston Regional Airport, Friday Aug. 28, 2020 in Londonderry, N.H. (AP Photo/Charles Krupa)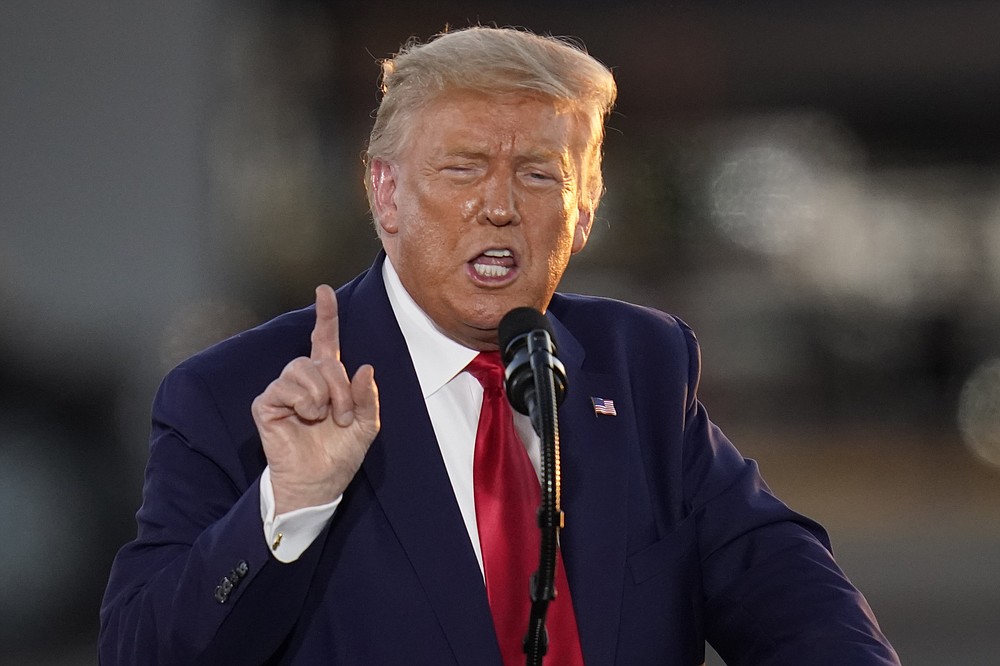 President Donald Trump speaks during a campaign rally at Manchester-Boston Regional Airport, Friday, Aug. 28, 2020, in Londonderry, N.H. (AP Photo/Charles Krupa)
Sponsor Content