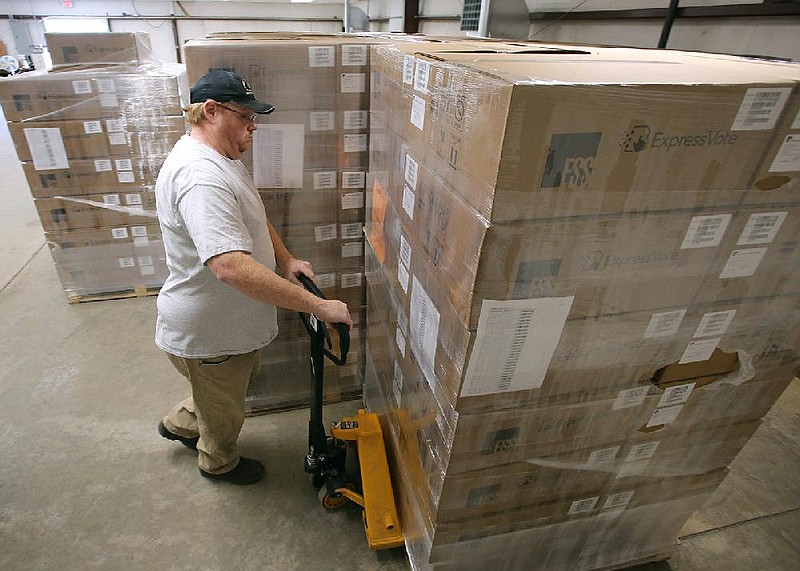 Bart Moreland, an equipment specialist for Pulaski County unloads new voting equipment on Friday, April 10, 2020, at the Pulaski County warehouse in Little Rock. The Pulaski County Election Commission 300 ExpressPoll electronic pollbooks, 140 DS200 ballot scanners and 265 ExpressVote ballot marking devices which will make their debut on the Nov. 3, general election. (Arkansas Democrat-Gazette/Thomas Metthe) ( Arkansas Democrat-Gazette / Thomas Metthe)
LITTLE ROCK -- Fewer than 50,000 Arkansans cast absentee ballots during each of the past two general elections, but election officials are bracing for a spike in the November presidential election as more voters stay home because of the covid-19 pandemic.
In Arkansas, if a voter does not want to cast a ballot in person at his polling place on Election Day, Nov. 3, he can take advantage of other options.
In-person early voting is offered by most county clerks across the state during the two weeks leading up to Election Day. This year that will be Oct. 19 to Nov. 2.
Qualifying residents also can request that absentee ballots be mailed to their addresses. Each can complete a ballot and return it via mail or in person at their county clerk's office before the election.
Under Arkansas law, absentee voting is available to voters who "will be unavoidably absent" from their polling locations on Election Day or who cannot make it to a polling place "due to illness or physical disability," according to the Arkansas secretary of state's website.
Earlier this summer, Republican Gov. Asa Hutchinson and other state officials sought to address the expected increase in absentee ballot requests by issuing an Aug. 7 executive order granting voters the ability to vote absentee if they believe voting in person during the pandemic presents a risk to their health or the health of others.
The order also amended Arkansas law pertaining to the processing of absentee ballots to allow election officials to begin opening and counting ballots 15 days before Election Day, "to coincide with early voting."
In 2016, there were about 40,000 requests for mail-in ballots across Arkansas. This year, the state is expecting from 125,000 to 150,000, said Kevin Niehaus, a spokesman for Arkansas Secretary of State John Thurston.
Pulaski County Clerk Terri Hollingsworth said Thursday the county received 8,000 applications for absentee ballots in 2016. Already this year, the county has received 10,000 requests for absentee ballots, she said, compared with 1,500 at this point in 2016.
"These are unprecedented times, and we're getting an unprecedented amount of requests," Hollingsworth said.
Once the county clerk's office verifies a voter's signature on the absentee ballot application by comparing it with the signature on file with their voter registration information, a ballot is mailed to them.
The deadline to request an absentee ballot by mail or electronically is Oct. 27, but Hollingsworth said officials are asking residents to plan how they are going to vote. If they want to vote absentee, she urged them to request a ballot now so officials can make sure they get the requests out in a timely fashion.
Federal and local officials have cautioned that small hiccups are likely because of the steep increase in absentee voting.
In Pulaski County, for instance, Hollingsworth's office has seen 20 absentee ballot requests in which no matching signature could be found in the digital system, according to Jason Kennedy, the county's assistant chief deputy clerk.
Of those 20, poll records were uncovered that included signatures for 17 of them, Kennedy said. He added that the staff was able to "digitize" those 17 signatures to verify matches to those applications. The county is working on the other three.
"It's a very small universe," Kennedy said. "We're talking a percentage of a percentage here."
The county anticipates no issues with signature verifications during the general election in spite of the number of mail-ballot applications that are expected to come in, Kennedy said.
The issue of signatures on applications was mentioned Monday during the Pulaski County Election Commission meeting. Commissioner Kristi Stahr asked the staff whether all signatures could be verified. She raised questions when she heard that some of those signatures were not in the digital system.
"[Voters] need to know they can trust the process," Stahr said.
Evelyn Gomez, who chairs the commission, said signature verification is designed to "protect the voters and to make sure there's no malfeasance."
Kennedy said Thursday that the only applications that haven't had signatures readily available were from older voters -- those who have "voted in every election" and haven't moved for decades. For those applications, the staff has had to go into "poll books" to find old signatures, and those, in turn, are uploaded into the system, according to the clerk's office.
Newer voters and those who have moved have had to sign voter registration forms more recently and the county has those signatures on file, Kennedy said.
If the staff can't find a signature in the archives, a letter will be sent to the voter requesting a new form with a new signature. The deadline for that submission is Oct. 5, Hollingsworth said.
Niehaus, from the secretary of state's office, said there is "no set protocol in place" if a county doesn't have a signature on file, but every county is expected to do what it can to verify each application.
"You can do a couple things," Niehaus said. "You can look up old records, or you can reach out to the voter and ask them to come in."
Pulaski County's decision to have voters submit new registration forms is acceptable, too, he said.
"It sounds like Pulaski County is doing the right thing and taking care of this," Niehaus said.
He added that no county in the state other than Pulaski -- the largest in Arkansas -- has raised the issue to the state.
Across the United States, questions have been raised about getting an accurate count of absentee ballots. More than 550,000 primary absentee ballots were rejected this year, a significant increase compared with 2016, according to National Public Radio.
In Arkansas, 363 such ballots were rejected during the March 3 primary, according to NPR.
Hollingsworth said she doesn't anticipate any problems with mail-in ballots during the general election.
"I'm definitely optimistic about everybody's vote being counted," she said. "And we're working to ensure that's what's going to happen."
Absentee ballots can be requested in person from a clerk's office up until close of business on the day before the election, according to the Arkansas secretary of state's office.
Completed ballots returned via mail to the county clerk's office must be received by the office by 7:30 p.m. on Election Day.
Residents also can drop off their completed ballots in person at a clerk's office by the close of business on the day before the election.
At the moment, the Markham Street entrance to the Pulaski County courthouse is closed because of the covid-19 outbreak, so people seeking to visit the clerk's office must enter on the Spring Street side, according to Hollingsworth.
Hollingsworth said Pulaski County will begin mailing absentee ballots around Sept. 18.
The deadline to register to vote in Arkansas in time to vote in the November election is Oct. 5.
Sponsor Content