Political tensions seethe after Mali coup
BAMAKO, Mali -- Tensions mounted Saturday between Mali's military junta and the country's longtime political opposition after the coup leaders failed to invite prominent opposition figures to a forum on the country's political future.
The meeting ultimately was canceled and the junta leadership instead met with imam Mahmoud Dicko, an opposition leader who on Friday urged the junta to speed up the transition to civilian rule so the West African country could avoid further crushing financial sanctions.
"I ask them to be part of the solution and not another problem," he said.
Only a week earlier, the opposition coalition known as M5-RFP that includes Dicko had publicly backed the coup, with thousands of their supporters taking to the streets after the junta's overthrow of President Ibrahim Boubacar Keita. M5-RFP had led several months of demonstrations calling for his resignation three years before his final term was due to end.
In a statement late Friday, one M5-RFP leader said the alliance regretted not being invited to take part in Saturday's planned discussions between the junta and various political actors.
"The M5-RFP is and remains a major player in this desired change and must be at the forefront in determining the structure of the transition," Choguel Maiga said.
The path back to democracy has been a stumbling point with West African heads of state, who on Friday urged the junta to restore civilian rule within a year. But the junta has proposed a three-year timeline. That has led to the unraveling of talks and more threats of sanctions.
The international community has expressed alarm over the coup, fearing that the political vacuum could allow Islamic extremists to expand their reach.
There are concerns that the new political upheaval could erode what gains have been made in the fight to stabilize Mali.
U.N. envoy upbeat on Syria negotiations
BERLIN -- The U.N.'s special envoy for Syria said Saturday that the latest round of talks between the country's opposing parties took place in a "respectful" tone, and they are keen to meet again, but no agenda or date has been set for the next session.
"People were listening to each other," Geir Pedersen told reporters in Geneva. "And that goes for all the three delegations."
"Obviously there are still very strong disagreements," Pedersen acknowledged, but the two co-chairmen of the meeting had both said there were areas of common ground that could be built on.
"I'm confident that we have been able to build a little bit of confidence, a little bit of trust," he said, though no concrete agreements on issues such as the release of prisoners had been achieved.
Delegations from the Syrian government, opposition and civil-society groups had met in Geneva for a third round of talks last week, after a lengthy pause during the coronavirus pandemic. Their goal is to work on a new constitution for the war-ravaged country.
Koran burning stirs unrest in Sweden
STOCKHOLM -- Activists burned a Koran in the southern Swedish city of Malmo, sparking riots and unrest after more than 300 people gathered to protest, police said Saturday.
Rioters set fires and threw objects at police and rescue services Friday night, slightly injuring several police officers and leading to the detention of about 15 people.
The violence followed the burning Friday afternoon of a Koran, near a predominantly migrant neighborhood, that was carried out by far-right activists and filmed and posted online, according to the TT news agency.
Later, three people were arrested on accusations of inciting hatred against an ethnic group after kicking the Muslim holy book.
S. Korea ruling party selects new leader
South Korea's ruling Democratic Party picked Lee Nak-yon as its new leader Saturday, paving the way for a possible bid by the former prime minister in the 2022 presidential election.
Lee won 60.8% of the total vote in the online election and was followed by four-term lawmaker Kim Bu-gyeom, with 21.4%. The new party leader said in his campaign speech that that he would "succeed and develop" the policies of President Moon Jae-in's administration.
Lee, 67, takes the reins at the party with the nation battling a resurgence of the coronavirus and soaring real estate prices, particularly in the capital, Seoul. One of his main rivals in the presidential election is Lee Jae-myung, governor of Gyeonggi province, who didn't run for party leader role and has been critical of the government.
[Video not showing up above? Click here to view » https://www.youtube.com/watch?v=Wn9p8Pgliog]
Lee Jae-myung has hit out at Moon's housing policies that have made homes unaffordable for working families in his province, which is South Korea's most populous.
Lee Nak-yon, who was governor of South Jeolla providence, is known for his forceful exchanges as a lawmaker and his attempts to communicate directly with citizens. After studying at the prestigious Seoul National University and covering politics for the DongA Ilbo newspaper, Lee Nak-yon entered politics two decades ago under the former progressive President Kim Dae-jung.
-- Compiled by Democrat-Gazette staff from wire reports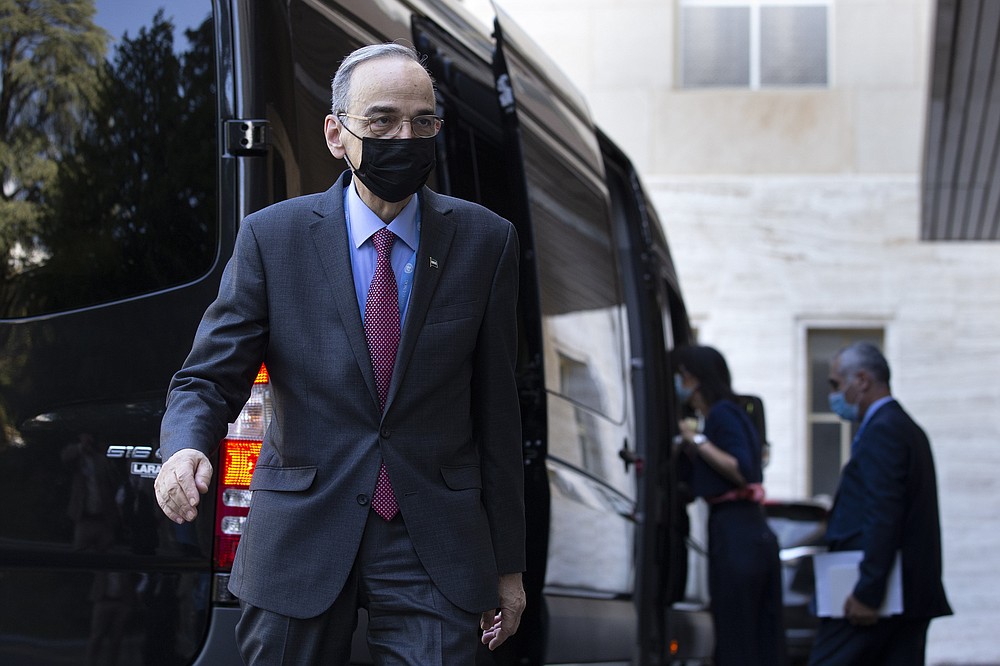 The Syrian Constitutional Committee Co-Chair Hadi al-Bahra, left, wearing face mask as precaution against the spread of the coronavirus as he leaves the building following the announcement of the suspension of the conference due to cases of Covid-19, affecting members of one of the delegations, at the European headquarters of the United Nations in Geneva, Switzerland, Monday, Aug. 24, 2020. (Salvatore Di Nolfi/Keystone via AP)