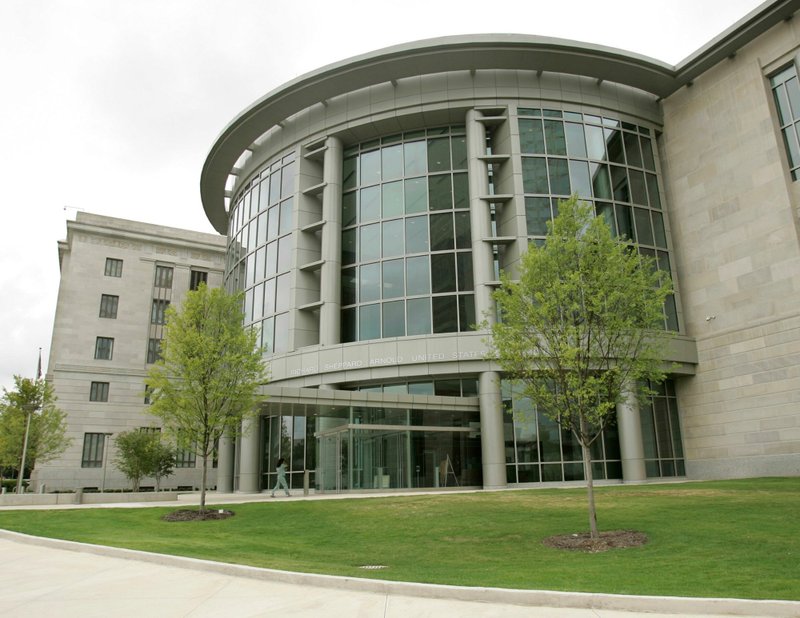 FILE — U.S. District Court in Little Rock is shown in this file photo.
A former Jefferson County employee was awarded more than $20,000 last month for lost wages and pain and suffering after the county failed to respond to his complaint in federal court.
According to court records , John Powell, who was hired by the county as an equipment operator in 2012, was awarded $16,120 for lost wages and $4,030 for pain and suffering for injuries he suffered in 2015.
Court records from the U.S. District Court for the Eastern District of Arkansas showed that John Powell, represented by Luther O'Neal Sutter of the law firm of Sutter & Gillham P.L.L.C. in Benton, filed suit in federal court on Dec. 12, 2018, alleging that Powell had suffered a neck injury in 2015, rendering him unable to work for over a year, during which he was on workers' compensation leave.
Plaintiffs named in the lawsuit were Jefferson County, incoming County Judge Gerald Robinson, outgoing County Judge Booker Clemmons, and former County Judge Hank Wilkins. Presiding over the case was U.S. District Judge Brian Miller.
The lawsuit said that Powell suffered continuing pain, tingling, numbness, and burning, as well as impairment in his range of motion and ability to lift, but worked successfully as a mechanic for over a year until he was placed on administrative leave in March 2018 and fired the following month. The lawsuit alleged that Powell was given no reason for his placement on administrative leave and that when he was fired he was told it was because he was an at-will employee.
Other allegations in the lawsuit said the reason Powell, who is white, was terminated was because of his work-related disability, requests for accommodation, and race.
The lawsuit contended that Clemmons, who is Black, was the decision-maker on Powell's termination, and that Wilkins, also Black, had declined to pay Powell's retirement and benefits while he was out on leave.
In addition to the monetary award, Miller ordered that the county to declare Powell to be rehireable, to remove any negative references from his personnel file, to declare Powell's separation date as Oct. 15, 2018, and to provide that information to the relevant state agencies for the purpose of vesting in the state's pension plan.
Miller's order denied a request by Powell for $16,000 in liquidated damages. The order also directed his attorney to file a timely motion for attorney's fees and costs if such a motion is planned.
Robinson said he was served with the lawsuit upon taking office Jan. 1, and admitted that during his first weeks in office working to get a handle on myriad problems facing the county, Powell's lawsuit got lost in the shuffle and the county failed to respond.
"As I recall, I was thinking that the previous judges had taken care of it but they hadn't," Robinson said. "So, we didn't get an answer in to the court in time so we ended up getting a summary judgment on the case. As a matter of fact, I was in court a couple of weeks ago because of it. It just slipped through the cracks."
Robinson said the money the county has been ordered to pay won't have to come out of the general fund, however.
"We're insured for this kind of thing," he said. "The county isn't going to be responsible for paying any money."
Robinson said he doesn't plan to appeal the decision.
Lucien Gillham, Sutter's law partner, said the firm does plan to file a motion for attorney's fees and costs but said on Thursday that he did not know what that amount might be.
"We haven't completed the fee petition," Gillham said. "It won't be a huge number or anything like that but we will probably submit that position in the next day or two."
Sponsor Content