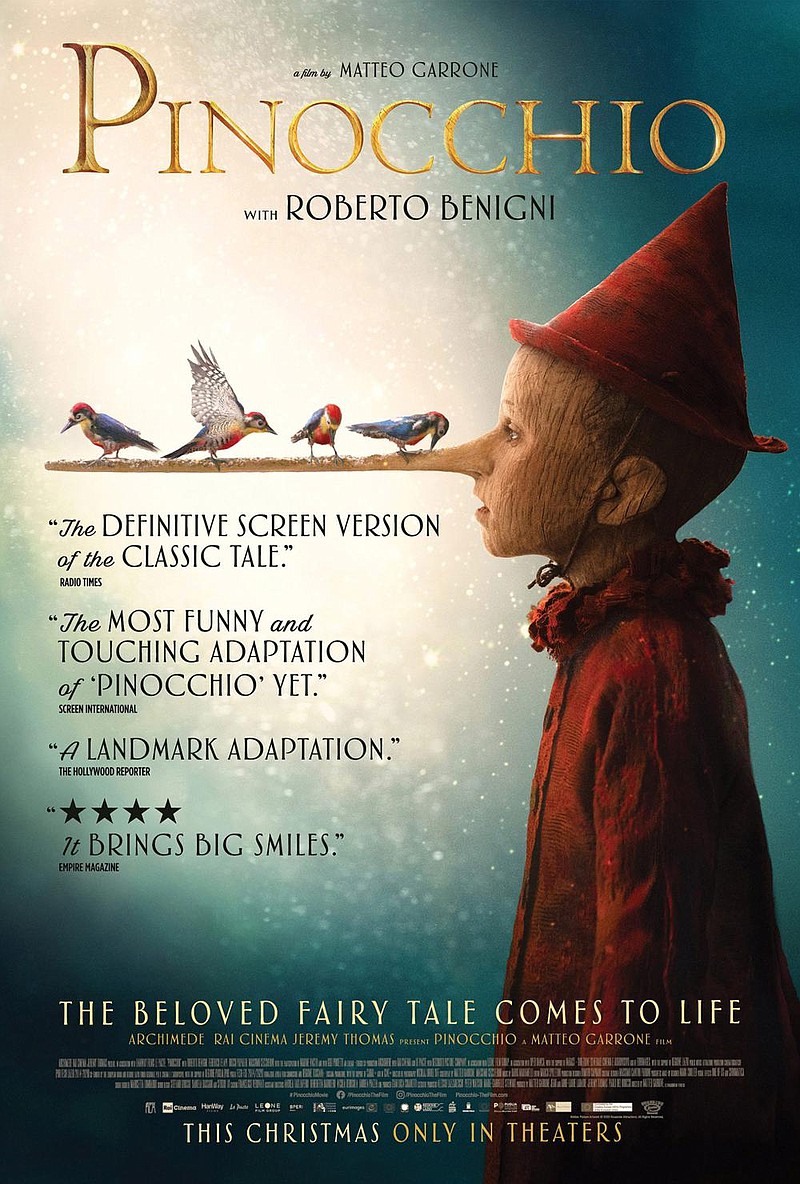 Pinocchio
When I told my editor, Philip Martin, that I was covering a new Pinocchio movie starring Oscar-winning Italian comic Roberto Benigni ("Life Is Beautiful"), he thought he was experiencing the Mandela Effect.
That's when legions of people remember something differently from the way it happened. The phenomenon takes its name from the odd fact that many people seem to falsely remember Nelson Mandela had died in prison decades before he actually did. (Mandela, of course, went on to become president of South Africa.)
In this case, Philip's memory was just fine.
Nonetheless, many of my peers would like to forget Benigni co-wrote, directed and starred in a 2002 adaptation of Carlo Collodi's 1883 novel about a marionette who longs to be made of flesh and blood instead of wood.
Benigni's movie was actually closer to Collodi's storyline instead of the streamlined one of Walt Disney's 1940 masterpiece. Despite its fidelity, it's disorienting and even disturbing to watch a middle-aged man consistently behaving like a fool and sociopath. In the English dub I saw, a young Brecklin Meyer ("Robot Chicken") provided Benigni's voice, which make the whole experience even more creepy.
With a couple of small adjustments, fellow Italian Matteo Garrone ("Gomorrah") has made a much more entertaining film, and he has Benigni to thank.
In the new movie, Benigni plays the wood carver Geppetto instead of the puppet, and the change is mutually beneficial. The normally manic comedian touchingly underplays Pinocchio's surprised and frequently exasperated father. He projects a warmth that makes his paternal sacrifices all the more convincing. That's especially impressive because Pinocchio isn't even human, yet.
Benigni's struggles to make a living (he's a good woodworker, but his profession pays poorly) and raise the ultimate special needs son gets the new movie off to a strong start.
Carrying the rest of the movie is Federico Ielapi, who was 8 when the movie was shot. Because Federico is an honest-to-goodness child instead of a grownup trying to pass for one, it's much easier to tolerate how Pinocchio consistently must learn the hard way that get-rich schemes, disobedience and, of course, lying don't end well.
Collodi intended Pinocchio's misfortunes to be warnings for youngsters. The whale in Disney's version is scary, but he's only part of the lessons Pinocchio picks up before his brain is no longer wooden.
Federico's performance seems even more remarkable when one considers his face is buried under Mark Coulier's makeup, which makes the lad look as if he were carved from a log. In addition, Federico has dubbed his own voice for this English soundtrack. His performance doesn't seem to have suffered in translation.
Garrone is best known for grim but gripping crime dramas like "Dogman" and "Gomorrah," but his movies set in the real world are somewhat similar because the sets in both types of films look lived in and tactile. Geppetto's home and workplace are covered in sawdust. As a result, it's easier to buy into the fantasy to come.
Garrone's dark adult fantasy "Tale of Tales" demonstrates he has the technical chops to make the impossible look real. Garrone and his collaborators seamlessly blend practical effects with computer images, so suspension of disbelief isn't necessary.
At just over two hours, some youngsters might have difficulty getting through Garrone's "Pinocchio." Including the incidents from Collodi's that Disney trimmed does keep the new interpretation from seeming redundant. Garrone's take is darker than Uncle Walt's, but like Disney, he imbues his take with a reliable sense of wonder.
As a result, Pinocchio's path away from being a literal blockhead is delightful and won't be mistaken for a garbled memory.
More News
'Pinocchio'
83 Cast: Federico Ielapi, Roberto Benigni, Rocco Papaleo, Massimo Ceccherini, Marine Vacth, Enzo Vetrano, Gigi Proietti
Director: Matteo Garrone
Rating: PG-13 for some disturbing images.
Running time: 2 hours, 5 minutes
Playing theatrically
Sponsor Content